When it comes to monitoring employees with a time tracking tool, DeskTime comes as one of the first options to cater to your needs. Because it not only tracks time but also helps you make informed decisions by giving you very valuable insight into your employee activities. In this DeskTime review, we will go into the details of DeskTime time tracking software and help you decide whether it is the right option for you.
DeskTime tracks the apps your employees use and websites they visit, checks productivity score, takes screenshots, and ranks employees according to their performance.
Whether you are managing a small team or a large enterprise, DeskTime has rich features and functionalities to cover you. Most importantly, it's available on all major platforms including Windows, Mac, Linux, Android, and IOS. Without further ado, let's discuss DeskTime time tracking applications in detail to find out more.
What Is DeskTime?
DeskTime is a desktop and mobile time tracking application with powerful features to measure productivity, tracking attendance, and manage effective workflow. It works seamlessly on desktop, laptops, tablets, smartphones, and all across the major Oses.
DeskTime is suitable for businesses of any size. It is made for agency, technology companies, freelancers, and businesses needing to track time effectively.
How Does DeskTime Work?
DeskTime tracks employee activity on all websites, programs, and applications that your team members are using on their computer categorizing them as productive or unproductive.
It helps team members to manage their day, save time, boost work efficiency, and inspire them to work to their fullest potential. Whether your team is in office or working from home, DeskTime can track time of your team members efficiently to boost productivity and generate detailed reports.
DeskTime Review: 15+ Features to Track Time and Boost Productivity of Your Employees
DesktIme comes with a wide range of features to track the time and analyze the productivity of your employees. Let's take a look at some of the most important features in more detail.
Track Time Automatically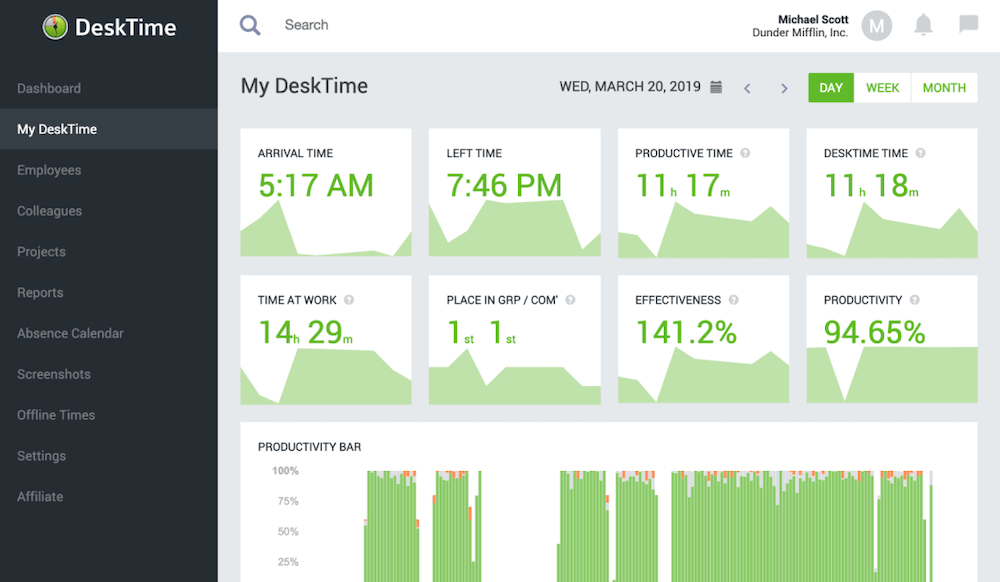 DeskTime lets you track employee time automatically. It keeps track of when employees become available to work, what apps they use, when they leave and how long they spend for work. DeskTime does all these automatically. Employees can also check their status in real-time and see how productive they are.
Calculate Productivity
In the highlighted report of DeskTime, it shows the productivity of employees on a scale of 100. DeskTime measures productivity by time spent on productive apps divided by the total time spent on the computer.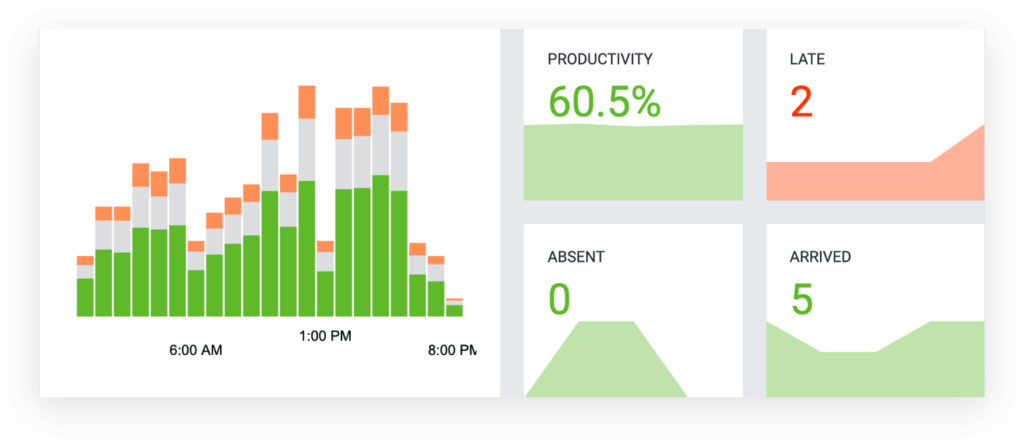 To be more accurate with the score, you can categorize apps as productive and unproductive manually. Suppose, by default, DeskTime considers social media sites unproductive. If you work on social media marketing or for some reason your employees need to be on social media, you can set social media sites as productive sites.
Rank Employees According to Performance
You can compare the data between employees and see who has been most productive and who has been slacking during a week, month, or year. As the company manager, you can see the employee activity on the DeskTime dashboard.
Track App and URL on Browsers
Track all apps your employees use on their computers. Not only just apps, but you can also track URLs on the browsers. DeskTime time tracking tool categorizes apps on computers and URLs on browsers as productive, neutral, and unproductive and lets you see the time spent on them individually.
Document Title Tracking
DeskTime tracks the titles of documents your employees are working on and also see how long they spend on that document. With the document title tracking feature. DeskTime will read document titles, email subject lines, chat group names, etc. and track time spent on them.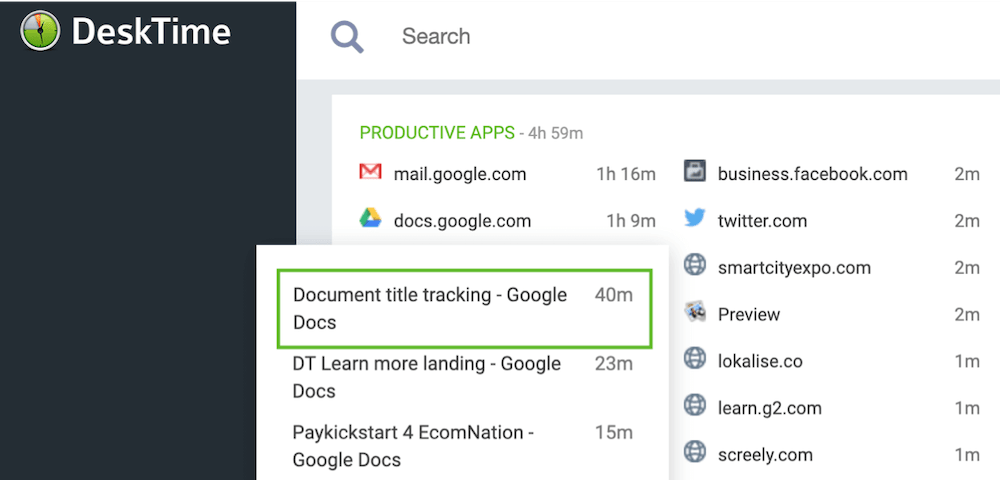 The document title tracking works with programs like Google Docs, Word, Excel, and similar apps. Design tools like Illustrator, Photoshop, Sketch, email service providers and team collaboration software are also compatible with this feature.
Track Project
DeskTime is a project time tracking software that tracks projects and tasks and manages your employees' workflow as efficiently as possible. It helps you execute the project within the deadline by having all team members on the same page.

It allows your team to work on the same project. Later on, you can see the collective time spent on the project and divide it up individually to see who has contributed and how much time each of them spends on the project. So, easily track your project, estimate cost, and see detailed reports with DeskTime.
Track Idle Time
Idle time is a time gap between two fractions of track time, which appears when there haven't been any actions on the computer for more than 3 minutes. This period can be increased in the account settings.
Manual Offline Time Input System
Manually input the time spent away from the work computer. Specify the reasons for absence and put them down as productive, unproductive, or neutral. That way, you'll have a more precise overview of your team's workload, time management, and productivity.
As an administrator, you have the option to approve/decline offline time input to justify the reasons for absence.
IP Restrictions
Sometimes, you need to track the time of your employees from a specific location. If employees are taking work computers home after work or you wish to track time only from specific offices, you can set up an IP restriction in DeskTime. Data will be tracked only while the employee is connected to the internet with one of the specified IP addresses.
You can add as many IP addresses/ IP address ranges as necessary. Also, you can add a restriction to a specific Team member or for a Team. Build a secure and productive working environment by tracking time only at a specific location with DeskTime's IP restriction feature.
Pomodoro Timer (Inspire Employees to Take Breaks)
Taking a break while working is one of the useful ways to stay productive. This is why DeskTime lets your employee take a break at a regular interval while working consistently. They can select from 3 different intervals (52, 60, or 90 minutes) and engage them in some brain-boosting exercise like take a walk, eat some snacks, play a game,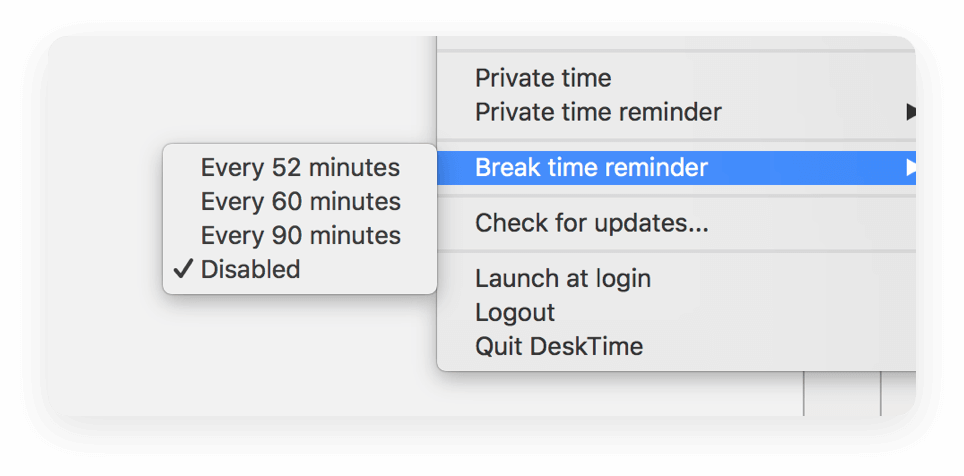 With DeskTime, you can remind your employees to take breaks regularly with DeskTime's Pomodoro timer.
Take Screenshots Automatically
You can capture team members' computer screens at random intervals of time (5, 10, 15, or 30 minutes). That way, managers can see what programs and apps are actively used and oversee how the team's time resources are spent.
DeskTime lets you stay in control over what's going on in your team by taking screenshots of the employee computers automatically at a predefined interval. Taking screenshots comes in very handy especially when you manage a team remotely.
Private Time Option
Employees can use the private team features whenever they need to do something personal. When private time is turned on, employees' activity on the computer will not be tracked. Employees can use this feature whenever they need it while the administrator sees the total time spent on the private mode.
Schedule Work and Manage Shifts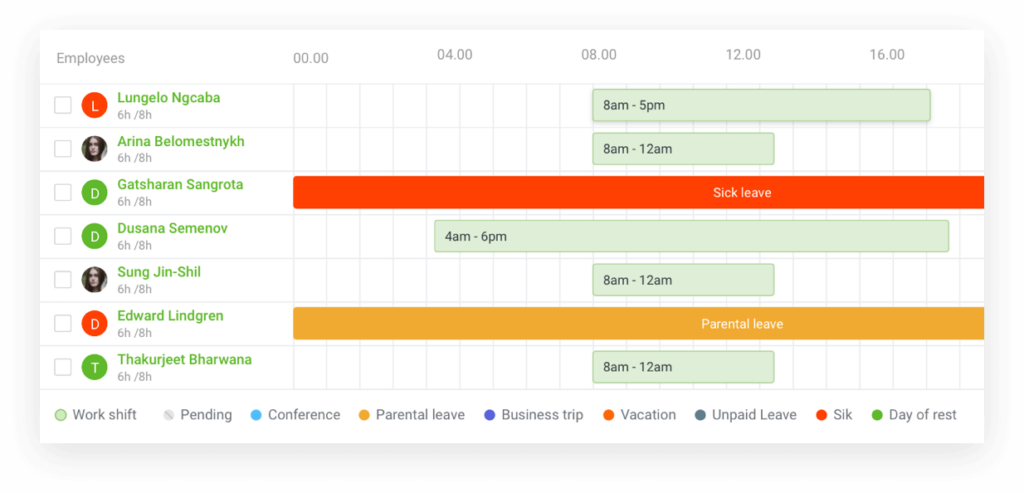 Work scheduling features in DeskTime let employers manage shifts and team members more effectively. If your company requires employees to work in different shifts, you can create shift templates easily and use that for individual team members.
Third-Party Integration
DeskTime simplifies your company's workflow with many 3rd party integrations. From calendar apps to track offline time, to project management software to make a project and task tracking more accurate and effortless.
Most notable DeskTime 3rd party integrations are:
Google Calendar – Sync meetings and other work-related events between Google Calendar and DeskTime easily.
Outlook Calendar – Log in offline time from your Outlook calendar to DeskTime automatically.
Trello – Import Trello boards to the DeskTime productivity tool to make time tracking easier.
Gitlab – Connect Gitlab and DeskTime to track time spent on individual issues.
Asana – Directly import tasks from Asana to your DeskTime time tracking app
Basecamp – Sync your Basecamp tasks with DeskTime and start project tracking with one click.
Jira – Integrate the Jira project management software with DeskTime for time tracking.
Detailed Custom Reports
DeskTime gives you detailed reports of how your employees are doing over a certain period. Also, you can customize reports with various filters to see the exact data.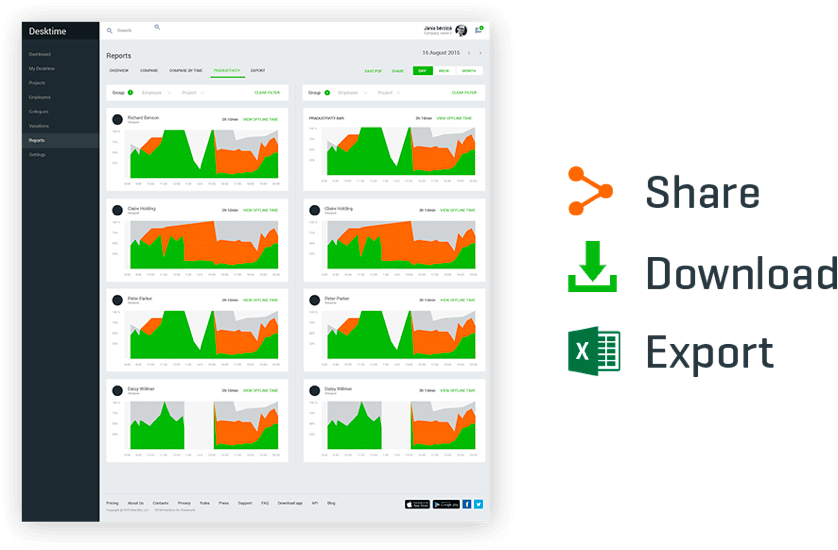 Utilize DeskTime Reports feature to create reports about the company's productivity status, websites used at work, or time spent on specific tasks. Most importantly, you can also share, print, or export them to CSV.
Bonus: DeskTime Feature Request
If you aspire your time tracking software to have a feature but they don't. No worries. With DeskTime, you have the option to request features you think necessary. You can suggest the new feature or comment and upvote the existing ones people have already requested.
In this DeskTime review, we've tried to cover the features that matter to most companies in general. Apart from the features above, DeskTime offers plenty of other features and functionalities to track employees and boost productivity. Click here to explore DeskTime features in more details.
DeskTime Pricing Plans
DeskTime has both free and paid plans. The free plan is for one user with limited features while paid plans come in three different pricing options. The larger your team, the cheaper the pricing per user gets. Go to the DeskTime pricing page to know each pricing plan in detail. Check the pricing option and find pricing according to your team size.
Is DeskTime the Right Tool to Track Time of Employees?
Yes. DeskTime covers all the necessary features that you need to track your employees. If you need time tracking software that tracks time and helps your team be more productive, DeskTime is the tool you need. Through automatic time tracking, productivity analysis, employee ranking, detailed reports, and many other essential features, DeskTime can be the right tool for your company.
DeskTime has a wide range of advanced features and functionalities for team managers and members. You can take your employees' productivity to the next level. Start tracking your time and see what more your team can achieve when you track and organize them on a single platform. We hope you liked our DeskTime review.
DeskTime tops the list of our best time tracking software roundups. Read the post to know more. Good luck.