Wondering what's the best WordPress hosting for your website? We will discuss some of the most reliable hosting services for WordPress sites and help you decide which one you should go for. Let's begin.
Your website's performance, security, uptime, loading speed, and many more essential things depend a lot on your hosting service. While a fast-loading and secure website is the key to your success in online business, there's no way you can just choose a random hosting for your website.
Guess what! We have researched WordPress hosting, hosting types that are best for WordPress, and WordPress hosting solutions that you may settle with. Whether you are creating a new WordPress site or looking for a better hosting service for your existing one, we will discuss the best WordPress hosting options for you to consider.
What Type of Hosting Is Best for WordPress?
When it comes to hosting your WordPress site, there are so many types and options, and everyone will say they are the best hosting for WordPress. That is why it is tricky and misleading for beginners. So, it is important to judge before you call a hosting service the best WordPress hosting service.
Before discussing the best hosting services for WordPress sites, let's know the types of hosting available in the market. The common hosting types of hosting for WordPress are:
Managed WordPress Hosting
Shared Hosting
VPS Hosting
Cloud hosting
Each of these types has its advantages and disadvantages. That's why finding the best hosting for WordPress is always tricky. But, there are some best options in each of these categories. If you are sure which type of hosting you are looking for, it will narrow the choices down and help you pick the right one.
Shared hosting is a lot cheaper but has some disadvantages too. The unlimited bandwidth term in shared hosting is relative. Not clearly unlimited bandwidth at all. Cloud hosting requires a lot of technical knowledge for users to launch and manage. Yet, this is one of the best voices for people with technical knowledge. And, the dedicated hosting server is a physical server where all the resources of one machine are dedicated to a single user. A virtual private server aka VPS —is a virtual machine that offers virtualized server resources on a physical server shared with other users. VPS hosting provides dedicated server space with a reserved amount of resources, offering better control and flexibility than shared hosting.
10+ Best WordPress Hosting to Host Your Website in 2023
We have listed the 10 best WordPress hosting in different categories. People's choices are different, so we listed down some of the best WordPress hosting services in each category. Let's know them first and discuss why they are in our consideration.
Best Managed WordPress Hosting
If you are looking for the best WordPress hosting, the first kind of hosting I would recommend is managed WordPress hosting. Managed WordPress hosting is very beginner-friendly and very useful as you don't have to spend much time configuring your server and do everything manually when things go wrong. If you are starting and don't want to spend too much time configuring the server then managed WordPress hosting is the right choice.
When you have decided that you would go for managed WordPress hosting, here are some of the best managed WordPress hosting to host your WordPress sites.
Kinsta – Premium Managed WordPress Hosting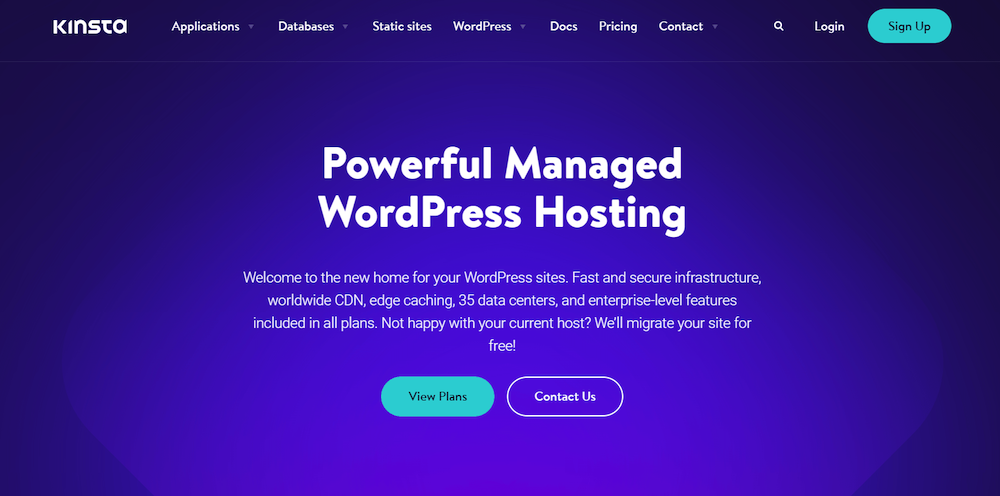 Kinsta is a premium managed WordPress hosting solution. It has a fast and secure hosting infrastructure, worldwide CDN, edge caching, 35 data centers, and enterprise-level features in all Kinsta pricing plans. If you want to speed up your website performance with top-level WordPress-managed hosting, Kinsta should be your number-one choice.
According to Kinsta, their customers see up to a 200% speed boost after migrating to Kinsta hosting. Kinsta uses Google's top CPU servers and high-performance CDNs. You can utilize 260+ locations worldwide to deliver fast pages.
Notable Features of Kinsta, the premium managed WordPress hosting
Highest-end CPUs and global availability due to Google's fastest servers and Premium Tier network
High-performance content delivery network
Edge Caching – Reduce website load time by 49%
35 data centers
Monitor speed issues with Kinsta's Application Performance Monitoring (APM) tool
KInsta CDN has260+ POPs for a global presence and unequaled speed of your website
Enterprise-level firewall DDoS protection
Simplified SSL management with free wildcard SSL support
Provides full HTTP/3 support
Automatic daily backups with hourly, 6-hour, and external backup add-ons available
Kinsta has advanced tools for developers (Kinsta API, Database access, and WP debugging)
Kinsta Hosting Pricing
Kinsta has three different types of hosting (WordPress, Database, and Application). The Kinsta managed WordPress hosting plans start at $35 per month. Whether you are looking for a single site or multiple site options, Kinsta has pricing plans for every user group. Kinsta is arguably one of the best WordPress hosting solutions available today.
Cloudways – Managed WordPress Hosting Solution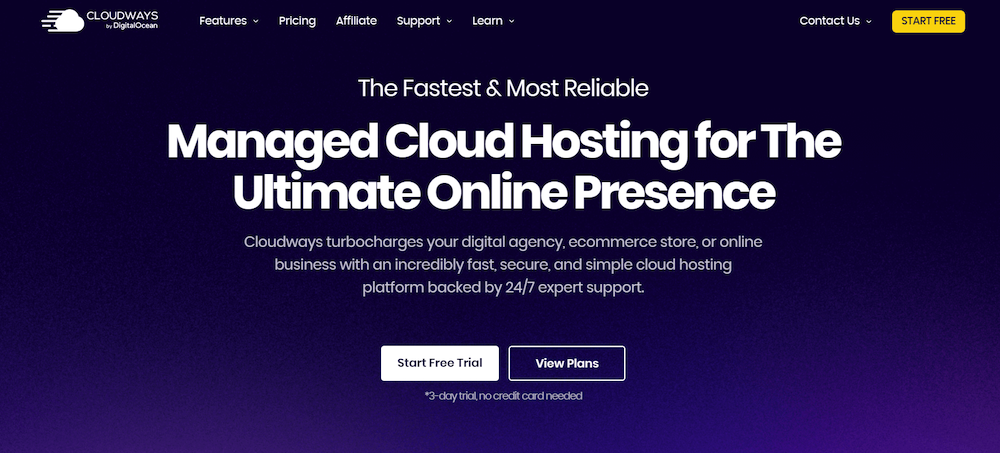 Cloudways is one of the best WordPress hosting service providers with over 90,000+ trusted agencies, developers, and businesses. WordPress users on a different hosting provider are switching to Cloudways due to its performance and support. Cloudways is another type of managed WordPress hosting where you can choose which platform to host your website. You have options like Digital Ocean, AWS, and Google Cloud. Cloudways hosting on each of these platforms has different pricing too.
While the hosting performance depends on which platform you choose, the Cloudways offering and infrastructure remain the same for every platform.
Notable features of Cloudways are:
Wide range of cloud providers to choose from, including AWS, Google Cloud Platform and more
Comes with a customized stack for WordPress including the latest versions of PHP, MySQL, and Nginx.
Provides automatic backup for your WordPress site regularly
User-friendly dashboard to easily manage your WordPress site
The staging environment facility allows you to test changes to your site before you make them live.
Offers a good number of security features to protect your WordPress site
24/7 WordPress site's performance monitoring facility
Serverless computing to run your WordPress site without having to manage a server
Cloudways Pricing:
Cloudways offers two pricing plans: Premium and Standard. Each of these plans comes with four types of pricing; For the premium plan, the pricing starts from $14/month and the Standard plan starts from $11/month.
WP Engine – Managed WordPress Hosting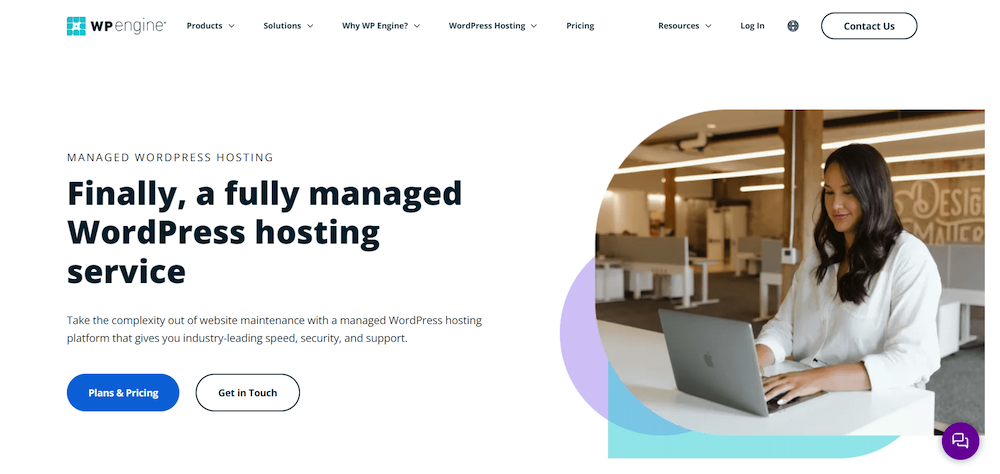 WP Engine is like a super helper for your WordPress website. It handles all the tricky technical stuff, like keeping your site safe, making it run smoothly, and updating everything. So, you get to focus on making and managing your site, while WP Engine takes care of the rest. It's awesome for both beginners and pros using WordPress. Besides, this robust managed WordPress hosting platform is easy to understand and gives you many cool features to make your site more secure, faster, and dependable.
On top of that, WP Engine uses the newest tricks to stop bad stuff like malware and attacks. Your site will load fast and work great because WP Engine fine-tuned everything for WordPress. And the best part? It automatically updates your WordPress core, plugins, and themes, so you don't have to stress about it.
Notable features of WP Engine:
It uses a variety of security features like a firewall, intrusion detection system, and malware scanning.
Fully performance optimized to help your site load quickly and reliably.
The staging environment allows you to test changes to your site before you make them live.
24/7 support from a team of WordPress experts.
Global CDN helps improve the performance and availability of your WordPress site.
Comes with managed WooCommerce hosting for better performance and top-level security.
Offers a variety of WordPress-specific tools, such as Genesis, to help you build and manage your site.
Different types of developer tools, such as WP-CLI and Git, help you develop and deploy your WordPress site.
Offers a variety of enterprise features, such as dedicated accounts and custom development environments, for large businesses and organizations.
WP Engine Pricing:
WP Engine WordPress hosting solution offers five different pricing plans: Lite, Startup, Professional, Growth, and Scale. The offer starts at $20/month.
SiteGround – Hosting That Helps You Grow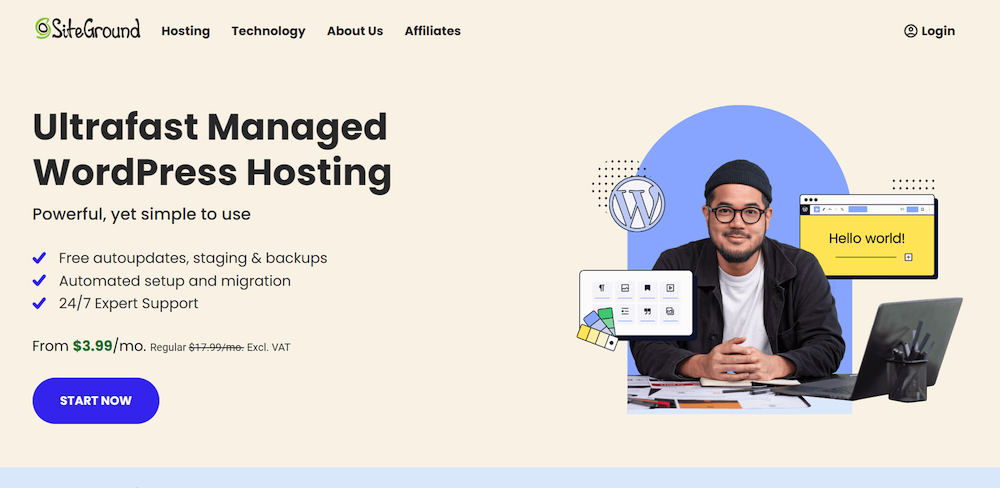 SiteGround shines as a premier web hosting provider, excelling in a diverse range of hosting services, particularly in managed WordPress hosting. Tailored exclusively for WordPress websites, their managed hosting oversees intricate technical aspects like security, performance, and updates, freeing you to focus on your website's content and management.
What distinguishes SiteGround is its suitability for WordPress users of all levels. With an intuitive interface, it furnishes an array of features that enhance your website's security, performance, and reliability. Robust security measures, encompassing firewalls, intrusion detection systems, and malware scanning, fortify your WordPress site against potential threats.
Notable features of SiteGround:
Automatic WordPress updates, including core, plugins, and themes, to the latest versions for security and performance.
WordPress-specific security features, such as a firewall, intrusion detection system, and malware scanning.
Optimized WordPress performance, with fast loading speeds and high reliability.
Staging environment for testing changes to your WordPress website before making them live.
24/7 support from a team of WordPress experts.
Global CDN to improve the performance and availability of your WordPress website around the world.
Managed WooCommerce hosting, optimized for performance and security for WooCommerce-powered online stores.
WordPress-specific tools, such as WP-CLI and Git, to help you develop and manage your WordPress website.
Developer tools, such as SSH access and WP-Cron, for more advanced users.
Enterprise features, such as dedicated accounts and custom development environments, for large businesses and organizations.
SiteGround Pricing:
You can get three available pricing options for SiteGround: StartUp, GrowBig, and GoGeek. StartUp plan costs $3.99/month 10 GB web space, unmetered traffic, Free WP installation, and more.
Best WordPress Shared Hosting
WordPress shared hosting are reliable and budget-friendly hosting solution for WordPress websites. These services allow multiple sites to share a server's resources, providing cost-effective hosting with essential features like one-click WordPress installation, solid performance, and customer support.
When you've chosen shared WordPress hosting, check out these top services to host your WordPress sites.
Bluehost – Powering Millions of Websites Worldwide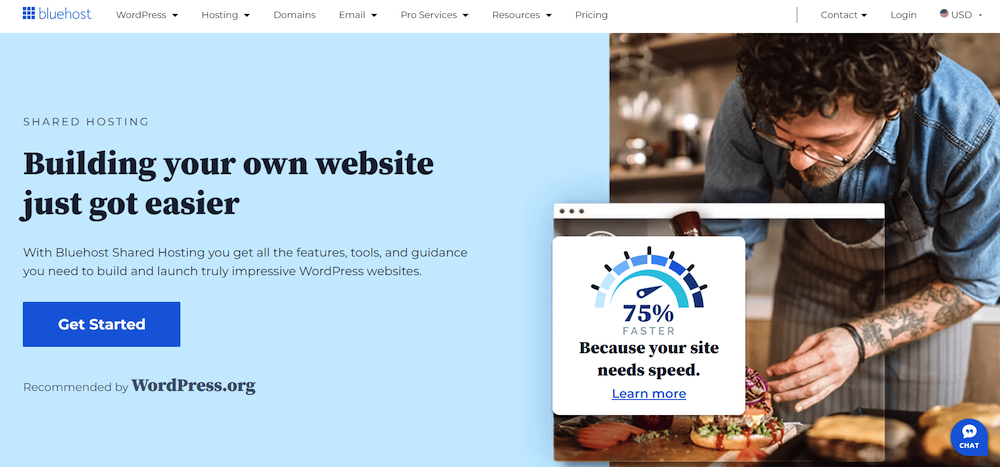 BlueHost is a well-known web hosting provider with different shared hosting options, including plans tailored for WordPress users. Shared hosting means your website shares server resources with others, keeping costs low but potentially leading to slower performance during peak traffic times. It is one of the WordPress-recommended hosting solutions.
It stands out with its user-friendly features. The process of setting up WordPress is seamless, thanks to BlueHost's effortless installation. Automatic updates eliminate the need for manual upkeep, ensuring your WordPress version is always current without any hassle on your part. The hosting experience is further enhanced by BlueHost's servers, finely tuned for optimal WordPress performance, guaranteeing swift and reliable loading times for your site.
Notable features of Bluehost:
Bluehost makes it easy to install WordPress with just a few clicks.
It automatically updates WordPress to the latest version to make you free from worrying about keeping your site up-to-date.
BlueHost's servers are optimized for WordPress performance, so your site will load quickly and reliably.
Offers a variety of free WordPress themes and plugins with its hosting plans.
Comes with a robust 24/7 customer support
Unlimited storage and bandwidth with hosting plans.
BlueHost offers email accounts with its hosting plans.
Comes with a free website builder with its hosting plans.
Various security features like firewalls and spam protection help protect your website
Bluehost Pricing:
Bluehost pricing lets you choose four different pricing plans:( Basic. Plus, Choice Plus, Pro). The initial plan costs $2.95/month.
Namecheap – Shared WordPress Hosting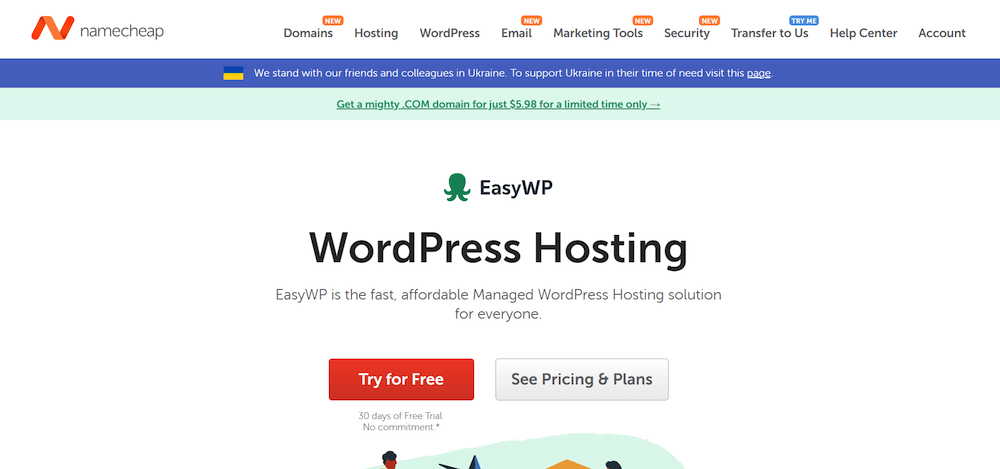 Namecheap is a good choice for shared WordPress hosting because it offers a variety of features that are important for WordPress users and webmasters at an affordable price. Additionally, Namecheap is known for its excellent customer support and its commitment to providing its customers with the most value for their money.
Namecheap hooks you up with a free domain name for the first year in its hosting plans. Enjoy unlimited storage and bandwidth to grow your site hassle-free. Get email accounts bundled with your hosting, and create with ease using the free website builder included. Namecheap amps up security with features like firewalls and spam protection, ensuring your website stays safe and sound.
Notable features of Namecheap:
Very affordable shared hosting, starting at just $1.44 per month.
Offers unmetered bandwidth on all of its shared hosting plans
Massive disk space starting at 20 GB on all of its shared hosting plans
a free domain name with all of its shared hosting plans for the first year
A free SSL certificate with all of its shared hosting plans
The cPanel control panel is one of the most popular and user-friendly control panels available.
24/7 customer support via live chat, phone, and email.
Offers a 99.9% uptime guarantee on all of its shared hosting plans
NameCheap Pricing
NameCheap shared hosting offers you three different hosting plans (Stellar, Stellar Plus, and Stellar Business). The Stellar plan pricing costs $1.98/month.
Hostinger – Hosting for WordPress Websites
Hostinger excels in managed WordPress hosting, offering robust features for a seamless WordPress experience. It's like having a toolkit tailor-made for WordPress development, with WP-CLI, Git Integration, SSH access, and PHP version control. The one-click staging tool ensures safe website changes, while automatic WordPress updates and backups keep your site secure. Hostinger is one of the best WordPress hosting services available today.
For a speed boost, Hostinger CDN handles code minification, data center rerouting, and automatic image optimization, improving your site's speed score by up to 40%. This means faster load times, enhancing user experience, SEO, and conversion rates. With LiteSpeed web servers and the LSCWP Cache plugin, Hostinger goes the extra mile to elevate your site's performance effortlessly.
Notable features of Hostinger:
Enjoy up to 100 free domain-based email addresses.
Safeguard multiple websites with unlimited free SSL certificates.
Experience low latency and fast data transfer with IPv6 and HTTP/3.
Move your website seamlessly with a one-click migration request.
Personalize your site using our highly recommended themes and plugins.
Benefit from a 99.9% uptime guarantee for continuous website operation.
Set up WordPress effortlessly with our one-click auto-installer.
Receive expert guidance using top-rated theme and plugin recommendations.
Build your website step by step with the Hostinger WordPress plugin.
Access immediate help with a median response time of less than 3 minutes.
Hostinger Pricing:
If you want to start your journey with Hostinger, then there are three options for you ( Premium, Business, Cloud Startup). Among them, the Premium pricing starts at $2.49/month.
GoDaddy – Web Hosting That's Fast and Reliable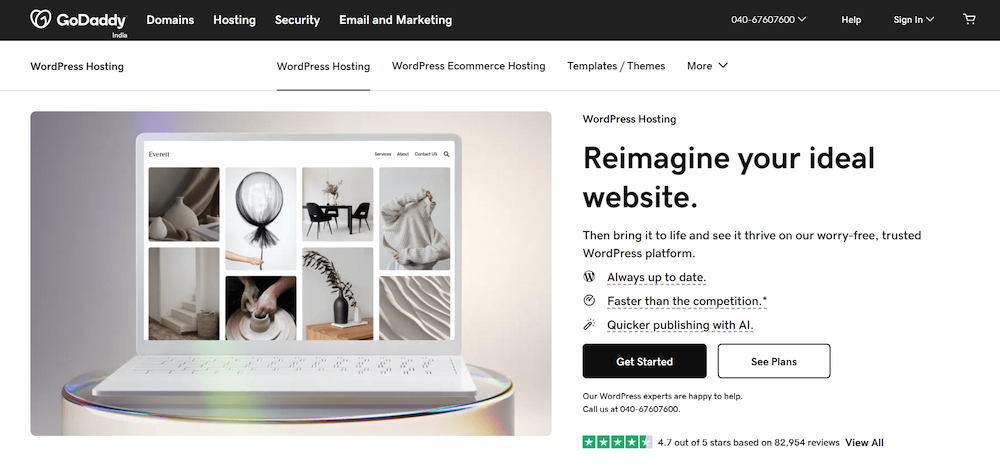 Effortlessly transition your existing WordPress site to GoDaddy Managed WordPress with our straightforward migration wizard. It's designed for simplicity, allowing you to handle the move in just a few steps. And if you ever find yourself in need of assistance, our 24/7 support is ready to help.
Take charge of your WordPress experience with GoDaddy's user-friendly platform. Manage PHP versions, transfer content, and write custom code—everything you need is at your fingertips. For web designers and developers, the GoDaddy dashboard, infused with AI, streamlines tasks like creating proposals and invoices. The customization journey is made easy with GoDaddy's pre-built themes, offering ready-made sites tailored to your industry.
Notable features of GoDaddy:
Easily manage your WordPress site with tools like WP-CLI, SSH, and SFTP access.
Enjoy hassle-free automatic updates for WordPress core software and security.
Benefit from the latest PHP version for optimal performance.
Boost page load times up to 2x faster with CDN support.
Access free 24/7 customer support for assistance anytime.
Explore a vast collection of free themes and plugins.
Get Professional Email free for the first year.
Perfect for beginners with pre-built sites and startup support.
Develop with confidence using features like staging sites and developer access
GoDaddy Pricing:
GoDaddy web hosting offers four lucrative pricing plans for you (Starter, Economy, Deluxe, and Ultimate). Among these, the Starter plan pricing starts at $4.99/month with 10 GB storage, 512 MB RAM, and more.
Best VPS Hosting for WordPress
WordPress VPS combines the flexibility of Virtual Private Servers (VPS) with specialized WordPress optimization. This type of hosting offers you dedicated resources, enhanced security, and scalability. Ideal for high-traffic WordPress sites, it ensures optimal performance and customization while maintaining the convenience of WordPress management.
Once you've picked VPS WordPress hosting, explore these top services for hosting your WordPress sites.
Vultr – The Everywhere Cloud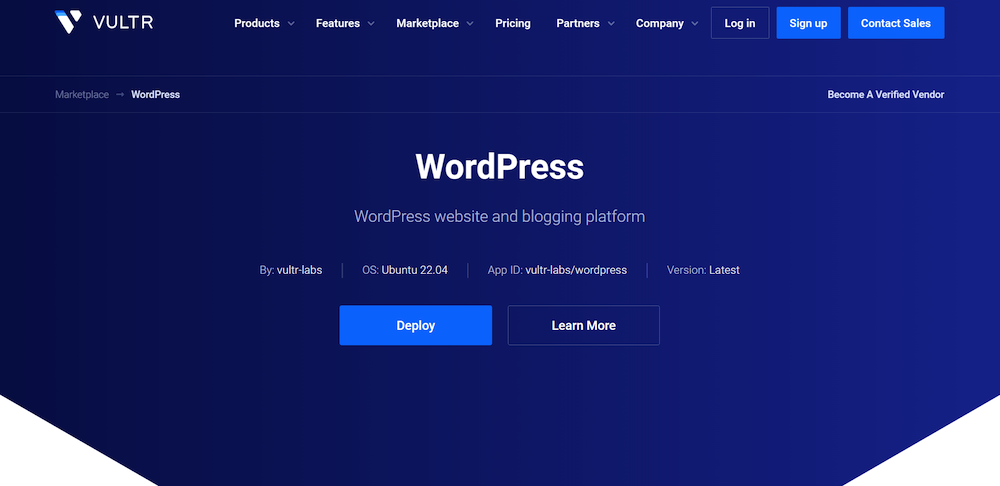 Vultr is like a tech-savvy buddy, offering a bunch of VPS hosting plans, including ones just for WordPress fans. Imagine VPS hosting as a big cake sliced into virtual pieces, where each slice has its own special toppings—like CPU, RAM, and storage. Vultr decks out its VPS servers with fancy gear, making sure your WordPress site is always speedy, even when everyone's dropping by.
Their global network of data centers is like having little hubs all over the world, making sure your site is always close and ready to party. Using Vultr is like having a magic wand for your server—you can install any software or plugin you need, and tweak things to make your WordPress site feel just right. Plus, they're cool with different operating systems, so you can pick the one that vibes with you. Its hosting is human-friendly.
Notable features Vultr:
easy-to-use interface allows you to deploy high-performance servers worldwide using our intuitive control panel
Get a rapid response from our 24/7/365 technical support team using our intuitive ticketing system
Flexible payment options include major credit cards, PayPal, Alipay, Bitcoin, and more.
Keep a close eye on your usage charges from one central place and pay only for what you use
Gain peace of mind by integrating your account with SSO or enabling multi-factor authentication
Upload your own custom ISO or choose one from our diverse ISO library to mount on your instance.
Create unlimited operating system combinations in any of our 32 worldwide locations.
Vultr Pricing:
Vultr's regular performance pricing starts from $2.50/month with 10 GB storage.
InMotionHosting – Shared Hosting for Fast and Secure Websites
InMotion VPS Hosting is like the speed champ, using the fastest NVMe SSD storage for quick and reliable performance. It's like having a superhero team with total data redundancy to ensure everything stays in tip-top shape. The hardware is top-notch, making it perform way better than the traditional, slower SSDs.
"They have quick response times with solutions up in minutes."
– HostAdvice
When it comes to moving your website, InMotion Hosting's got your back, saving you time and money. Launch Assist is like your personal support hero, handling everything from data migration to server setup without any downtime. Plus, they make sure your customer's data is super safe with servers optimized for security and speed, following all the important rules for Payment Card Industry compliance. It's like having a high-speed fortress for your website.
Notable Features of InMotion Hosting
Choose from different locations for your data center.
InMotion takes care of moving your website hassle-free.
Count on a 99.99% uptime for your site's reliability.
Enjoy free transfers for your website with InMotion.
Manage your resources easily without complications.
InMotion comes with built-in backup plans to keep your site secure.
Get the added protection of SSH and defend against DDoS attacks.
Pick from various data center locations for added flexibility
InMotion Hosting Pricing
You can enjoy four different hosting plans with InMotion Hosting (Core, Launch, Power, Pro). Among them, the 'Core' plan costs $2.99/month with 100 GB SSD, unlimited bandwidth and more facilities.
Hostgator– Web Hosting that Scales From Easy to Expert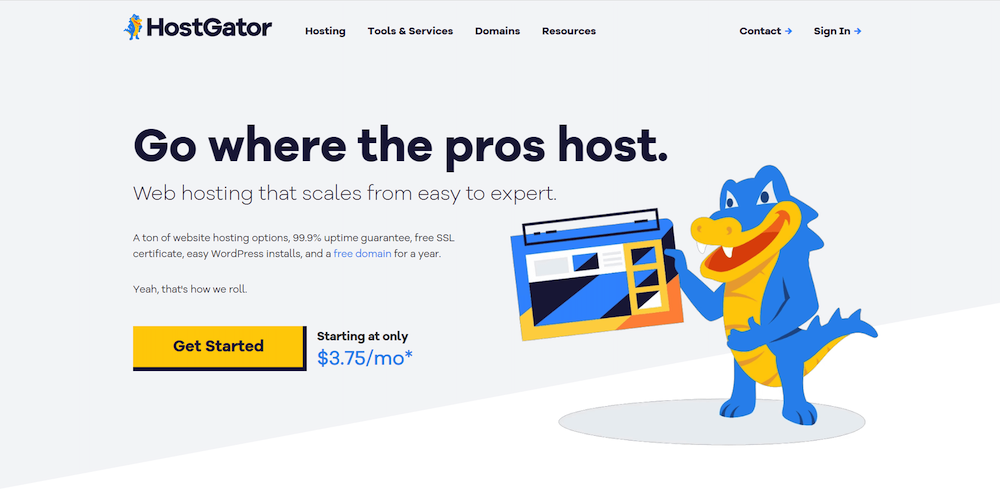 HostGator's cloud hosting plans cater to everyone, from small businesses to big companies, offering a bunch of cool features. They made sure these plans can grow or shrink with your website's needs, so you never have to stress about it outgrowing your hosting.
With HostGator's cloud hosting, your site gets a speed boost because it taps into the power of multiple servers. This means your website loads faster and can handle more visitors without breaking a sweat. And for the security-conscious, they've got you covered with malware protection, backups, and a super easy control panel to manage everything. It's like having a dream team for your website.
Notable features of Hostgator:
Hosting purchase includes daily backups, site security, and more
Ensures your website loads super fast for a great user experience
Count on 99.9% uptime to keep your site always available
Get 24/7 support for any issues you might face
Take Benefit from malware protection, site backups, and more
Easily scale resources and manage accounts with a simple and dreamy control pane
Score a free domain for a whole year with hosting
Hostgator Pricing:
Hostgator comes with three different hosting plans ( Starter, Standard, and Business). The starter plan pricing starts at $5.95/mo offering a single site, 100+k visitors per month, and more.
Best Cloud Hosting for WordPress
WordPress Cloud Hosting leverages cloud infrastructure to provide scalable and reliable hosting for WordPress websites. With the flexibility to scale resources on-demand, advanced security features, and automatic backups, it offers an efficient and resilient hosting solution tailored for optimal WordPress performance in the cloud environment.
Once you've opted for cloud WordPress hosting, explore these top services to host your WordPress sites.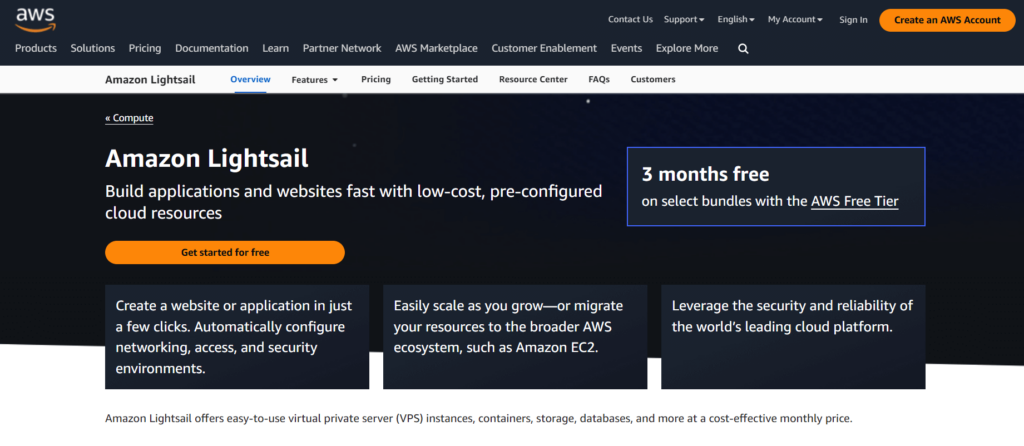 Amazon Lightsail makes setting up your website or web app a breeze with its user-friendly cloud resources. In just a few clicks, you can launch websites or apps using ready-made blueprints like WordPress or Prestashop.
Whether you want to host static content, reach a global audience, or kickstart your Windows Business server, Lightsail has got you covered. The Lightsail console guides you through the setup effortlessly, often with components already configured, making the whole process smooth and simple.
Notable features of Amazon LIghtsail
Lightsail provides hassle-free virtual servers, backed by the strength and reliability of AWS.
Run Docker containers effortlessly with Lightsail Containers, seamlessly integrating them into your cloud workflow.
Simplified load balancing by Lightsail ensures your websites and apps handle traffic variations smoothly.
Easily scale your databases independently of virtual servers with Lightsail-managed databases.
Amazon Lightsail offers both block and object storage options for your data needs.
Utilize Lightsail's content delivery network (CDN) distributions, built on Amazon CloudFront's robust infrastructure.
Lightsail focuses on key features like instances, managed databases, and load balancers for a straightforward starting experience.
Amazon Lightsail Pricing:
Amazon Lightsail comes with four different pricing plans. Among them the three months free on Windows bundles: $8 USD /month, $12 USD/month, and $20 USD/month.
Google Cloud – Elevating Your Business with Google Cloud Hosting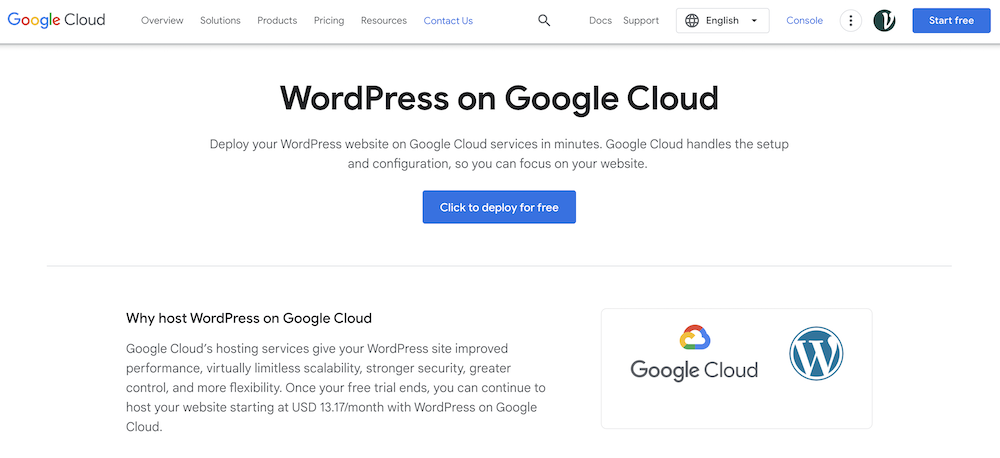 Google Cloud's hosting services elevate your WordPress site with better performance, endless scalability, enhanced security, increased control, and added flexibility. A standout perk of opting for Google Cloud hosting is their strong commitment to achieving an impressive uptime of 99.99%.
This dedication is clearly outlined in their Compute Engine Service Level Agreement (SLA), promising financial credits for any monthly uptime falling below this exceptional standard.
Another notable advantage is the flexibility to optimize your network for either top-notch performance or cost-effectiveness through the various Network Service Tiers offered by Google Cloud hosting.
Notable features of Google Cloud:
Serverless computing platform for app development.
Managed Kubernetes service for container orchestration.
Durable and highly available object storage.
Fully managed relational database service.
NoSQL database service for large-scale analytical workloads.
Fully managed relational database with global distribution and strong consistency.
Visual data preparation service for machine learning.
A platform for building and deploying machine learning models.
Multi-cloud and on-premises application management platform.
Google Cloud Pricing:
Wrapping Up
Selecting the right WordPress hosting is paramount for a secure and swift website experience. Our journey through the 10+ best hosting options in 2023 has been geared towards ensuring your website not only stays safe but also delivers optimal performance. There any many hosting solutions for WordPress, but finding the best WordPress hosting provider is difficult as every service has its own unique USPs. We have tried to mention the features that matter to host your site, but now you need to analyze and choose the best WordPress hosting for you.
Whether you prioritize security, speed, or a balanced mix of both, these hosting choices cater to diverse needs. A well-hosted WordPress site lays the foundation for a seamless online presence, fostering trust and engagement. Choose wisely, and let your website shine in the digital realm.