Whether you run your company remotely or work at your office, keeping track of the employees' time is always essential. In fact, it's not only tracking time but also monitoring productivity, performance, and work. But the question is "What can I track my employees' time with?" Well, there are some best time tracking software that can do the job without harming employees' productivity. Today, we will talk about some of them with their benefits in detail.
Every company like yours wants to ensure that their employees work smartly up to their potential. But you don't always know how they are working unless you monitor them properly.
Wrong time tracking software does more harm than good. So, you have to think a lot before choosing one.
Nowadays, analyzing employees' productivity, performance, and time with employee monitoring tools is on the rise. For a team working remotely, it's a must-have.
After going through hands-on experience, user reviews, and case studies, we've brought you the ultimate list of the best employee time tracking software available today. I am sure you will find your desired one on the list.
What Is Time Tracking Software?
Time tracking software is an application used in computers or smartphones to document time allocated to tasks or jobs. At present, this software is used in many businesses and industries to record time spent on given tasks. It helps a person to understand how much time he spends on personal activities like working, reading, using social media, etc. Choosing the best time tracking software can help you waste valuable time and boost up individual expertise to make the best use of daily activities.
Difference Between Time Tracking Software and Project Management Software
With plenty of time tracking software and their differences in features, you may be confused with some of its cousins. This is why it is important to know the difference between time tracking and project management software. So, let's have a look at their differences here.
Time Tracking Software
Time tracking software provides the basic features of time tracking. This software is best for companies whose employees work from remote areas. Time tracking tools are perfect for small business persons, freelancers, and consultants for providing the right and budget-friendly solution.
Project Management Software
Project management software is an application that helps you manage the entire project workflow starting from assigning and scheduling tasks, reporting features to execute them, and having all involved team members in a single loop. 
Using time tracking software in project management can be a great time saver. That is why it is best to check whether your time tracking tool and project management software can sync easily.
6 Best Time Tracking Software to Monitor Performance and Boost Productivity
Whether you are looking for employee time tracking software for small businesses, large teams, freelancers, or an enterprise, our list of best time tracking software will help you choose the right one. So, let's know them all with their features and benefits.
DeskTime – A Time Tracking App For Businesses and Freelancers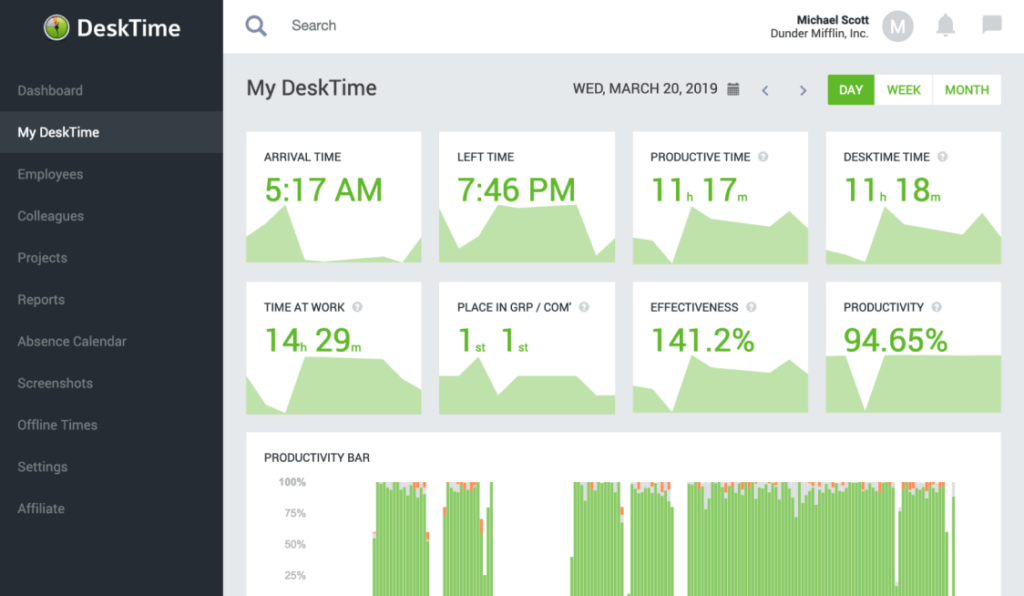 DeskTime is an automatic time tracking app for teams and freelancers. It comes with powerful features to measure productivity, track attendance, and manage effective workflow. DeskTime makes it easy to keep track of employees. This super time tracking tool is specially designed for managers and their teams to find out habits that hamper productivity. By sorting the important and unimportant web pages and applications into "productive" and "unproductive", this software increases the workflow of an organization.
DeskTime has a facility to create categories according to programs, apps, and URLs. Besides tracking time, it automatically calculates the regular productivity and expertise of employees. The more time an employee spends on productive tasks, the higher the daily productivity will be.
DeskTime lets you create employee groups and supervise application productivity personally for each group. From this feature, you can easily identify which particular application is perfect for particular persons to evaluate their productivity.
DeskTime is Perfect for
DeskTime is a perfect time tracking software for companies and teams who want to improve productivity and utilize the best from the employees. Set a productivity target for the employees for a specific period of time and monitor the improvements through DeskTime.
DeskTime Key Features
DeskTime comes with plenty of key benefits and features. Some of the most important ones are mentioned below.
Automated time tracking: DeskTime time tracking is fully automated. It automatically starts and stops when you turn on and off your computer.
Productivity calculator: DeskTime understands the difference between productive apps and unproductive apps and calculates employees' productivity on the basis of the uses of those apps. You can predefine the apps and websites that you want DeskTime to consider productive. 
App and URL tracking: You can monitor what type of websites, programs, and apps your employees use. Through this monitoring, you can calculate the employee's average productivity.
Document title tracking: DeskTime preserves documents and file titles and the total time spent on them. 
Take screenshots automatically: If you want screenshots of what your employees are doing on their computers, DeskTime has the features to take those screenshots for you.
Time tracking when offline: Offline time tracking helps you get accurate data about how employees spend their time away from the computer.
Time tracking for projects: Project time tracking lets you evaluate the condition of projects, and calculate the time required for identical projects in the future.
Calculation of cost and project billing: By integrated time billing feature, you can calculate how much cost there is for completing each project.
Pomodoro timer: The Pomodoro timer helps you remember to take a break from work for a certain period of time.
Option for private time: To spend time for personal reasons, employees can turn on the private time feature so that when it's on, the time and website used won't get tracked.
Employee absence calendar: This feature permits employees to set their schedule and let the team know when they won't be available.
Work schedule: By using DeskTime you can plan and set your team's working schedule very smartly and six times faster than using spreadsheets.
Mobile application: You can install a DeskTime app on your iPhone or Android devices so that you can monitor the team's performance even on the go.
3rd party integrations: DeskTime provides third-party integrations so that it clarifies a company's workflow.
Invoicing: You can create and publish specific invoices for clients using tracked time.
Custom reports: Different filters of DeskTime can customize reports to show the specific data that you need.
Platforms
You can use this software on Mac, Windows, iOS, Android, and Linux operating systems
Note: The larger your team the cheaper the price per user gets.
Hubstaff – Time Tracking and Productivity Monitoring Tool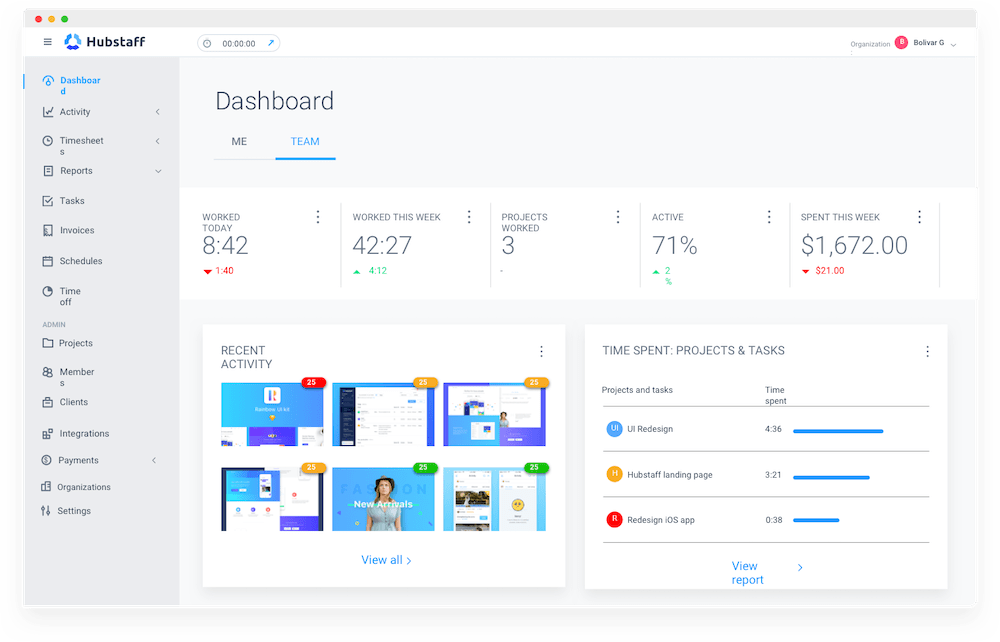 Hubstaff has time tracking, monitoring, and project management facilities like other similar software. The specialty of this software is you can track time and employees no matter where they stay. Through the Desktop app, Hubstaff employees can track their time. They have the freedom to choose when they want to start recording time.
Hubstaff monitors the websites and applications that your team visits and their activities on the screen. It accumulates all the tracked data and makes individual reports for employees. Employees can also see their performance on how much time they spend on their tasks. Hubstaff can also track the location of the employees through a GPS tracker. This feature is widely used by companies whose employees often go outside for official purposes.    
Hubstaff is Perfect for
Hubstaff is the perfect solution for companies that have remote workers who are mostly busy on the road. It helps the managers to know where their employees are and what they do.
Hubstaff Key Features
Below is the list of benefits and features that Hubstaff offers for you to track time and boost the productivity of your employees.
Tracking time: Hubstaff desktop and mobile app let you track the time of the employees whenever and wherever they work.
Online timesheets: By analyzing the employees' working hours and online reports, you can evaluate your company's performance.
Productivity supervision: You can monitor the productivity of the employees by taking screenshots, app, and URL tracking.
GPS tracking: You can get a better idea about budgeting, scheduling, and payments by keeping a record of the time spent by workers on the road or outside the office with cell phone-based GPS tracking.
Automatic time tracking with Geofencing: Hubstaff time tracking automatically starts and stops when employees arrive and leave the office. This is a geofencing facility of Hubstaff.
Tension-free payroll: You can set up pay rates for each of the members of your team so that they can automatically get their payments based on hours worked.
Time scheduling: Hubstaff offers an employee attendance tracker and staff scheduler. So you can see the employees' work progress at any time.
Apart from the above features, Hubstaff also offers reporting, invoicing, project budgeting, task management, offline time tracking, web time tracking, timesheet approval, Third-party integrations, and many more
Platforms
You can use Hubstaff on Windows, Linux, IOS, Android, Mac
Insightful – ( previously Workpuls)Easy-to-Use Employee Monitoring Software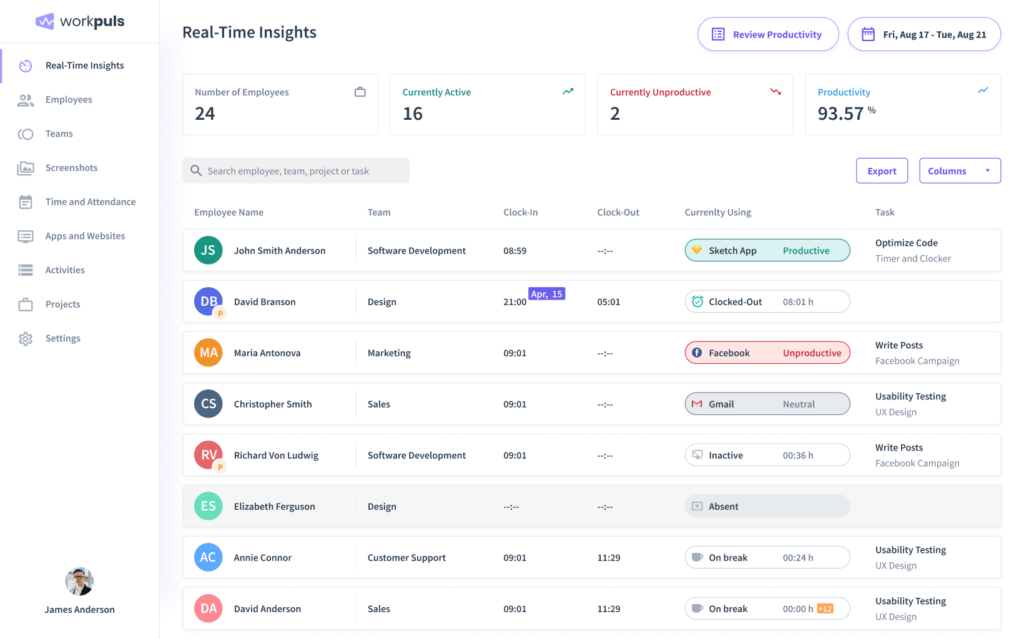 Insightful provides detailed workforce analytics for your team, empowering both employers and employees to boost productivity via insights into work patterns and behavior.
Get advanced productivity and behavioral data about your people and processes so you can understand how your team works best and get the most out of the daily by eliminating bottlenecks, improving workflows, and maximizing productivity.
Insightful is built from the ground up with enterprise-grade security and privacy, so that it meets the needs of even the largest enterprise organization or simply any security-conscious company, including on-premise deployment for the ultimate data control.
Core offerings include employee monitoring, time and attendance tracking, and automatic time mapping.
Insightful is Perfect for
Insightful is a perfect time-tracking software for executives, managers, and founders who lead remote or in-office teams who want greater insights and oversight of team performance and productivity. Other clients include BPOs (virtual assistants, call centers, data entry, insurance claims, etc.), enterprises, agencies, healthcare, and legal services.
Insightful Key Features
Insightful come with a number of important features and benefits. We outline some of the most important ones below.
Computer Activity Tracking: Get a complete picture of how employees use their time, app and website usage, and overall productivity insights.
Regular, Automated Screenshots: Set up periodic or rules-based screenshots to provide proof that employees are doing their work at any moment during the day.
Manual Screenshots: Click a button and take a manual screenshot of any employee's computer desktop at any time.
Verified Attendance: Insightful eliminates the need for manual attendance check-ins with its automatic tracking of employee computer activity.
Project Overview: Add projects and tasks that you can assign to employees to ensure efficient, focused work is being done.
Verified Proof of Work: Automatically capture screenshots and record computer activities of employees for definitive proof that employees are working. Ensure that you never foot the bill for time spent on other tasks, inflated timesheets, or slacking.
Project Budgeting: Advanced work data allows for extremely accurate budget forecasting for teams and projects.
Precise Project Insights: Get detailed reports that will help you stay on top of project progress and make sure that every second is counted.
Automatic Time Mapping: Get hands-off time allocation with an automatic time mapper that assigns work to projects
automatically without disturbing employees.
Eliminate Human Error: Automatic time mapping data pulls from workers' activity instead of relying on untrustworthy manually entered data.
Stealth Mode: Turn on the private mode to help track suspicious activities without being noticed and prevent costly data breaches.
Productivity Tracking and Labelling: These features allow you to analyze productivity, effectiveness, and focus with detailed charts for individuals, teams, or your entire workforce. Label activities as productive, unproductive, or neutral.
Automated Alerts: Managers can set up rules to receive alerts when productivity levels are unusually low or when deadlines or project budgets are approaching.
Real-time Monitoring: Get an instant picture of which apps or websites your employees are using at any given moment.
Budgeting: Set up project budgets based on hours worked or the amount spent, and ensure that every project will be profitable.
Platforms
You can use this software on Mac, Windows, iOS, Android, and Linux operating systems.
Note: Contact the Workplus team for enterprise pricing for large organizations.
Time Doctor – Smart Employee Time Tracking Software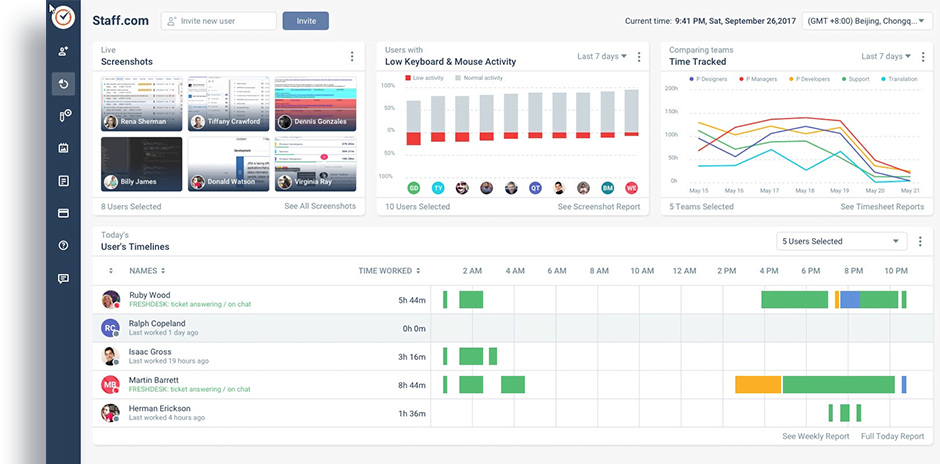 The authority of Time Doctor created this software to make it more user-friendly and dependable software for business owners so that they can set up this without having so much experience with Time Doctor. Time Doctor can be called a combination of employee time tracking and monitoring with project management. As a super employee monitoring app, it gives you more comprehensive information about your employees. Time Doctor records the data about what webpages and applications, URLs the employees are visiting every day. 
It has a desktop screenshot-taking facility so that managers can monitor what their employees do during office hours. The screenshot facility and reminder notifications are useful for both tracking and reminder purposes. The pop-ups that appear repeatedly on the screen are best for increasing the productivity of the employees. Time Doctor's features are easily accessible through the drop-down menus which are very easy to understand for individuals who want to use time-tracking software shortly
Both small and large companies (20-500 employees) can be the beneficiaries of Time Doctor. It is good for companies who want detailed employee monitoring. It's a good solution for companies who want to pay directly from this app.
Time Doctor Key Features
Some of the features and key benefits of the Time Doctor employee monitoring tool are given below.
Employee time tracking and monitoring: Track and monitor your and your employees' time so that you can get a clear idea about overall time spending
Online timesheets and payroll: Managers can analyze online timesheets and make payroll according to performance.
Project management and budgeting: Time Doctor helps the team focus on their project goals and budgeting.
Productivity measurement and summary report: Time Doctor makes daily and weekly summary reports by analyzing websites, and apps that employees use and measure productivity based on them.
Distraction Alert: Distraction alert suggest you and your team stay focused on tasks during working hours
Screenshots and activity levels: Gime Doctor takes screenshots of the users' computers and measures mouse and keyboard activity levels.
All device friendly: Time Doctor can be used in all devices and operating systems.
Third-party integration: You can integrate the software you use with Time Doctor very comfortably
Customization facility: You can customize Time Doctor's options very easily according to your needs.
Website and App monitoring: Time Doctor monitors the websites and applications that your team uses so that you can use stay focused on tasks.
Offline time tracking: Even your computer is turned off, no matter your work progress will be recorded and monitored through Time Doctor
Privacy and security: All information that is included in Time Doctor is private and secured for the users.
Client login access: Clients can get white-level access to Time Doctor free of cost under your brand and domain.
Easy setup and support: You just need an internet connection and it will take just 10 minutes for admin and 3-5 minutes for each user to complete the setup of Time Doctor to their devices. The Time Doctor team is always ready to support customers 24/7.
Platform
You can use this app on Mac, Windows, Web, Linux, iOS, Android
Note: A representative of a company with 10 or more employees can get a special discount
TimeCamp – Feature-rich Time Tracking App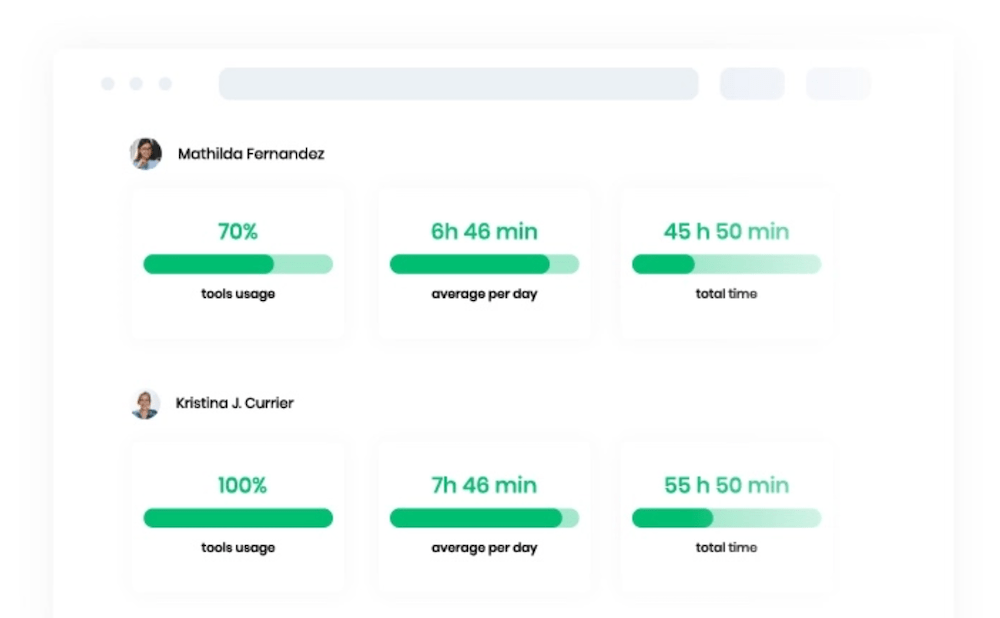 TimeCamp is a cloud-based time-tracking software for users. You can manually track your time through timers and automatically through the desktop application. Administrators of any project can cooperate, track, and monitor valuable work hours and projects. This employee productivity monitoring software can help you monitor the productivity of the employees as they are produced according to your expectations during work hours. 
TimeCamp is unique from other time tracking software because of its more than a hundred integrations with project management software like Asana, and Basecamp, and help desk apps like Zendesk. In this process, you can smoothly sync and import your created tasks and tickets to TimeCamp so that you can start tracking time as soon as possible.
Perfect for
TimeCamp is the perfect app for organizations that want a compact solution of time tracking, payment, and productivity tracking software that can be combined with project management tools
TimeCamp Key Features
Let's take a look at TimeCamp's key features below.
Automatic time tracking: TimeCamp has an automated scanning feature for the domain names of apps and groups according to predefined categories.
Integration with apps: You can integrate your team's software with TimeCamp to continue the workflow
Graphic timesheets: You can add, adjust, and delete timesheets very easily.
Keyword-based tracking: Setting up the keywords for tasks and projects lets you not switch between projects manually.
Monitoring of website and usage app: Monitor the time spent on websites and applications so that you can analyze your daily performance
Optional screenshots: Turing on the screenshots feature will help you to bring transparency to the task
Customizable billing rates: You can customize the billing rates of the employees according to their expertise, seniority, skills project type, and client
Budget notifications: Setting up a budget notification alert can remind you when a project is about to overrun its budget.
Comments and feedback: If you detect an error or wrong time entry, you can reply to the employee's timesheet with a comment
Automatic approvals and reminders: When your team's timesheets need approval, you can do that by automatic approval and reminders feature
Timesheet lock facility: If the timesheet is approved, it will be locked automatically. Only the manager can reopen it.
Payroll automation: TimeCamp automatically calculates the payroll at the end of the month. So you need not worry about it.
Platform
You can use TimeCamp on the Web, Mac, Windows, Linux, iOS, and Android.
Note: Non-profits, universities, and students can get discounts.
Clockify – Free Time Tracking Software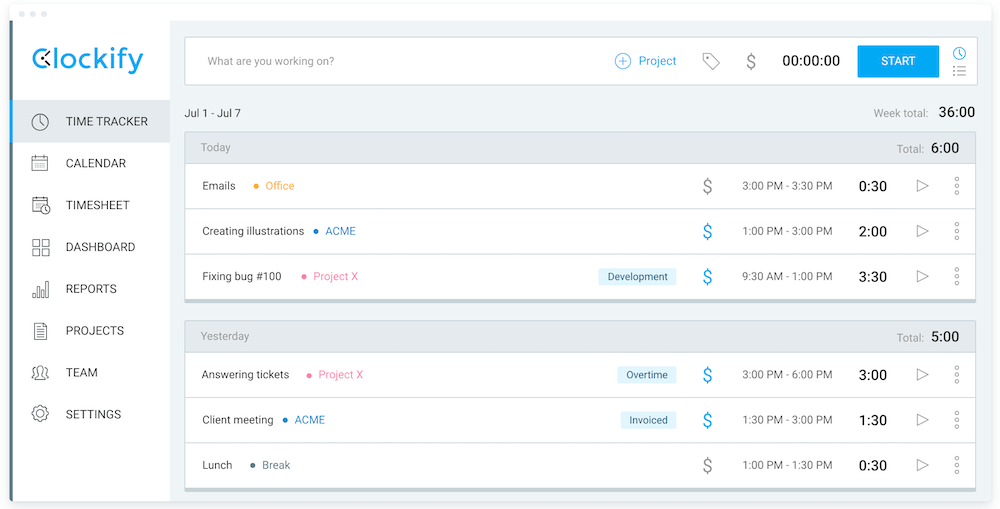 Clockify helps a team to track time by using timers and default projects. The timer works as a stopwatch that your team can use for starting and stopping tasks. The default project collaborates with the timer by becoming the default start timer that automatically distributes the time to the selected project. Clockify also brings reports to users to see which project can take the most time of the team so that the team can effectively manage the project.
Clockify provides more than 40+ integrations. It is supported with any device and browser. Clockify is famous for its user-friendly and easily navigable web application through which you can view your team's progress from anywhere you stay.
Clockify is Perfect for
It is best for freelancers who work with multiple clients on projects and very simple time-tracking solutions. Teams whose members work from different locations can use this software to finish their projects as productively as they can.
Clockify Key Features
Some of the most important Clockify features to track time and monitor employee performance are given below.
Time tracker: You can use the Clockify time tracker when you start or stop work or you can enter hours manually.
Timesheets: Clokify timesheet helps you log weekly tasks in less than a minute
Dashboard: The dashboard feature lets you know where you spend your valuable time and what your team is doing right now.
Reports: The Clockify report feature helps you know the amount of money you earn, review the team's time and export the data.
Projects: You can track projects and their progress and set your budget for future
Team: Invite team members so that they will be able to record their attendance and track how much time they spend on individual tasks.
Third-party integrations: Clockify has more than 40 integrations
Platform
You can use Clockify on the Web, Chrome, Firefox, Windows, Mac, Linux, iOS, Android
Are you working remotely? Know these 12 work from home productivity hacks and master the art of remote jobs easily.
Wrapping up
Time tracking can go wrong and be a burden on your team sometimes. This is why choosing the right time-tracking application is very important. A better time tracker will never harm a team's productivity. Choose your tool wisely. If you are looking for the best time-tracking software to monitor employees and boost productivity, our list of employee monitoring tools should help you find the right one. Hope you got the one you need from our list.