Are you looking for a Google Analytics alternative for your website? We have researched and picked the 5 best Google Analytics alternatives for WordPress sites. Most of the analytics tools in our list have WordPress plugins to set up and even showcase the analytics data on the WordPress dashboard. Keep reading to find out which one of these is the best Google Analytics alternative for you.
While Google Analytics could be one of the preferred analytics solutions to understand your website visitors and customers. It is not an option to choose if you consider the privacy of your data. That is why Google Analytics is not recommended in many places in the world. Especially, if you have business and customers in the EU zone, Google Analytics is not a good choice for you.
Like a lot of people in 21 century where data security and privacy is a major concerns, you should go for an analytics solution that ensures both. Whether you have used Google Analytics before, or if you are looking for an alternative to Google Analytics, we have selected the 5 best analytics tools for you.
In our round-up of the best Google Analytics alternatives for WordPress sites, we will discuss them with their pros and cons so that it gets easier for you to pick the right one.
Let's dive deep into these analytics tools and find the best one for your website.
Is Google Analytics Illegal?
As the use of Google Analytics violates GDPR. It has been declared illegal in some countries. In these countries, you can use any of the Google Analytics alternatives from our list.
Google Analytics is forbidden in ​​Austria, Denmark, Finland, Italy, Norway, Sweden, Hungary, and France. There are also some pending cases in some other European countries.
The web analytics tools we have selected are GDPR-compliant and very serious about privacy. Read our round-up and find your Google Analytics alternative.
Is Google Analytics 4 GDPR Compliant?
Google has introduced Google Analytics 4 to address privacy & data security issues and to be GDPR compliant mostly. Google promises that the latest version of its analytics tool will be more privacy-focused. But many countries are not convinced. Norwegian Data Protection Authority Datatilsynet said, "As far as we can see, Google Analytics 4 will not necessarily correct the problems we have just identified".
Despite taking some extra privacy-focused measures, Google Analytics 4 still has murky status with the European regulators. Currently, there are questions about whether Google sufficiently protects European Union citizens' and residents' data against US surveillance laws. This is a direct breach of GDPR if it doesn't.
6 Best Google Analytics Alternatives For WordPress Sites
There are many analytics solutions at your disposal. But, selecting the right one is a challenge. We hope that you would find your desired analytics solution in our list of the best Google Analytics alternatives. We have made sure that the analytics solutions we have listed here have a good system to set up them on WordPress sites.
Gladly, most of these Google Analytics alternatives have dedicated WordPress plugins to set up and even showcase the analytics data on the WordPress dashboard.
Fathom Analytics – One of the best Google Analytics Alternatives
Fathom is a website analytics tool that doesn't compromise visitors' privacy for data. It is one of the best Google Analytics alternatives for its way of processing users' data and maintaining the privacy roles of the different areas.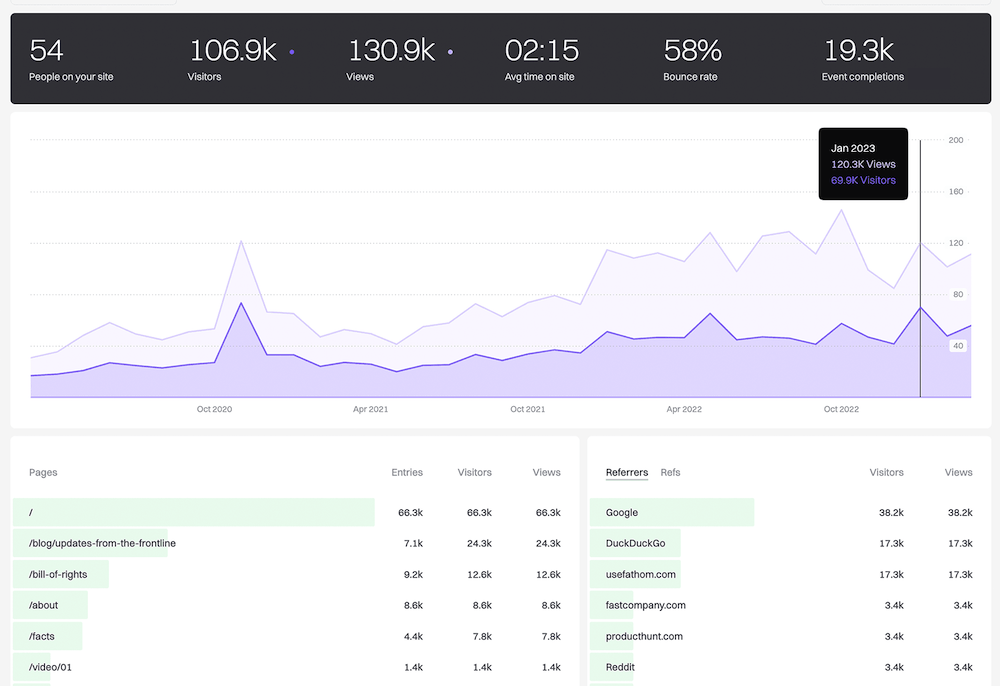 There are a lot of questions about how Google Analytics processes users' data. Fathom takes a different approach. Instead of generating revenue from selling data, It charges a fair and sustainable price for its software. You can learn more about Fathom in our detailed review of Fathom Analytics.
Fathom created anonymous pageview tracking which doesn't collect or store personal data. And that is why, Fathom doesn't require any annoying cookie notices.
I switched to Fathom because it's an ethical analytics tool that I trust. It gives me everything I want to know about my site's performance

Charli Marie, Creative director of ConvertKit
Fathom Analytics is fully compatible with GDPR, ePrivacy, PECR, and CCPA. Most importantly, they consult with privacy law experts in different zones for GDPR, PECR, CCPA, and more law compliance.
Why You Choose Choose Fathom Analytics for Your Website
Fathom lets you understand your website visitors without spying on them. It focuses on the privacy suited well for the business running in the European zone and more areas. Let's take a look at some key features of Fathom Analutcts that you may love.
Import Google Analytics data easily – you have your previous data saved
No annoying cookie banner
Protect the privacy of your visitors and customers – fully GDPR, ePrivacy, PECR, and CCPA
Unlimited data retention
Easy to use on your website with a simple script that does not hurt SEO or page speed
UTM campaign and event tracking
Regular consultation with privacy law experts for GDPR, PECR, CCPA, and more law compliance
Built from the ground up to be fully compliant with privacy laws in Europe
Monitor your website and send a text, email, Telegram, or Slack message whenever your website stops responding
Here's what some Fathom users said about Fathom Analytics after switching from Google Analytics or some other solution.
I love the simplicity, speed, and accuracy of Fathom. I consider it a "must-have" analytics tool if you want to understand what's happening with your website traffic.

Ruben Gamez, founder of Docsketch & Bidsketch
Privacy-protections aside, I love the beautifully simple interface. Fathom is now part of my default stack.

Derrick Reimer, founder of SavvyCal
Phathom Analytics Pricing
Fathom Analytics comes with 3 different pricing plans. You can start with $14/m for up to 100,000 monthly page views or you can go for $24/m for up to 200,000 monthly page views, and $44/m for up to 500,000 monthly page views.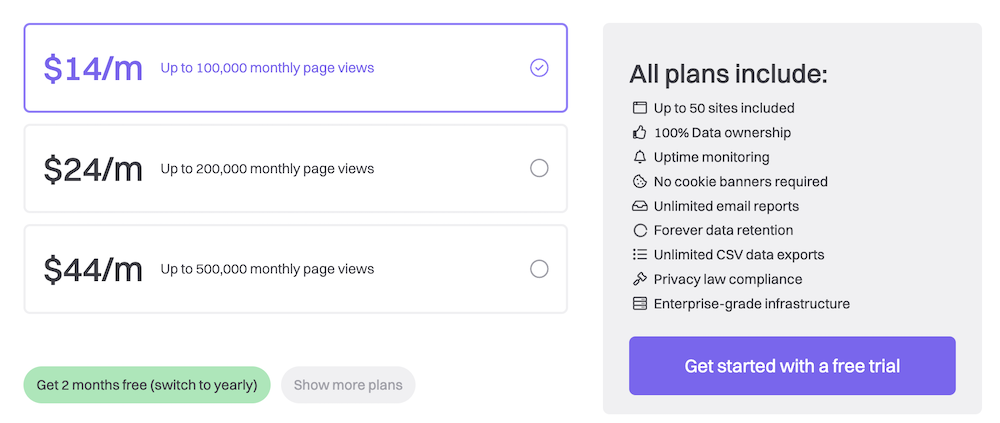 You just need to choose a plan according to the volume of your website page views.
Go to the Fathom Analytics website to get a $10 discount on your first purchase!
How to Use Fathom For Your Website
To use Fathom on your website, you need to install the Fathom script in the header of your site's code via their WordPress plugin or with any of the supported integrations.
Fathom has integrations support for diverse CMS and website solutions including Bloggi, Cal, Carrd, ConvertKit, Discourse, Ember.js, Gatsby, Inertia.js, Next.js, Remix, SavvyCal, Transistor, Vue.js, Webflow, WordPress, Drupal, Other SPAs
How to Use Fathom Analytics For Your WordPress Site
If you are using a WordPress site, Fathom has an easy-to-use WordPress plugin to implement the script on your WordPress site. Plus, you get to see all of your data on your website dashboard easily.
Get started with Fathom Analytics today!
Piwik Pro– Website Analytics Suite For You
Piwik is an analytics suite that focuses on user privacy and data security. It is a perfect Google Analytics alternative to track your website visitors.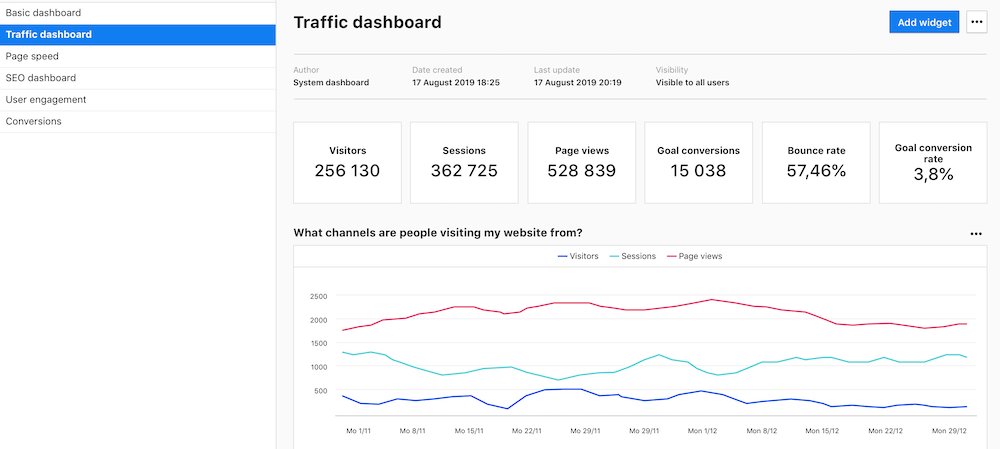 Piwik analytics platform does not reuse your data in suspicious ways. Unlike Google Analytics, Piwik doesn't sell your data to any third party. They provide you with the instruments to further protect user privacy and security. You can map your business goals into KPIs, handle deployment, set up tailored reports, and get a grip on our product with your website analytics with Piwik.
With Piwik, you get full control over data on-premises in your own cloud subscription and the private cloud storage options you prefer. You can track post-login areas, create targeted ad campaigns, and more. Most importantly, you can keep your users' data safe with a complete set of privacy and security features in Piwik.
Why You Should Choose Piwik Analytics
Piwik comes with a lot of benefits. It could be the Google Analytics alternative you are looking for. Let's check why people choose Piwik Analytics for their website analytics.
Complete analytics suite for web and mobile
Analytics for product teams
Create, test, and deploy tags and coordinate tag behavior with Analytics.
Boost sales, adoption, and acquisition with the right data
Comply with regulations all over the world including GDPR in the EU, LGPD in Brazil, and CCPA in the US.
Get many integrations developed to enhance data quality and marketing performance
Multiple hosting options – You can store data on safe cloud servers in the EU.
Piwik Pro Review by Users
"We need information about the way in which customers work and interact with our product. With the data collected from Piwik PRO, we can optimize our product to meet customer requirements and effectively allocate our development resources."

Dr. Bartosch Belkius, Vice President Analytics at TecAlliance GmbH
"I had the opportunity to explore the new features of the Piwik PRO CDP during demo sessions with product managers. I'm very excited about the upcoming changes in the module. We're looking forward to leveraging the new functionalities and delivering an even better customer experience."

Michael Holzinger, AdTech and Analytics Expert at Moser Holding AG
Piwik Pro Pricing
Piwik has two pricing options. You can start free any time and contact them for an enterprise plan. The free one is free forever while the pro one is fit your use case, and offers premium support and customization options.
How to use Piwik With Your WordPress Site
Piwik Pro has a WordPress plugin to implement its code on your WordPress site. So, if your site is on WordPress just install the Piwik Pro WordPress plugin and Go to Dashboard > Settings > Piwik Pro. Just place the information it asks for from Piwik Pro and click on save changes. You are done.
Matomo Analytics – Protects Your Data and Your Customers' Privacy
Matomo is a powerful web analytics platform. One of the befitting Google Analytics alternatives that give you 100% data ownership. It safeguards your data and protects your customers' privacy at the same time. Matomo is a Google Analytics alternative to understand your website visitors' and customers' behavior.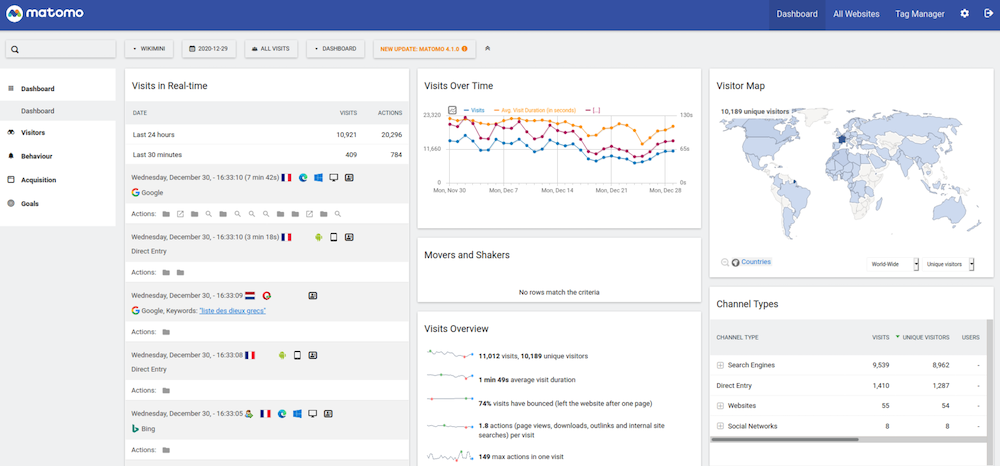 With Matomot, you know where your data is stored and what's happening to it, without any external influence. Matomo is very serious about privacy and it keeps your business GDPR and CCPA compliant.
Google Analytics uses your data for its gain and you may lose customers' trust because of using Google Analytics. Matomo as a Google alternative analytics solution can help you with data privacy and protection.
Why You Should Choose Matomo Analytics
Matomo has a lot of features and plugins to extend your website analytics. Here are some key features of Matomo that might influence you to try Matomo.
Import your Google Analytics data directly into your Matomo.
Securely track personal data in accordance with privacy laws.
Matomo ensures 100% data accuracy
A secure, transparent platform that's been thoroughly tested by hundreds of contributors.
No limitation on how much data you store. Get an unlimited number of websites, users, and segments.
Easily navigate through a user-friendly interface to get the data you need, faster.
Actionable insights and a complete picture of your customers.
Matomo is customizable and extendable to meet your every need.
Matomo experts can save you time and money by providing guidance
Matomo Review by Users
Matomo is much simpler to set up than GA4 for your basic reporting needs and can dive pretty deep in to things when need be. My usage is pretty basic at this point but I have completely disconnected my Google Analytics accounts and have no intention of returning.

jfdotdigital (@jfdotdigital)
Very precise and detailed analytics. Very ergonomic and pretty.Completely free solution without popups or ads. Very reliable and provides a lot of usable data, which Google no longer provides since its GA4 version.

zepolo (@zepolo)
Matomo Analytics Pricing
Matomo has both free and pro plans. The free plan is free forever which is hosted on your server. The cloud-hosted one's pricing starts at 19 Euro per month for 50,000 monthly hits on your website.
How to Use Matomo With Your WordPress Site
Matomo has a WordPress plugin to set it up with your WordPress site. Plus, the plugin delivers the analytics right on your WordPress dashboard. The plugin is currently being used on 70,000+ WordPress sites.
Clicky Analytics – Privacy-friendly Website Analytics
Clicky is a privacy-focused, real-time web analytics service. It helps you monitor, analyze, and react to your website's traffic in real-time. It is a GDPR-compliant website analytics service with over one million websites around the globe.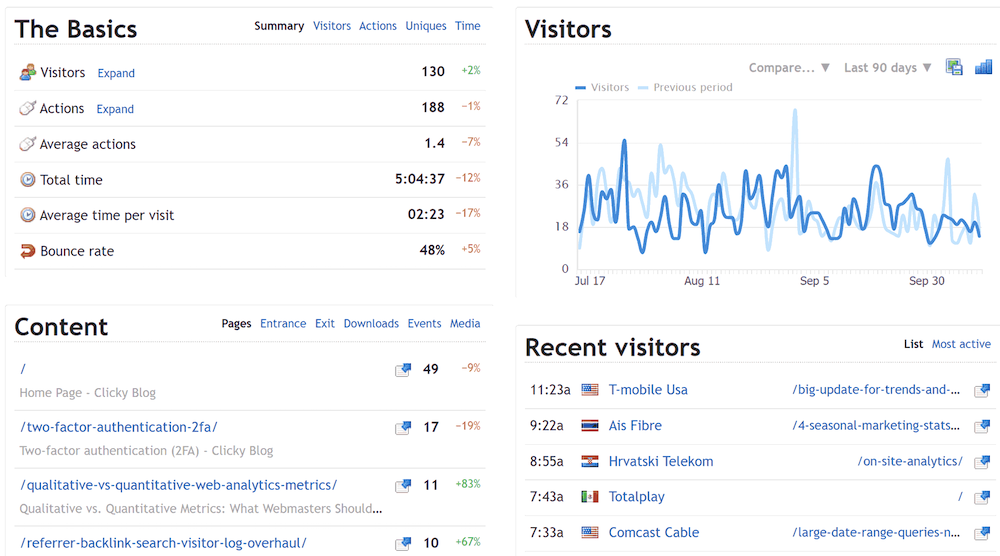 Why You Should Choose Clicky Analytics
Let's take a look at some key features of Clicky analytics
Privacy-friendly & GDPR-compliant, no personal data, no tracking cookies
No bots or referrer spam – Get the best bot detection and blocking system in Clicky.
See every visitor, page view, and javascript event. Anonymized and GDPR-compliant by default.
Track ad-block visitors
Heatmaps – View heatmaps by page, visitor, or segment.
Log more data for security or anti-fraud purposes with full IP addresses, as defined by GDPR recital 47
Uptime monitoring from 7 locations around the globe – Receive alerts when your website goes offline.
Clicky Review by Users
"Tracking with Clicky we can drill down exactly what we need to do in order to boost conversions for clients or our own affiliate websites. Leaving Google Analytics and switching to Clicky was one of the best decisions we've made."

Kay, binaeroptionen.de
I switched to Clicky in 2014 and it was by far the smartest decision I've made. The analytics it provides is exceptional and second to no one. Split testing and tracking conversions has never been simpler.

Giv, malegroomings.com
Clicky Analytics Pricing
Click has several pricing options including a free plan. Choose from Free, Pro, Pro Plus, Pro Platinum, or Custom pricing whichever suits you best starting at $9.99/month.
How to Use Clicky With WordPress Site
There are some WordPress plugins available on WordPress.org to set up your website with Clicky Analytics. You can go for the Clicky by Yoast plugin which has over 20,000 active users.
You just need to install the plugin and follow some easy steps.
Plausible Analytics – privacy-friendly Google Analytics alternative
Plausible is an intuitive, lightweight, and open-source web analytics solution widely used as a Google Analytics alternative. It is fully compliant with GDPR, CCPA, and PECR. Most importantly, Plausible Analytics is made and hosted in the EU and powered by European-owned cloud infrastructure.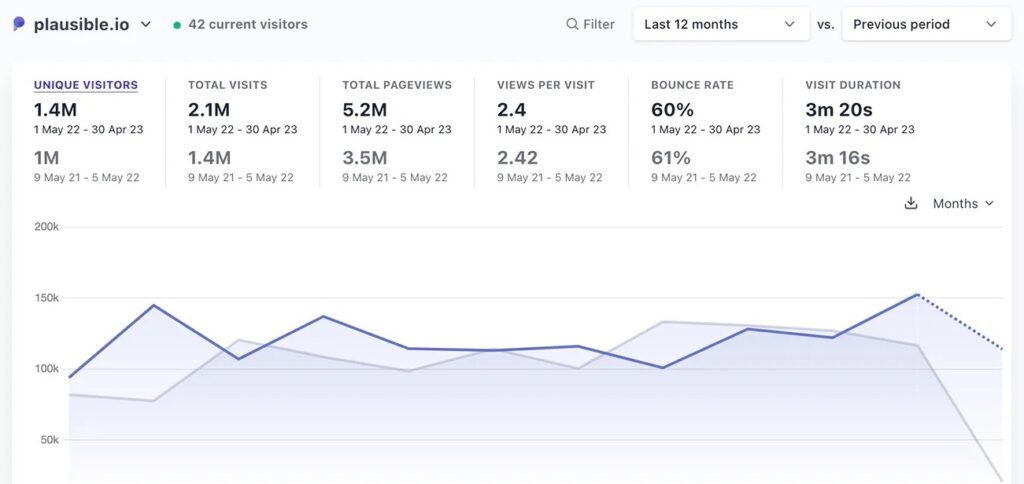 While Google Analytics is slow to load and privacy-invasive, Plausible Analytics is an easy-to-use, powerful, lightweight (< 1 KB), and privacy-friendly alternative. It is one of the great Google Analytics alternatives with over 2,29,000 users and 10,000 paying customers.
Why You Should Choose Plausible Analytics
Her are some benefits of Plausible Analytics that you may love.
A privacy-led analytics solution. Enjoy 100% data ownership and 100% data control.
Fully compliant and leaves any security threats out the door
Plausible Analytics has a lightweight script that keeps your site speed fast
No need for cookie banners or GDPR consent
You can track goal conversions, revenue, and campaigns
Transparent and fully open-source software
Smooth migration from Universal Analytics
Plausible Analytics Review by Users
I recently switched from Google Analytics to @PlausibleHQ and I am really happy with it so far. I wrote a post about it and how you can add Plausible to your

Debbie O'Brien
Just replaced my full network's Google Analytics with Plausible – I can't remember when last I was this impressed by a SaaS UX + design 💯 Became a paying customer within 1hr of the 30-day trial.

Rob Hope
Plausible Analytics Pricing
Plausible Analytics has a simple traffic-based pricing starting at $9 per month for 10,000 page views. You can sign up for a 30-day unlimited trial without any credit card. The price gets comparatively lower with the number of page views and yearly billing.
How to Use Plausible Analytics to Track Your Website
First, you need to log in to your Plausible Analytics website account. Then enter the domain name of the website you want to track. After that you need to paste your Plausible Analytics tracking script code into the Header (<head>) section of your site. Place the tracking script within the <head> … </head> tags. That's it.
Simple Analytics – Simple Yet Powerful Google Analytics Alternative
Simple Analytics is EU-based and EU-hosted a privacy-first Google Analytics alternative. It has one dashboard to instantly see how many visitors are coming to the website, where they are coming from, and what they do once they're on your website.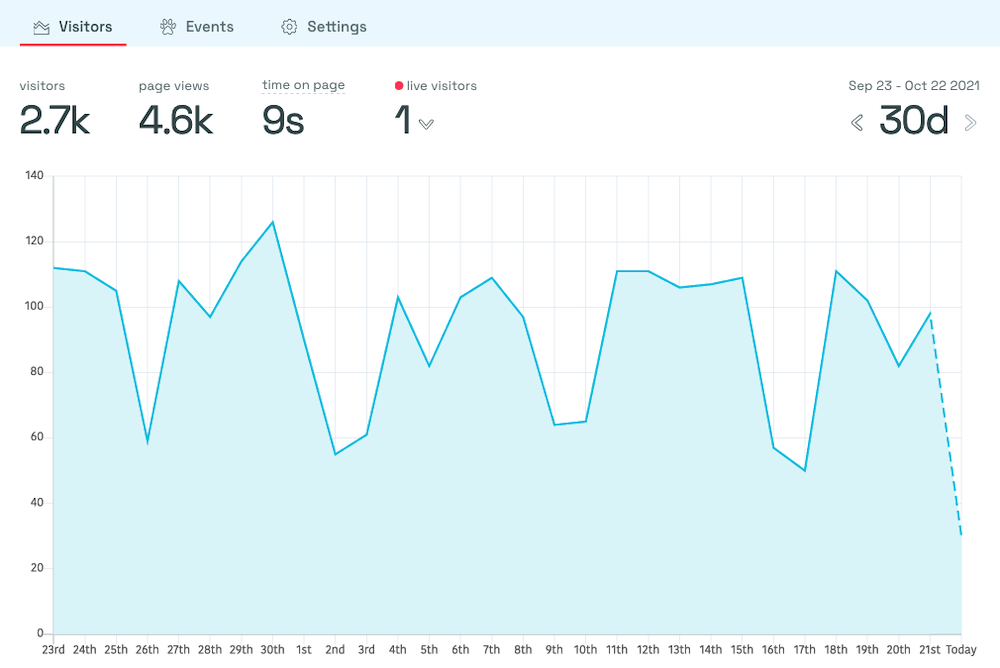 Switching to Simple Analytics will still give you visibility into how visitors are using your website, but you'll also be respecting their right to privacy."

DuckDuckGo, Biggest privacy-friendly search engine
You can track two types of data with Simple Analytics: page views and events. In case, you don't use events, the data points will only be page views. And, if you do use events, the data points will only be events. Simple Analytics has a UTM builder tool to help you with event and campaign tracking.
Simple Analytics Demo
See the Simple Analytics demo in the video below.
Why You Should Choose Simple Analytics?
Privacy protection at the core. Simple Analytics complies by design with all privacy policies including GDPR, PECR, CCPA, and more.
Simple UI, an easy-to-use dashboard, a simple and easy way to understand your visitors and customers' behavior on your website.
Simple Analytics does not store any personal data about visitors. No cookie banners.
Goals-tracker and Events Explorer of Simple Analytics let you keep track of the most important events and conversion funnels.
Simple Analytics has a lightweight script so it does not affect your website speed.
Like downloads and email clicks. Check the performance of every button, click, and page visits you want without tracing any individual.
Simple Analytics Review By Users
"My focus has been on using ethical tools. I said bye to Google Analytics and hello to Simple Analytics. In 1-2 clicks I can get all the information I need."

Rosie Sherry, Community Manager Indie Hackers
"We traded a 'free', privacy-less, and complex analytic dashboard for a paid, privacy-first & simple one. We couldn't be happier. The best privacy-focused analytics suite that I've found. We're proud to be able to tell our customers that we don't track them at all."

Philippe Lehoux, CEO of Missive
"Excellent alternative for Google Analytics. Yes, you pay a small subscription, but you get a lot in return: GDPR-proof and cookieless analytics, accurate tracking, and clear visuals."

Stefaan Oyen, Marketeer
Simple Analytics Pricing
Simple Analytics comes with very simple pricing. The pricing plan starts at $9 /month if you pay annually for 100,000 data points per month, 1 user, and 10 websites.
How to Use Simple Analytics For WordPress Sites
For WordPress users looking for the Simple Analytics solution, Simple Analytics has an official WordPress plugin to set up easily. Go to your WordPress Dashboard > Plugins > Add New.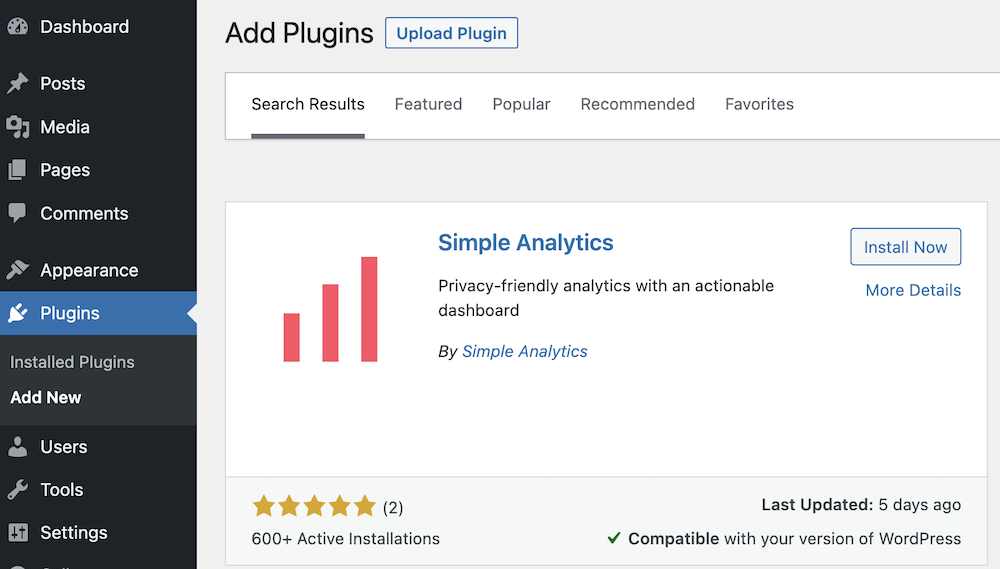 Search Plugins and type simpleanalytics. Click on Install Now and Activate subsequently.
Your website analytics is so vital for your business. If you don't understand your visitors and customers' behavior on your site, you won't be able to take critical business decisions. So, if you don't want to use Google Analytics, you need an alternative to track visitors' behavior on your website. That's why we have come up with the idea to write about the best Google Analytics alternatives for WordPress sites. We hope you already have found your desired website analytics tool from our list.
With the ban of Google Analytics in the European Union and some other regions, People are looking for the best Google Analytics alternatives for their websites. It is hard to accept that a company is selling your data in exchange for letting you use their analytics software for free. That is why data privacy-conscious people are looking for alternative analytics solutions. Read Virfice regularly for more such guidelines and suggestions.