Are you looking for a Google Analytics alternative? Thinking if Fathom Analytics would be the best choice? In our Fathom Analytics Review, we have analyzed focusing more on how it handles privacy and processes your data. Let's find out if Fathom is the right Google Analytics alternative for you.
I switched to Fathom because it's an ethical analytics tool that I trust. It gives me everything I want to know about my site's performance

Charli Marie, Creative director of ConvertKit
Fathom is a Google Analytics alternative that is privacy-focused and cookie-free, and most importantly doesn't compromise visitor privacy for data. It helps you understand your website visitors without spying on them. Apart from its privacy-focused approach, it has an interesting interface too.
Fathom Analytics lets you get rid of cookie banners, retain website data, monitor website uptime, use UTM campaigns, and track events all without compromising visitors' and customers' privacy and violating any data policy rules.
According to their website, Fathom has counted billions of page views for thousands of customers, all without ever compromising anyone's privacy. It is a simple privacy-friendly Google Analytics alternative that truly cares about customers' data.
Fathom Analytics Review: How It Handles Privacy and Process Your Data
Fathom comes with a lot of features to understand your visitors while not spying on them. It has a keen focus on privacy suited well for the business running in the European zone and places where data privacy is a severe issue.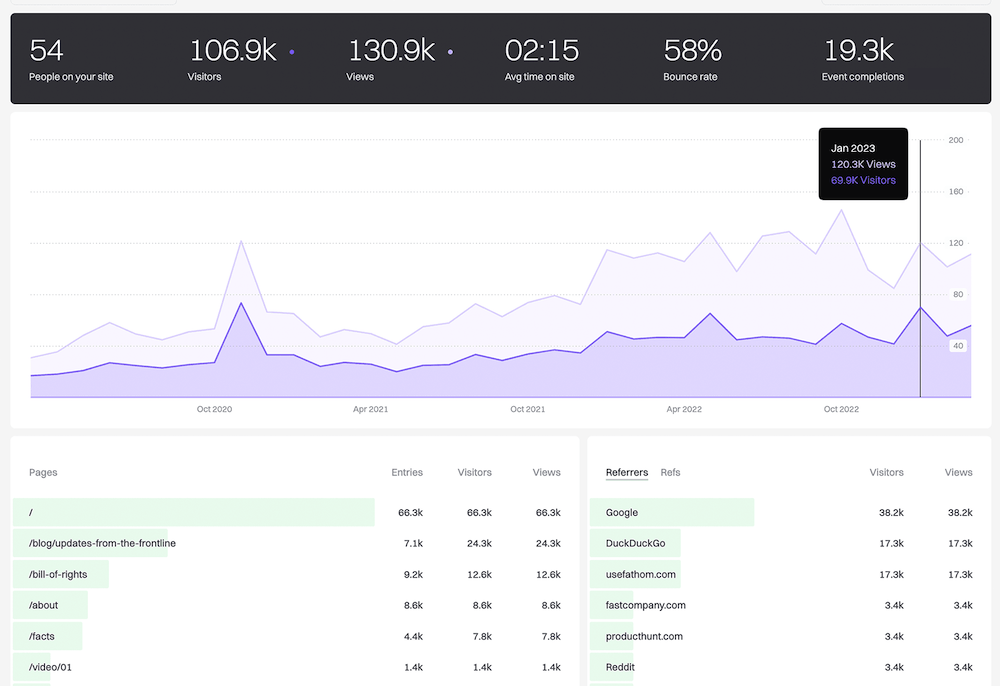 Here are some key features of Fathom Analutcts that you may love.
Sign up for Fathom Analytics to get a $10 discount on your first purchase!
Google Analytics Importer
It's very common that you might have been using Google Analytics. But with an approach solely focused on privacy, you are looking for a Google Analytics alternative.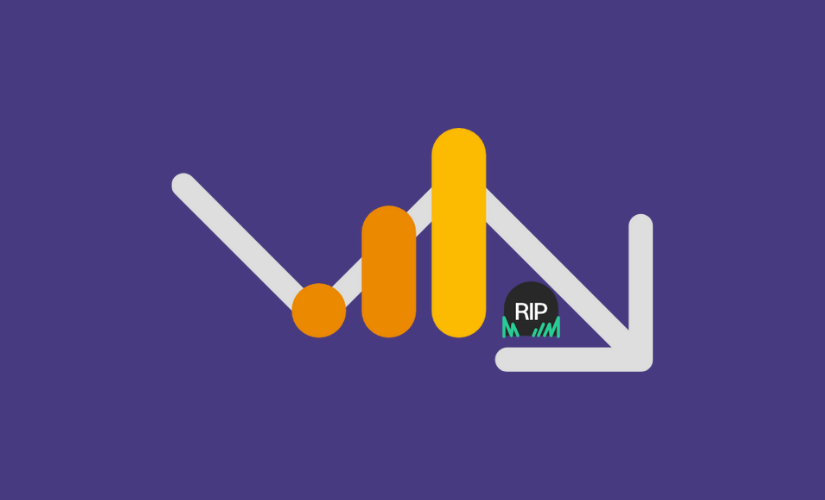 Worrying about what's going to happen to your existing Google Analytics data? Not anymore, because Fathom Analytcs has Google Analytcs importer for that. Import Google Analytics data you need to Fathom analytics and understand your website visitors without spying on them.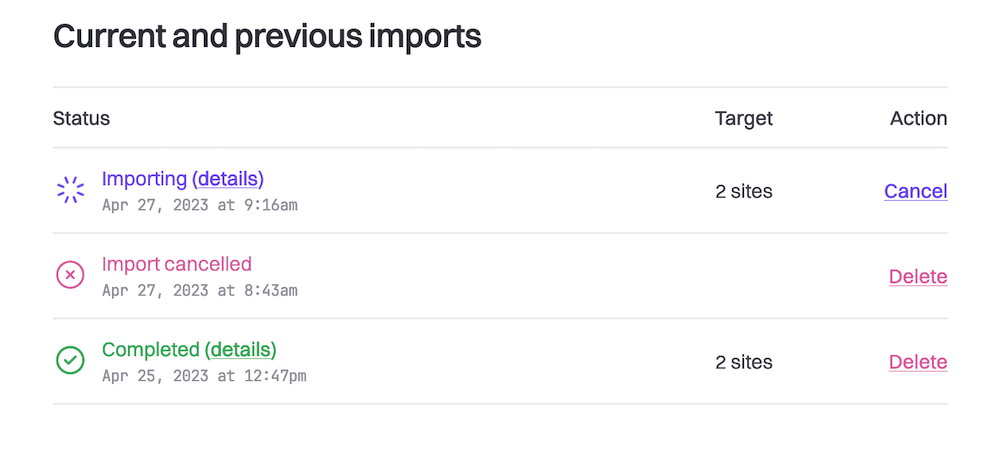 No Annoying Cookie Banner
Fathom Analytics does not use cookies. This is why you don't need an ugly consent/cookie banner for analytics when you use the Fathom analytics solution.
You may not know how many people have left your site just after seeing a cookie consent popup. With Fathom Analytics, you don't need a cookie consent banner that annoys visitors, clutters the website and slows down page speed. Fathom Analytics doesn't even use cookies to collect privacy-focused website analytics data for you.
Protect the Privacy of Your Visitors and Customers
Fathom Analytics is fully GDPR, ePrivacy, PECR, and CCPA compliant because its business model focuses on digital privacy at its core. They have invested in the world's leading privacy lawyers and experts to ensure Fathom meets privacy laws.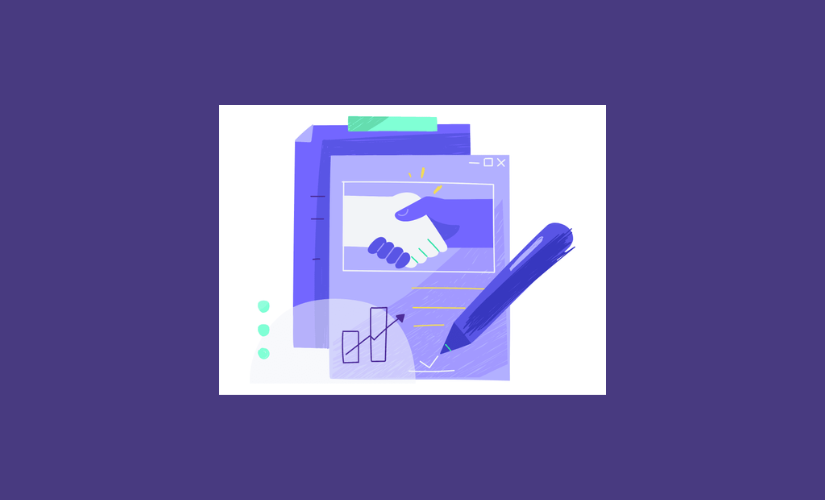 Compliance with EU privacy laws is one of the top priorities Fathom Analytics has as a business.
Easy to Implement on Websites Without Hurting Site Performance
You can use Fathom Analytics on websites or apps from WordPress, Ghost, Webflow, Next.js, Nuxt.js, and so much more. You just need to add a single line of javascript code and that is it.
Fathom Analytics script is smaller and loads faster than Google Analytics. It does not hurt your SEO and page speed as using Google Analytics does.
Unlimited Data Retention
One of the interesting features of Fathom Analytics is data retention. It shows you all of your website data on your dashboard. You can quickly see your analytics across any timeframe not limiting you to just the last seven days or six months.
UTM Campaign and Event Tracking
You don't need to compromise your business and marketing campaign while focusing on digital privacy.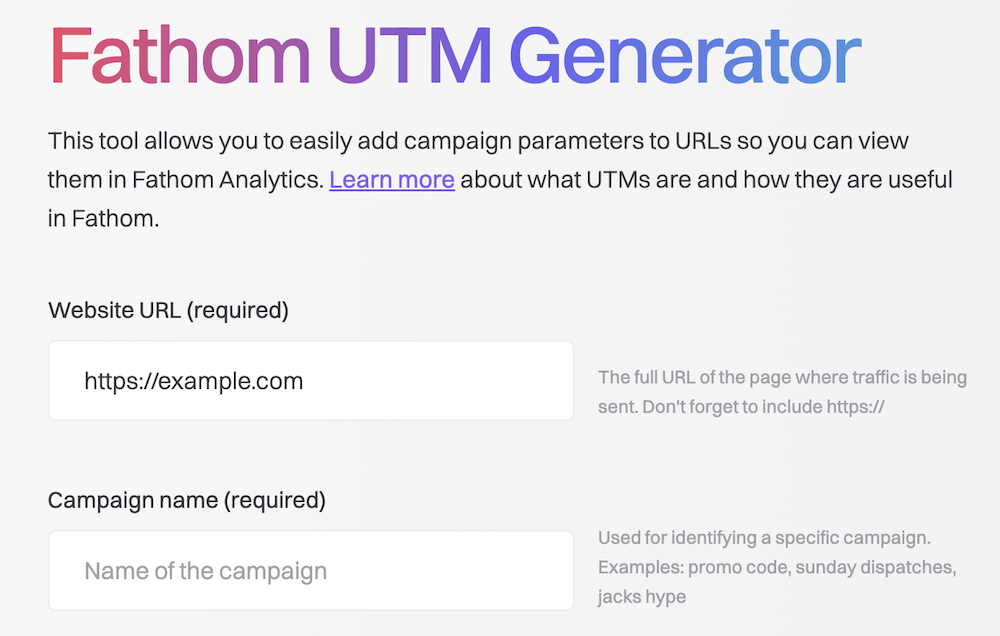 Event tracking in Fathom is easy to set up to track goals like newsletter signups, link clicks, or even e-commerce sales. Parameters will be available for all events at a later date.
Sign up for Fathom Analytics to get a $10 discount on your first purchase!
Investment in Privacy Law Compliance
We don't guess on privacy laws or use boilerplate templates for compliance. Instead, we've invested in the world's leading privacy law experts to review and vet our policies and technologies as they relate to GDPR, PECR, CCPA, and more.
Website Analytics for European Companies
Google Analytics is illegal in the EU. Fathom Analytics is built from the ground up to be fully compliant with privacy laws in Europe. It has compliance with EU privacy laws as one of its top priorities. Whether you are based in Europe or have customers and visitors coming from the European zone, you can use Fathom Analytics to be compliant with the EU privacy policy.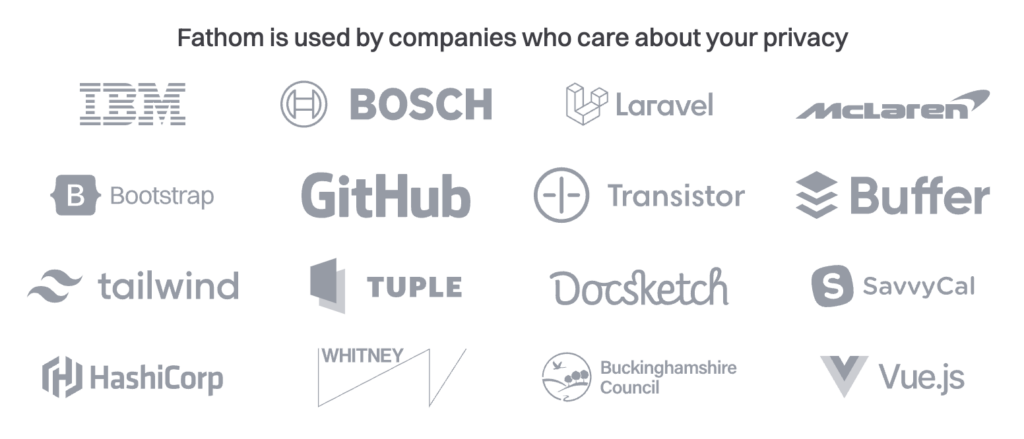 Fathom Analytics created EU Isolation, to process all EU visitor data in the EU, on EU servers, owned by an EU company. So EU traffic is routed to Germany, but US visitors are still routed to their US infrastructure.
Most importantly, Fathom Analytics work with legal experts and lawyers across Europe to ensure their software is compliant.
Uptime Monitoring
Apart from monitoring your website visitors, Fathom can also monitor your website 24/7 and even can send you a text, email, Telegram, or Slack message whenever your website stops responding.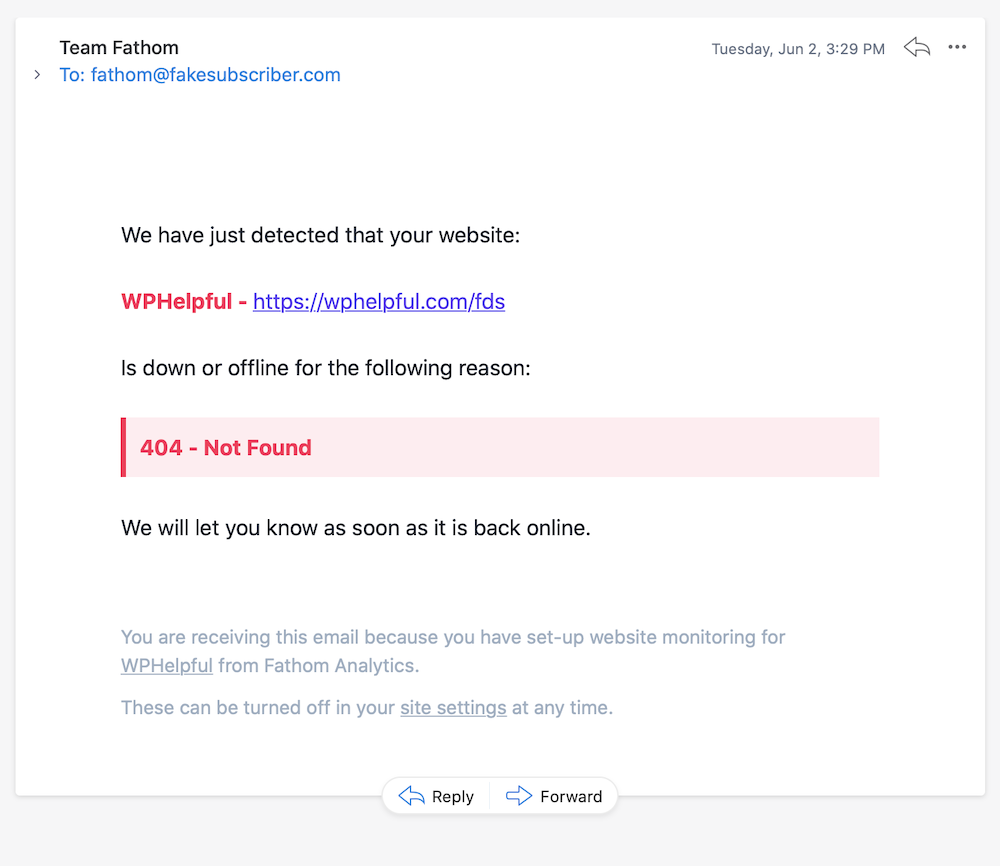 So, with Fathom analytics, you have an additional uptime monitoring system to that you can take necessary action if your website goes offline for some reason.
Fathom Analytics Review By Users
Here's what some Fathom users said about Fathom Analytics after switching from Google Analytics or some other solution.
I love the simplicity, speed, and accuracy of Fathom. I consider it a "must-have" analytics tool if you want to understand what's happening with your website traffic.

Ruben Gamez, founder Docsketch & Bidsketch
Privacy-protections aside, I love the beautifully simple interface. Fathom is now part of my default stack.

Derrick Reimer, founder of SavvyCal
Today, so many big tech corporations are abusing our privacy. This is why I use Fathom. They're an analytics company I can trust.

Justin Jackson, Cofounder of Transistor
Fathom Analytics comes with wonderful clear pricing plans. Instead of generating revenue from users' data, fathom charge a fair and sustainable price for all plans. Their business model is privacy-first by design. You can start with a 30-day free trial and after that pay a fair monthly price based on your monthly page views.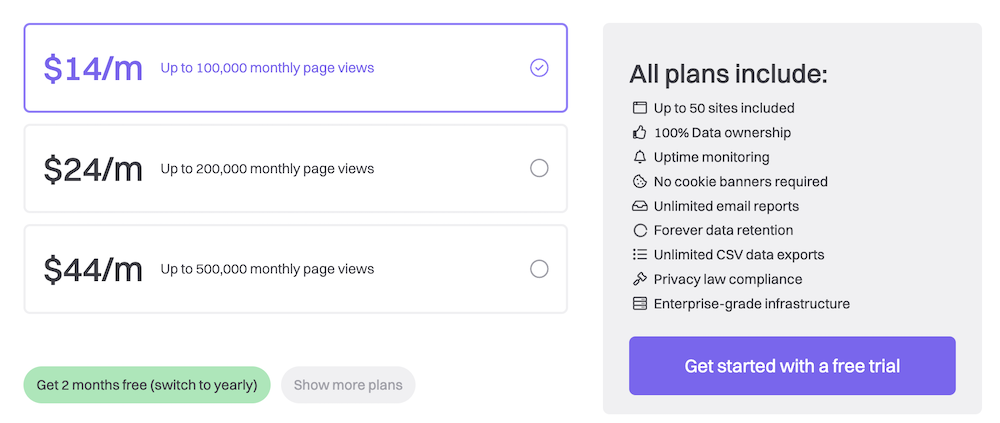 Currently, Fathom Analytics has 3 different plans. You can start with $14/m for up to 100,000 monthly page views. The other two options are $24/m for up to 200,000 monthly page views, and $44/m for up to 500,000 monthly page views. Choose a plan that fits according to your website page views.
Sign up for Fathom Analytics to get a $10 discount on your first purchase!
And, all of these plans include the following features.
Up to 50 sites included
100% Data Ownership
Uptime monitoring
No cookie banners required
Unlimited email reports
Forever data retention
Unlimited CSV data exports
Privacy law compliance
Enterprise-grade infrastructure
How to Use Fathom For Your Website
Fathom has integrations support for diverse CMS and website solutions including Bloggi, Cal, Carrd, ConvertKit, Discourse, Ember.js, Gatsby, Inertia.js, Next.js, Remix, SavvyCal, Transistor, Vue.js, Webflow, WordPress, Drupal, Other SPAs
How to Use Fathom For Your WordPress Site
To use Fathom on your website, you need to install the Fathom script in the header of your site's code via our WordPress plugin or by using one of their integrations.
If you are using a WordPress site, Fathom has an easy-to-use WordPress plugin to implement the script on your WordPress site. Plus, you get to see all of your data on your website dashboard easily.
Here's how to set up Fathom Analytics with your WordPress site.
Step 1: Go to your WordPress dashboard and install the Fathom Analytics WordPress plugin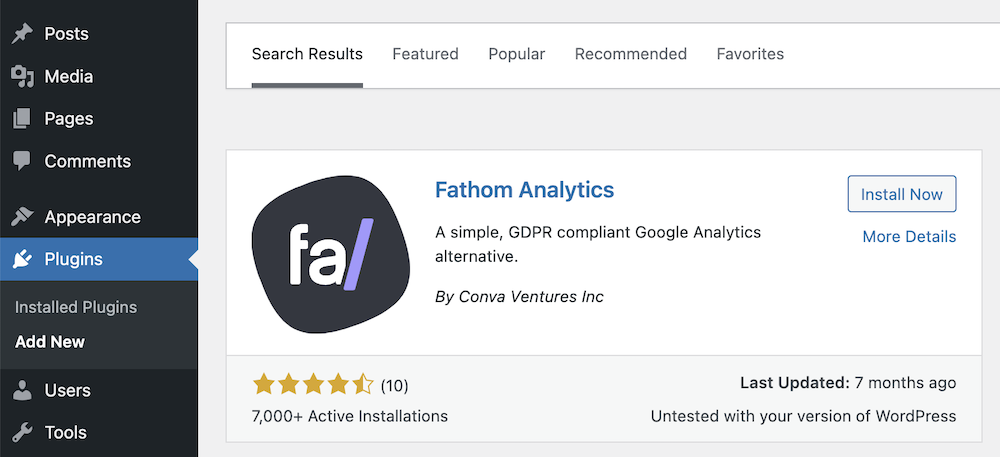 Step 2: Go to Dashboard > Settings > Fathom Analytics, place your site ID, custom domain, and other required information, and click Save at the bottom. And you are done.
Fathom is one of the best Google Analytics alternatives available today. It is easy to use and has a simple UI to display your website analytics. Google Analytics is being banned in different regions of the world. For privacy and data security, going for an analytics solution like Fathom is definitely a great choice.