Forms on your website make it easy to engage visitors and help you collect essential data that you need for effective communication. Forms in modern days aren't limited to content forms, you can create quizzes, apply conditional logic, enable frontend post submission, and many other things on a form. But for this, you need an advanced WordPress contact form plugin. In this Gravity Forms review, we will analyze where Gravity Forms stands in this and check whether it is the right form plugin for your site.
Gravity Forms helps you create job application forms, survey forms, newsletter signup forms, quizzes, event registration forms, donation forms, appointment booking forms, online payment forms, and many more on WordPress sites.
Gravity Forms is not a meager WordPress contact form plugin, you can call it a powerful form builder on WordPress. You can create advanced contact forms without coding. It has so many addons and powerful features to make your contact form more engaging and functional.
Gravity Forms Review: Powerful Features to Create Any Forms on WordPress
Gravity Forms has plenty of add-ons and rich functionalities to create all-purpose contact forms on WordPress sites. Let's dive deep into the features and understand what this premium WordPress contact form plugin is capable of.
30+ Form Fields
Gravity Forms has a wide range of form fields to create advanced forms on your site. You can choose from 30+ form fields and create contact forms easily.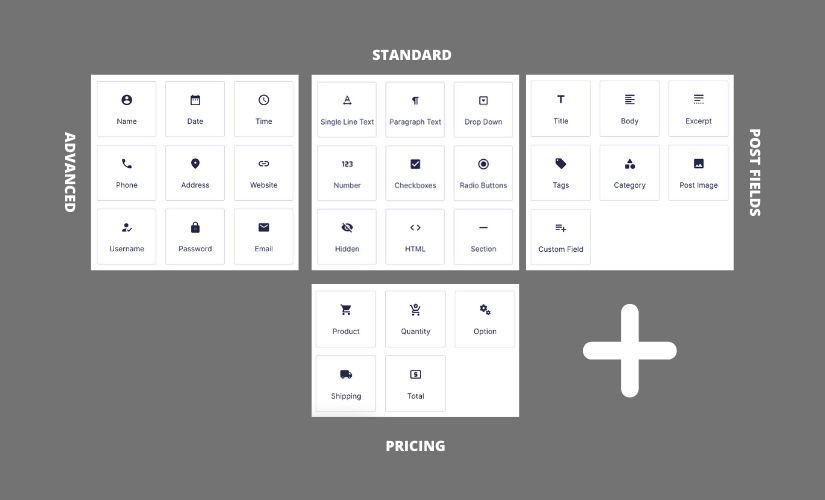 Gravity Forms' form fields are diverse enough to create multiple types of forms. From fields in Gravity Forms, the WordPress form plugin comes in 4 major categories.
Standard Fields: Basic form fields that can be used and customized in any form. These fields are Single Line Text, Paragraph Text, Drop Down, Multi Select, Number, Checkboxes, Radio Buttons, Hidden, HTML, Section Break, and Page Break.
Advanced Fields: More advanced form field types with specific usage in mind. These fields are Name, Date, Time, Phone, Address, Website, Email, File Upload, CAPTCHA, Password, and List.
Post Fields: Post Fields are form fields that enable you to capture data to create a WordPress Post. These fields are Post Title, Post Body, Post Excerpt, Post Tags, Post Category, Post Image, and Post Custom Field.
Pricing Fields: Create products using Gravity Forms' product fields such as Product, Option, Quantity, Shipping, and Total.
Intuitive Visual Form Editor
Quickly design WordPress forms using Gravity Forms' intuitive visual form editor. Easily select from fields, configure options, and embed forms on your WordPress site using the built-in tools on the Gravity Forms WordPress form plugin.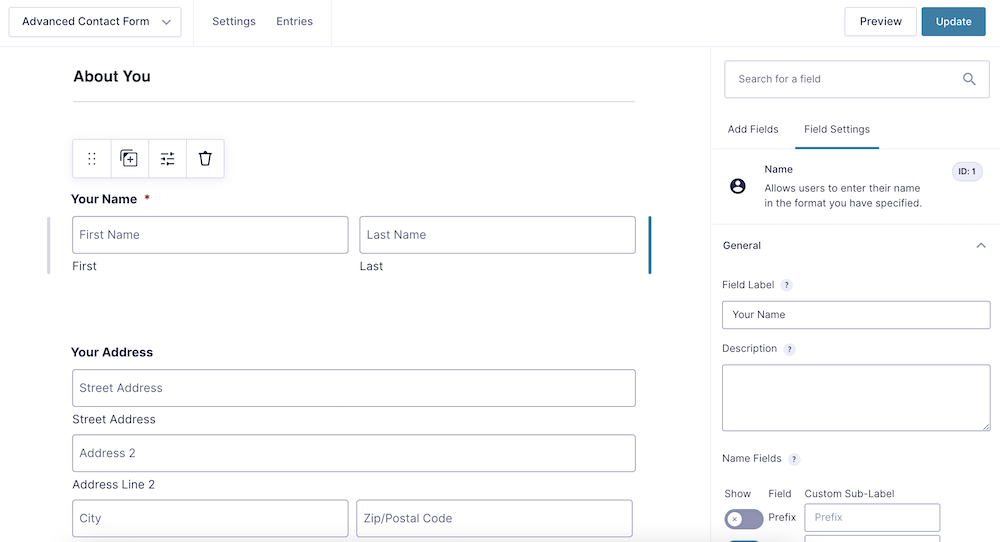 Go beyond creating traditional forms on your sites. Start creating easy and hassle-free contact forms to engage more visitors and generate leads.
WordPress Forms With Conditional Logic
With conditional logic in Gravity Forms WordPress form plugin, You can hide or show form fields based on the user's selection. Easily control what information users are asked to provide on your WordPress site and tailor the form specifically to their needs.
Gravity Forms lets you configure forms to show or hide fields, sections, pages or even the submit button based on users' choices on an intuitive WordPress form editor.
Multi-page WordPress Forms
Most users fear filling out long forms. With Gravity Forms' multi-page form feature, you can split long forms into smaller chunks making forms less daunting for your users.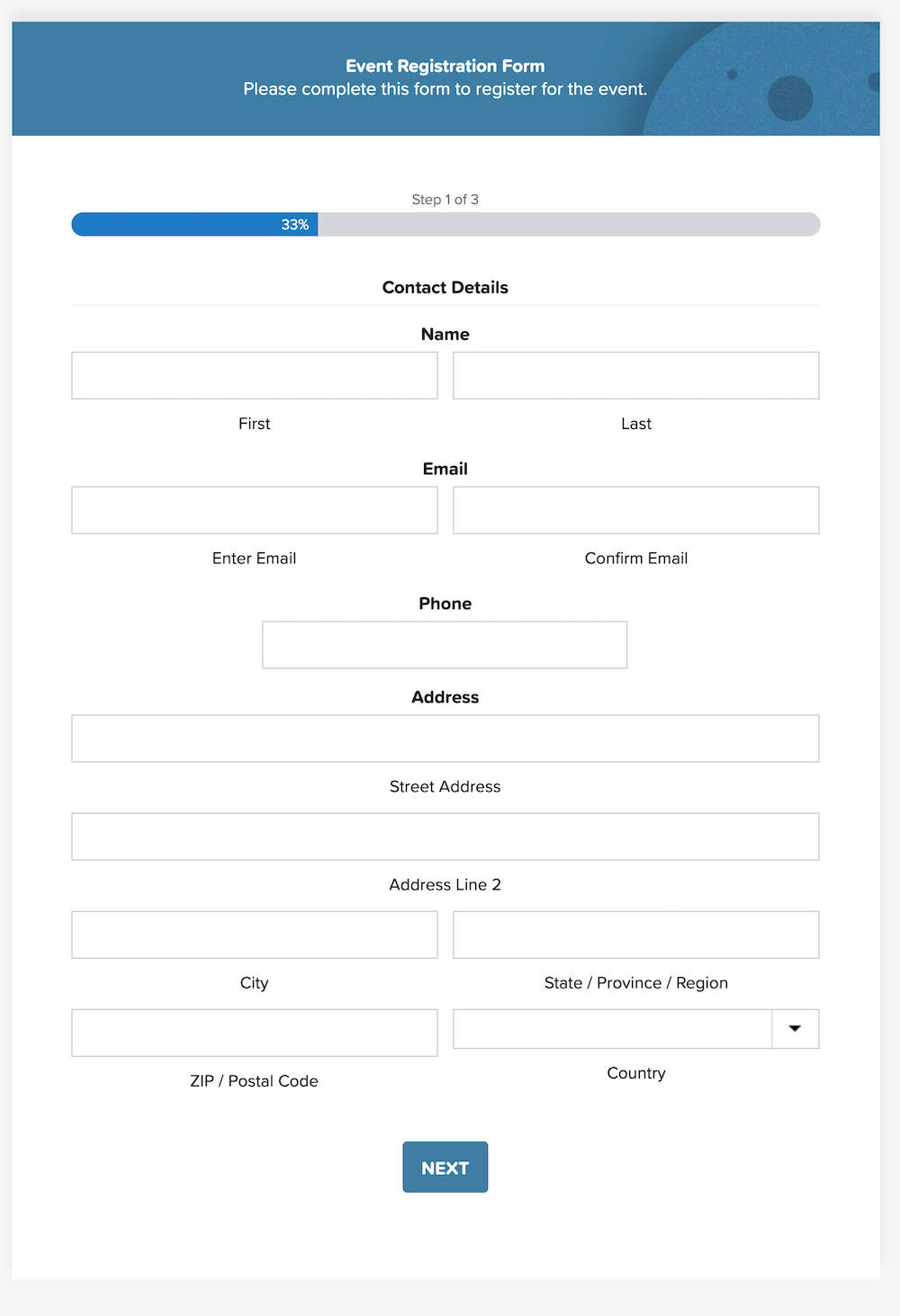 The multi-page form in Gravity Forms can also have a progress bar. Most importantly, you can configure them easily. Divide large forms into small chunks and have a progress bar to indicate how far users have reached. Create multi-page event registration forms, large job application forms, and many more extensive forms with Gravity Forms.
Email Notifications
If you are trying to keep on top of all the leads generated from your site. Gravity Forms has email auto-responders to keep you in the know every time a form is submitted. Utilize every essential feature to craft useful forms and get the best out of them.
File Uploads in Forms

Do you need your users to submit documents or Photos on a form? With Gravity Forms, that's quite easy. Just add file upload fields to your form and save the files to your server. The file uploads feature in Gravity Forms enables your audience to submit documents or photos that are automatically saved to your server.
A Wide Variety of Gravity Forms Addons
Gravity Forms lets you extend your forms with a wide variety of services and applications. Your possibilities are endless with Gravity Forms. It comes with many different add-ons including MailChimp, PayPal, Stripe, Highrise, Freshbooks, Dropbox, Zapier and so many more!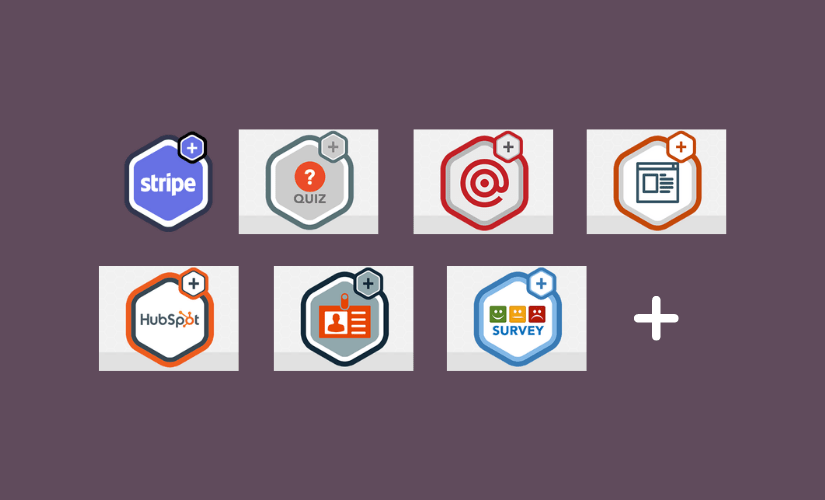 Quickly and easily extend your forms with a wide variety of services in three different categories below.
Gravity Forms Basic Addons: ActiveCampaign, AWeber, Campaign Monitor, CleverReach, Constant Contact, EmailOctopus, Emma, GetResponse, HubSpot, iContact, Mad Mimi, Mailchimp, Mailgun, Postmark, and SendGrid.
Gravity Forms Pro Add-Ons: Agile CRM, Breeze, Campfire, Capsule CRM, Dropbox, Freshbooks, Help Scout, Mollie, Paypal Commerce Platform, PayPal Payments Standard, Pipe Video Recording, Slack, Square, Stripe, Trello, Twilio, Zapier, and Zoho CRM. Also, basic Form Add-Ons are available with a valid Pro License.
Gravity Forms Elite Add-Ons: 2Checkout, Advanced Post Creation, Authorize.net, Chained Selects, Coupons, Partial Entries, PayPal Payments Pro, Polls, Quiz, Signature, Survey, User Registration, and Webhooks. Also, basic Form Add-Ons and Pro Add-Ons are available with a valid Elite License.
Apart from these addons, GravityForms also has plenty of third-party addons developed by different developers from the WordPress community.
WordPress Post Creation
Do you want users to submit WordPress posts on the front end? Gravity Forms can help with that. You can easily create WordPress posts with frontend forms created with Gravity Forms.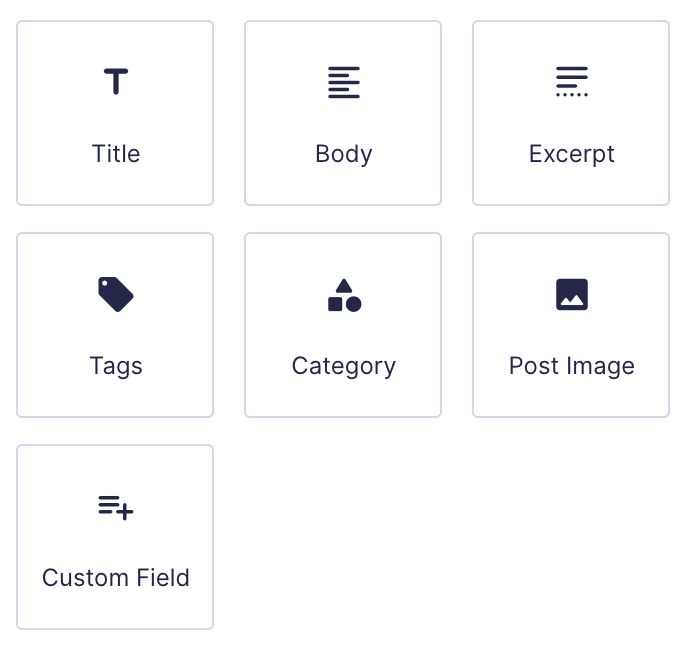 There are post-specific form fields such as Post Title, Post Body, Post Excerpt, Post Tags, Post Category, Post Image, and Post Custom Field to create a post submission form for anybody to submit posts on the front end. 
Fight Spam on WordPress Contact Forms With reCaptcha
Spam emails are harmful and a clear threat to your website. Clicking on any link provided in spam mail can give hackers control over your site. Contact forms are a great way for such spammers to take advantage unless you have some protection.
If you want protection from junk mail in your inbox. Gravity Forms helps you fight spam with Google reCaptcha, Really Simple Captcha, and Akismet options. There's a Captcha form field to enable reCaptcha on your form.
Save the Form Partially and Continue Later
Users might get tired of filling out a long form or get into another task while submitting a form. Gravity Forms has a save and continue later feature to rescue you in such a situation. You can allow your users to save a partially completed form and return later to finish it. It's that simple with the right WordPress contact form plugin. Yes, that's Gravity Forms for you.
Responsive Form Design
Most websites face challenges while offering their forms on smaller devices. Gravity Forms in this case has baked-in mobile-friendly styling which means forms built with Gravity Forms are designed to display properly in a variety of smaller devices like mobile, tablets, and more.
Website visitors on mobile devices are always on the rise. If you think about responsive forms and want to generate leads on mobile devices Gravity Forms can be your go-to option.
Here are some Advanced form samples created with the Gravity Forms WordPress form plugin
Create Donation Forms With Gravity Forms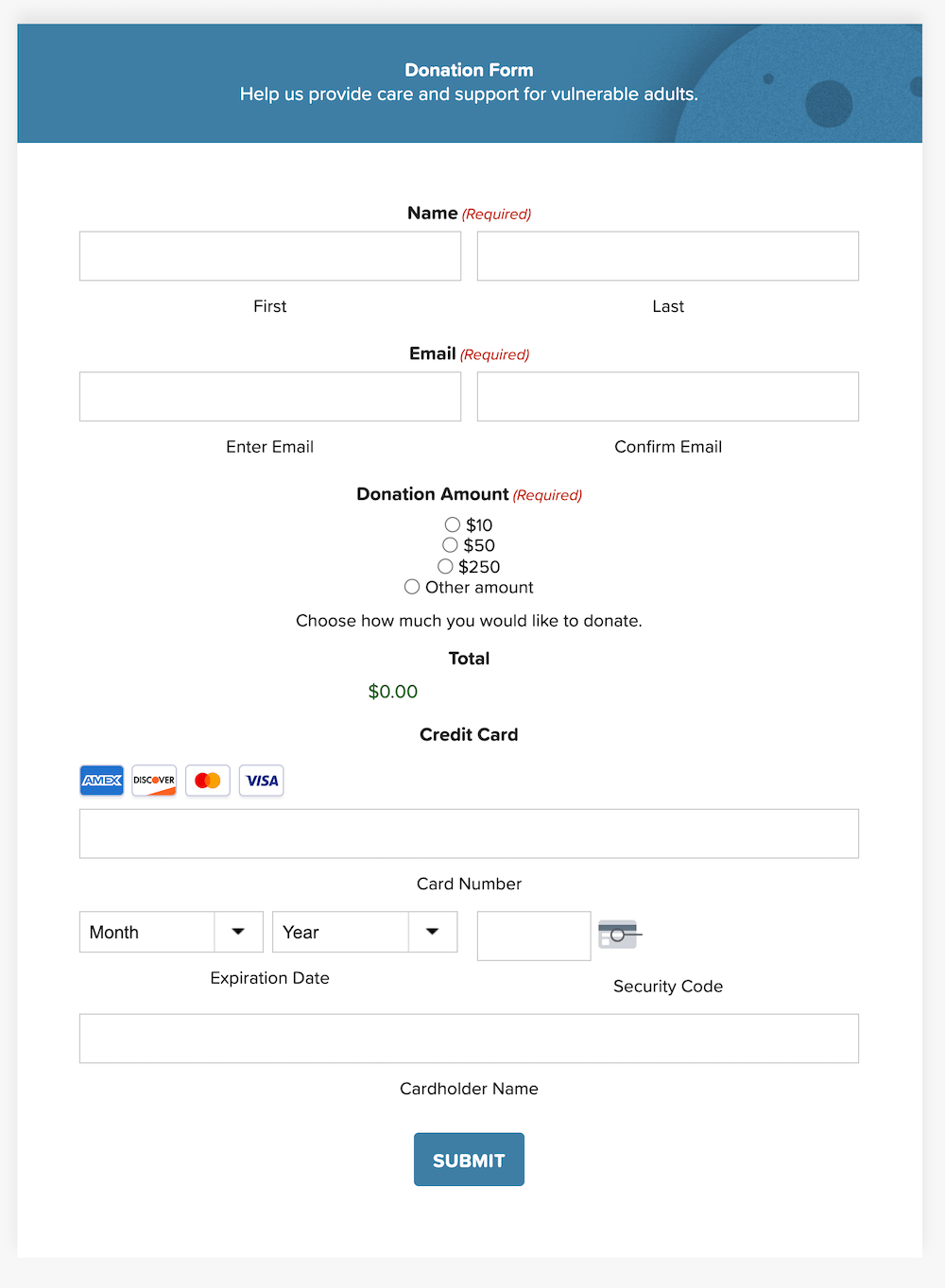 Create Survey Form With Gravity Forms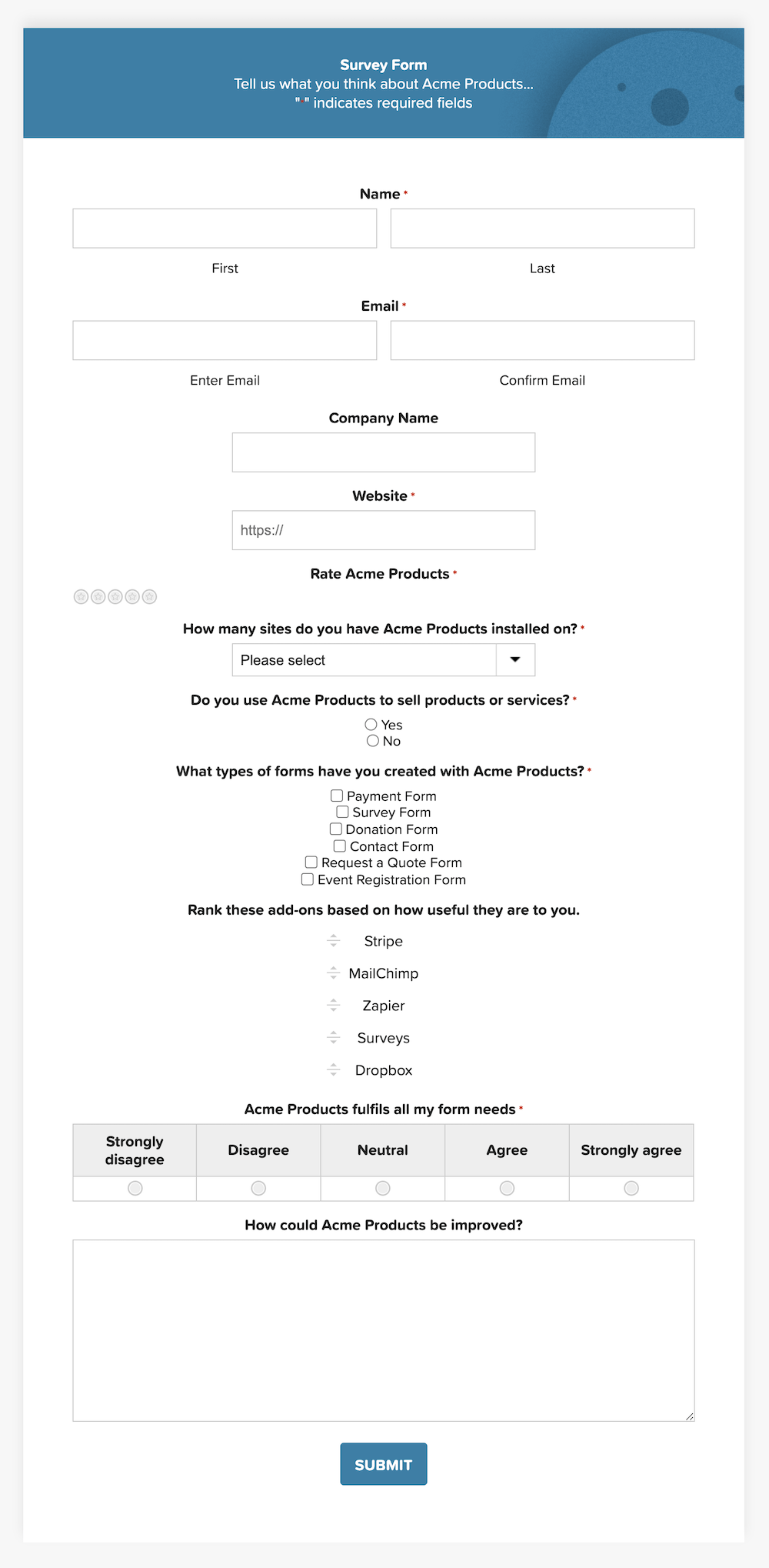 Create Job Application Forms With Gravity Forms

Gravity Forms is one of the most powerful WordPress form plugins. If you want to create advanced forms, Gravity Forms could be your best option. There are a lot of WordPress form plugins, but what puts Gravity Forms ahead of all is its functionalities. It has the mechanism to create any complex contact forms easily and quickly. We have tried to describe the features and functionalities of Gravity Forms in this detailed Gravity Forms review. If you are looking for a WordPress form plugin that can modernize forms on your website? Then, get Gravity Forms and build your forms straight away. Good luck.