In search of the right email marketing tool, are you confused about whether you should go for ConvertKit? Well, in this detailed and hands-on ConvertKit review, we will discuss ConvertKit features & functionalities and find out if it is the right email marketing service for your business.
Email marketing is one of the potential ways to turn interested visitors into customers. But, you must have the right strategies to get the best out of it. Whether you are running a small business online or a large enterprise, the patterns, and strategy of your email marketing largely depend on the email marketing services you use. That is why it is crucial to check whether your one offers what you are looking for. Our ConvertKit review will discuss its useful features and check where it stands in the competition. So, let's get started.
ConvertKit Review: Is It the Best Email Marketing Tool for Your Business?
ConvertKit is a powerful email marketing tool to automate your email marketing strategy, send newsletters in sequence, personalize email campaigns, and do many more. In this ConvertKit review, we will analyze ConvertKit email marketing service on the basis of the email editor, analytics and reports, email automation, capability to grow email lists, integration, email deliverability, and more.
Customizable Email Sign Up Forms
ConvertKit lets you create an unlimited number of email signup forms. You can have a strong first impression with well-designed newsletter subscription forms and convince visitors to subscribe easily. You can easily customize email subscription form designs with the drag and drop newsletter form builder. ConvertKit has responsive templates that you can customize and use for your newsletters. Most importantly, you can create GDPR compliant email signup forms with the ConvertKit email marketing tool.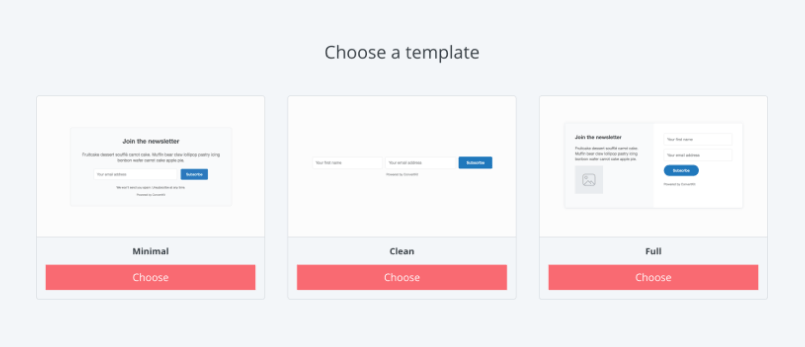 Your best email campaign requires the best email marketing solution. And, it all starts with suitable forms to grow your email list first. Whether your site is on WordPress, Shopify, Squarespace, or other platforms, ConvertKit's customizable forms work well on all major ones.
Rich Email Builder to Design Email Template for Your Campaign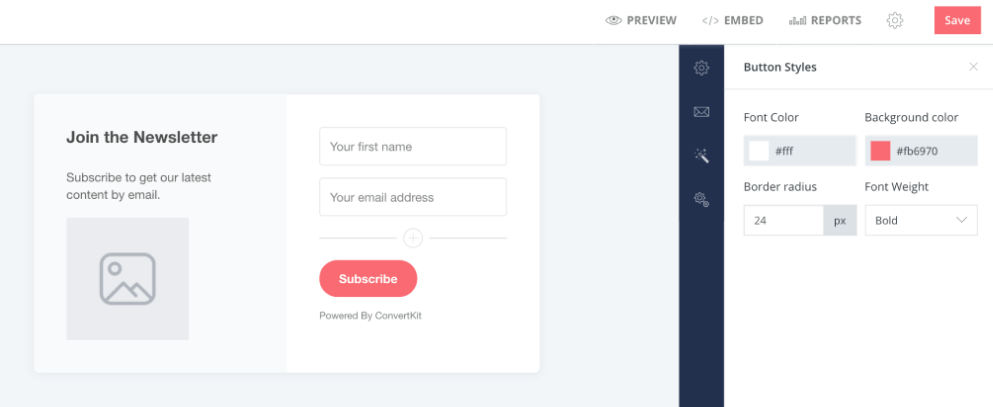 ConvertKit has a rich email builder to design and send emails to your subscribers. Get multiple email templates and customize them with the email editor for a successful email campaign. Designing email in the ConvertKit email marketing tool is so easy.

Insertable Text, Heading, and Visual Elements: Insert text, heading, image, and videos in your email.
Inline Editing: Edit inline without going to the code editor.
Multiple Email Templates: ConvertKit gives you multiple ready email templates to customize and use easily.
HTML Email Template: Use HTML to go custom with your email template. Import an existing template or write a new one from scratch.
Send Personalized Email and Build Relation With Subscribers
Personalized email makes your followers feel more connected with you. ConvertKit lets you design emails where you can address your subscribers with their names. Personalized email campaigns help you build rapport with your subscribers and get you more email open rates and conversions.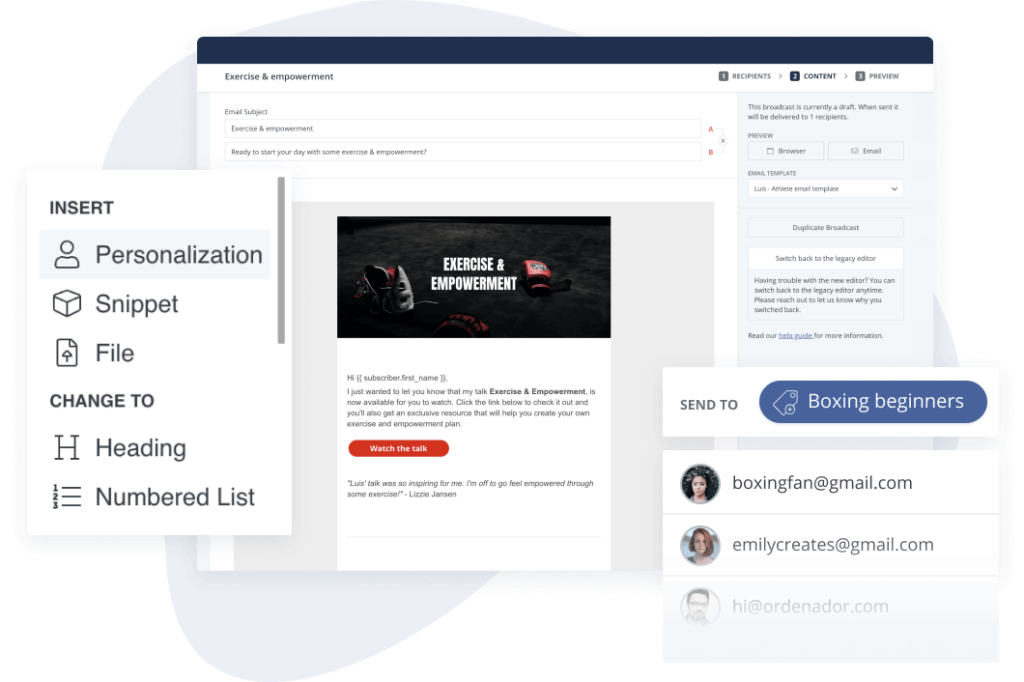 With ConvertKit email campaign software, you can add subscriber's first names, greet subscribers, add subscribers' email addresses, and add tag conditional to make email campaigns more personalized.
Create Email Sequence
Email sequence is a multi-part series of emails. These emails will meet the audience where they currently are and give helpful, educational information to help them get to their desired destination. And when filled with valuable, educational content, sequences are a great way to prime your audience to purchase your product or service.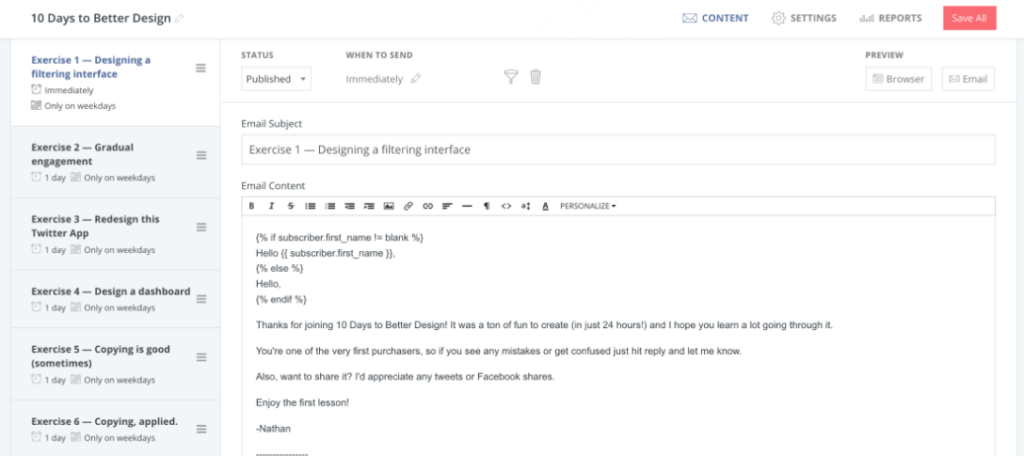 Email sequences are back-to-back emails. Each email has delays in between them, telling the system how long it should wait before sending out the next email in line.
Advanced Email Automation Tool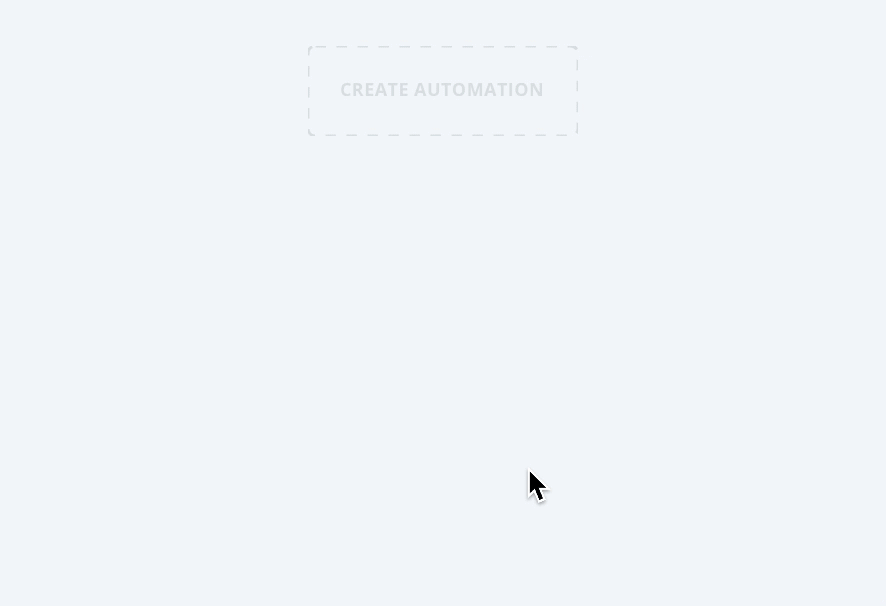 Automation is for subscribers to begin their journey through a series of different actions. ConvertKit gives you an advanced email automation tool to run a successful email campaign with a series of emails based on user's responses.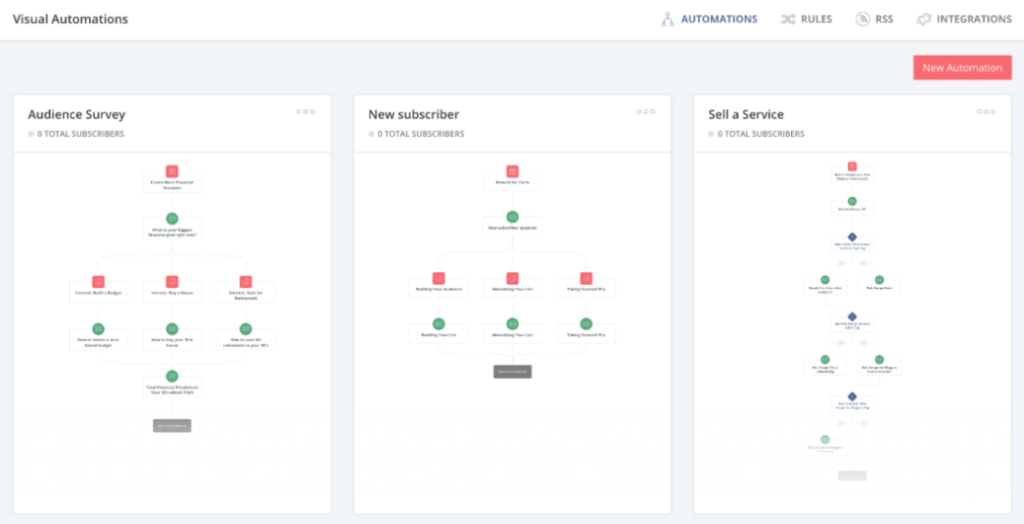 Automations are a string of multiple actions, based on specific steps, all coming together to create your funnel. You can send multiple emails to send valuable information, after a series of emails, you can pitch your product too.
No Code Landing Page Builder
Apart from growing email subscribers on websites in different platforms, you can also utilize Convertkit self-hosted landing page builder. With a well-designed Convertkit landing page template, you don't need a website to start gathering email addresses.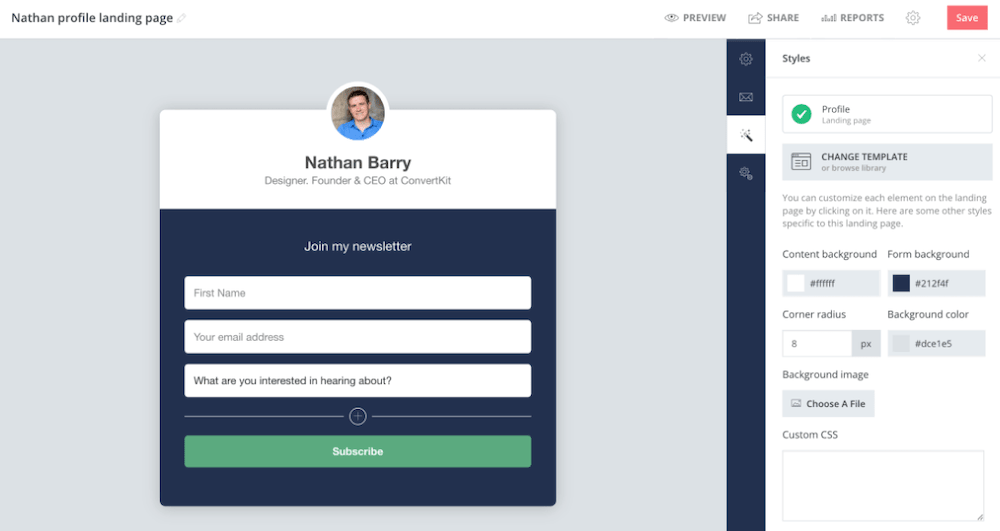 Convertkit landing page templates are fully customizable and are made to catch eyes and grow email lists. Create responsive landing pages without writing code. And access 100000+ stock photos to use on your landing pages for free.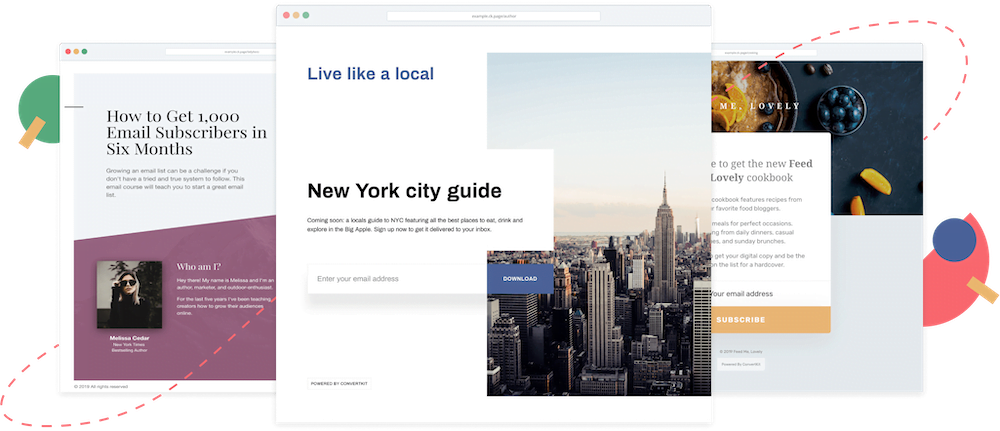 You can use landing pages when you need to deliver a lead magnet, gather email addresses before you launch websites, and ask to sign up for courses that are coming soon.
Easy to Integrate With Popular CMS Platforms
It does not matter which platforms you have your website on, you can always use ConvertKit to grow your email list and boost your business. ConvertKit has plugins and extensions to support popular CMS platforms like WordPress, Shopify, Weebly, Wix, Squarespace, and more.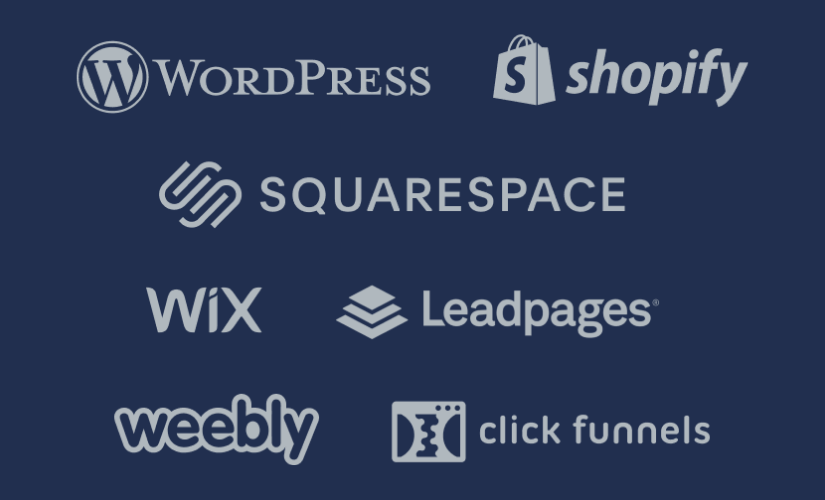 With the dedicated WordPress plugin to place email sign-up forms, ConvertKit can be the best email marketing software for WordPress users. It does no less for other popular CMS platforms too.
Ensure Maximum Deliverability (Don't Place Emails on Receivers' Spam Folders)
You must not want your emails to be placed in receivers' spam folders. While many factors of this deliverability depend on you, there's a lot that email marketing tools have to play to ensure maximum deliverability. ConvertKit in this case works well to maintain your reputation.
ConvertKit provides the IP addresses, sending domains, and link tracking domains for your messages. Each of these items carries a reputation. ConvertKit's compliance team and deliverability engineers work tirelessly to ensure that all of these components have a healthy reputation, influencing MBPs to place your message in the inbox.
ConvertKit is totally free for up to 1,000 subscribers. And ConvertKit pricing is flexible for your growth. Pricing plans vary on the basis of the number of subscribers and features you want to have. Click here to check the ConvertKit pricing calculation.
Is ConvertKit Better Than MailChimp
If you are looking for the best MailChimp alternative, you can go for ConvertKit easily without any confusion. ConvertKit provides every required email marketing feature that MailChimp provides along with several extra ones.
I outgrew MailChimp's features the minute I got serious about growing my email list. After switching to ConvertKit, I not only have the ability to deliver multiple lead magnets, but I can also follow up with those subscribers based on their interests, converting more of them into paying customers.

Mary Fernandez From persuasion-nation.com
Some features may seem similar in name, but ConvertKit has far more advanced functionalities to help you grow your email list and boost your business with it. Check MailChimp and ConvertKit comparison in the video below. Features like email sequence, email automation with multi-step conditions made ConvertKit so powerful. Any MailChimp users would want to switch to ConvertKit once they try these features themselves.
Apart from these, ConvertKit helps you send more personalized emails, ensures maximum deliverability, and does many more.
How to Switch From MailChimp to ConvertKit Easily
If you are using MailChimp and for some reason want to switch to a better MailChimp alternative, here's how you can switch to ConvertKit from MailChimp. Log into your ConvertKit account. scroll down on the main page until you see the 'Add Subscribers' button: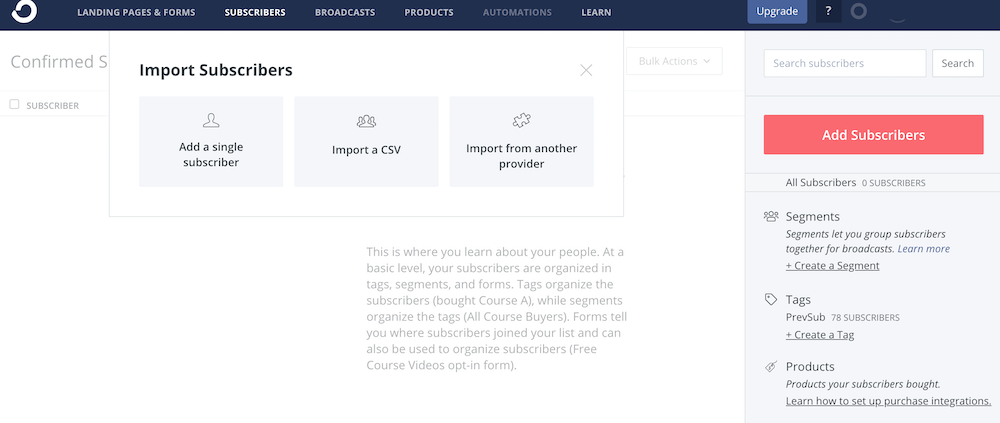 After you have clicked on the button, there will be a popup asking you to select the subscriber import method. Click on "Import from another provider" then select MailChimp on the next screen.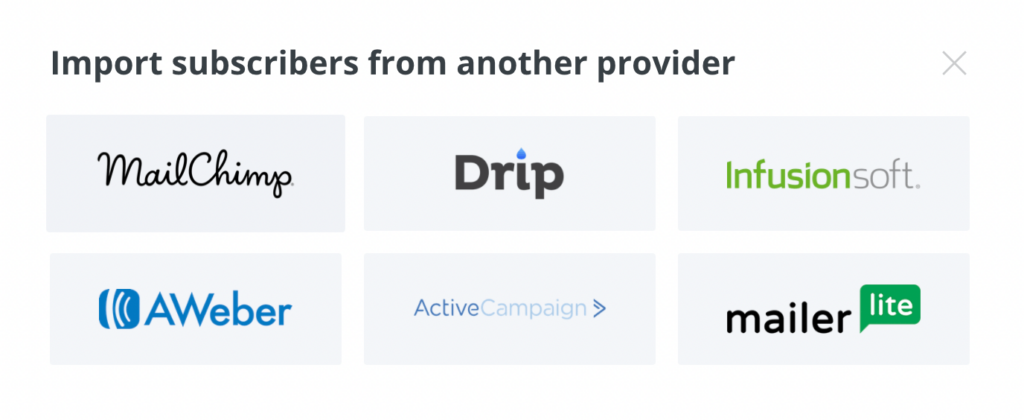 Follow the next steps to complete the whole process of importing subscribers from MailChimp to ConvertKit. Read our complete guideline on how to switch from MailChimp to ConvertKit.
The process may take a few minutes to complete. ConvertKit will send you an email once the import is done!
ConvertKit would initially be a bit of a learning curve for new users. But with time, it would get a lot easier. ConvertKit has its own vocabulary, making it lesser easy for a new user to understand. "Sequences" refer to automated emails, and "Automations" are customizable workflows. ConvertKit uses "Broadcasts" instead of "emails." So, you will take a bit of time to get used to it. But once you are all set, the reward will be amazing.
ConvertKit is one of the best email marketing tools to grow your email list and turn subscribers into customers. In this ConvertKit review, we've explained the advanced features in ConvertKit and how they educate your subscribers through emails and help you offer products and services subsequently. Email sequence, Email automation, and some other features of this newsletter campaign tool will convince businesses to go for ConvertKit without a second thought. Get ConvertKit and execute your email marketing strategy in an advanced way.