Do you want to switch from MailChimp to ConvertKit? This comprehensive guideline will take you through the process easily. Follow each step carefully for a smoother migration from MailChimp to ConvertKit.
ConvertKit and MailChimp are two popular email marketing software people rely on these days. Both of these email campaign tools have their advantages and disadvantages. But, for some reason, some of you put ConvertKit before MailChimp. If you have been using MailChimp for a while and looking for a MailChimp alternative to switch to, then ConvertKit can be that email marketing tool. And, you have come to the right place to get a guideline.
Our detailed tutorial walks you through each step of the process with real-life images.
Is ConvertKit Better Than MailChimp?
Before you switch From MailChimp to ConvertKit, you have to know whether ConvertKit serves the purposes you are switching for. For some reason, ConvertKit is the best MailChimp alternative to switch to. ConvertKit offers every required email marketing feature that MailChimp has along with several additional ones.
I outgrew MailChimp's features the minute I got serious about growing my email list. After switching to ConvertKit, I not only have the ability to deliver multiple lead magnets, but I can also follow up with those subscribers based on their interests, converting more of them into paying customers.

Mary Fernandez From persuasion-nation.com
Some powerful features like email sequence, email automation with multi-step conditions made ConvertKit so desirable. Yet, while switching from one software to another, you always consider the features and benefits you need. Consider whether ConvertKit serves your purpose. And, I hope it will.
How to Switch From MailChimp to ConvertKit
It is easy to migrate to ConvertKit from MailChimp. You just have to follow some easy steps we have mentioned here in this tutorial. For a smoother switch, please follow each step and instruction carefully.
Step 1: Sign Up for a ConvertKit Account
First, you have to create a ConvertKit account to switch from MailChimp to ConvertKit. Create a ConvertKit account and get started.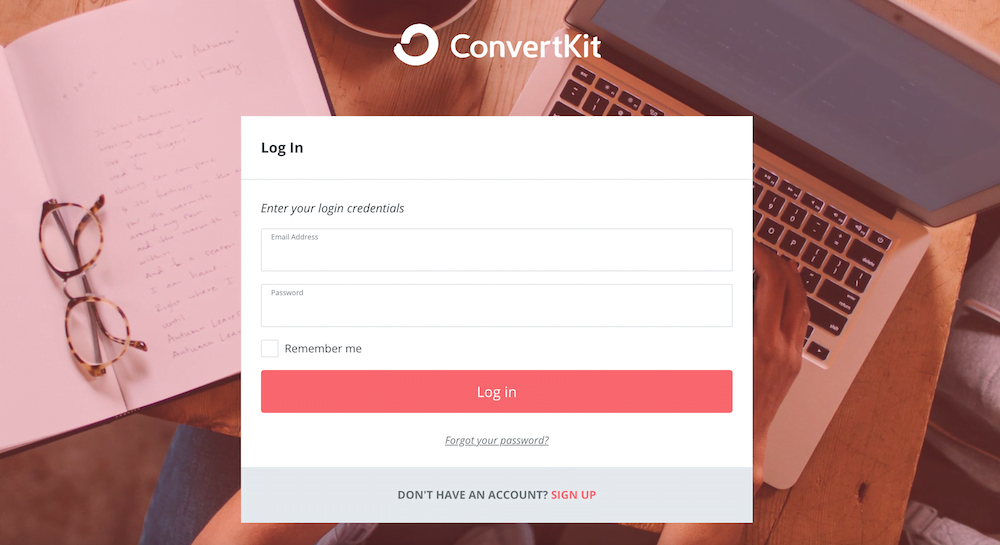 ConvertKit wants to know about some of your information and takes you to the signup page after that. Just a few easy steps to follow.
Step 2: Log-in to Your ConvertKit and MailChimp Account
Login to your Convertkit account you just have created. Since you want to switch from MailChimp to ConvertKit, you already have a MailChimp account and subscribers in it. Login to your MailChimp account too.
Step 3: Find and Click "Add Subscribers" Button
Once you are logged in to your Convertkit account, scroll down on the main page until you see the 'Add Subscribers' button. Click on it to add subscribers to ConvertKit from MailChimp.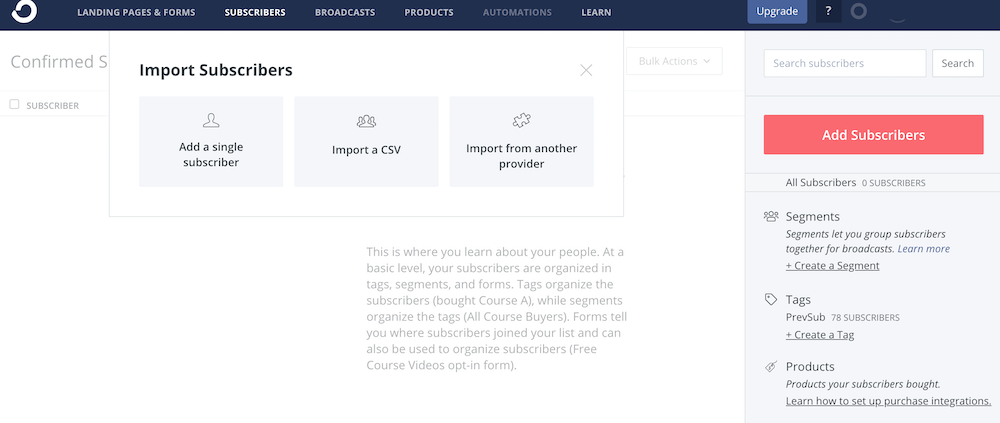 Here, you will see 3 options to add subscribers to ConvertKit email marketing tools. Since you want to import subscribers from MailChimp to ConvertKit, click on "Import from another provider" on the popup.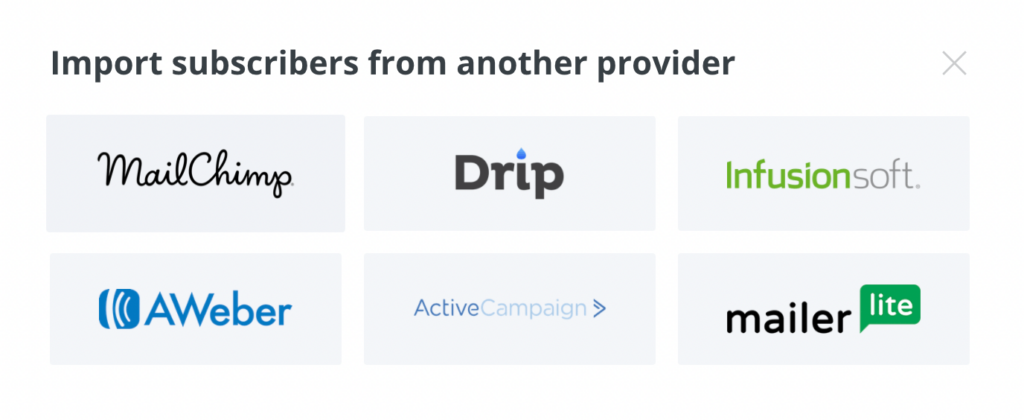 Now, find MailChimp from the available options on the next popup and click on it
Step 4: Import Subscribers From MailChimp to ConvertKit
On the next screen, you will be asked to place the MailChimp API key to import subscribers to ConvertKit.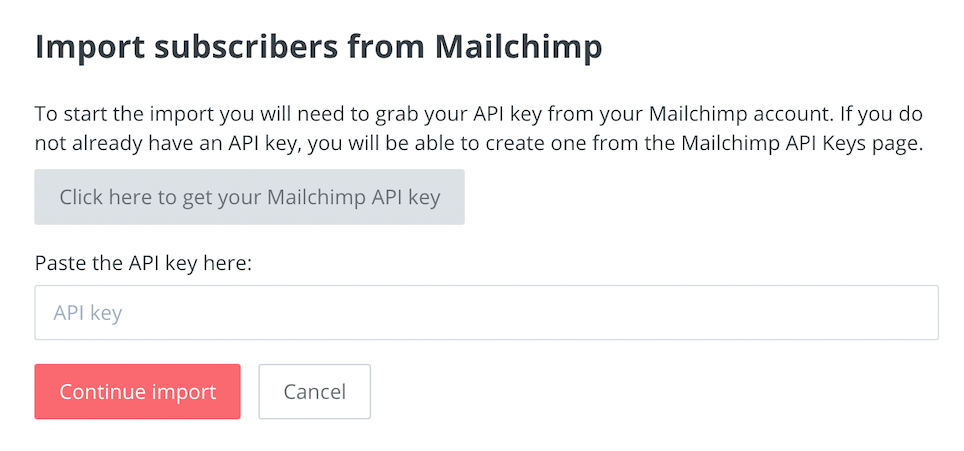 Since you are already logged in to your MailChimp account, clicking on the "Click here to get MailChimp API key" option will take you straight to the MailChimp API key.

Alternatively, if you are logged-in, you can follow this link to find your MailChimp API key as well.
Note: Your API key is sensitive information and this should not be shared with anyone.
Now copy your MailChimp API key from here and paste it into the API key field and click on the "Continue Import" button.
Step 5: Start Importing Subscribers From MailChimp to ConvertKit
Once you have placed the MailChimp API key into the right place, you are almost done with the process. Now, hit the "Start Import" button on the next popup.

The process might take a while depending on the number of subscribers you have on your MailChimp account. It will copy your list, groups, and segments, and also add a tag with the same name to stay organized. This message is shown on the next screen too.

Click on done to finalize the import. Also, you will be notified of the completion in an email once it is done.
Migrating from MailChimp to ConvertKit can be tough without a proper guideline. I hope our tutorial has been helpful for this purpose. The reasons for which people want to switch from MailChimp to Convertkit vary from person to person. Our target is to provide all interested ones with a detailed guideline. I suppose it helped. Thanks a lot for reading.