WordPress has a system to allow different types of users with different types of capabilities. Being all in all on your site won't let you think about WordPress user roles much. When you permit more people to get access to your site, WordPress user roles and capabilities become compulsory to control what actions different users are allowed to take.
You would not want to allow anyone to take control of your website. That is why understanding user roles in WordPress is a must to maintain your WordPress site securely. In fact, different layers of user roles provide security to your site by ensuring that all users don't have access to areas they shouldn't have. That's how users can understand their abilities and limitations.
Today, we will dive deep into WordPress user roles and capabilities for you to understand the system and manage different users to control your website your way. So, let's get started.
WordPress Users Roles and Capabilities
WordPress user roles allow users with the specific capability to perform on a WordPress site. By default, there are six user roles in WordPress. Each of these user roles comes with its own set of capabilities.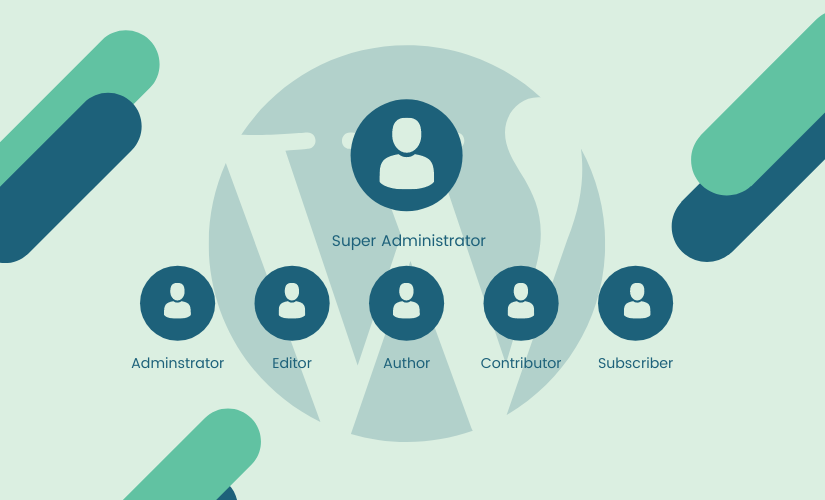 While giving any user access to your site, you must understand these roles and capabilities. Let's take a look at WordPress user roles at a glance.
Super Administrator
Administrator
Editor
Author
Contributor
Subscriber
Now, let's discuss every role in more detail.
Super Administrator Role in WordPress
The Super Administrator reserves the right to add and delete sites on a multisite network. He can install themes, and plugins, add users, and do other network-related activities. This role is available only on WordPress multisite networks. The Super Administrator can delete the other users if he wants (even the administrator). So this role should be given to a very trusted person.
A super admin can create new sites and add, manage, or delete the contents of every site. The super admin has the authority over network settings and the security issues of the website.
Administrator Role in WordPress
The administrator is someone who has access to all the administrative features within a WordPress site. The administrator is the top among all the user roles unless you are running a multi-site. Usually, there is only one administrator role on every site. The administrator can access all the functions and settings of the WordPress backend.
The administrator is the most vital user role in the WordPress site. The administrator installs, updates, and manages themes and plugins. He/she has the right to create, delete, or modify any content. The administrator can even delete other user accounts. So, this role should be assigned to a very trustworthy person. Assigning the admin role is like giving the key to the castle.
Who Should You Give Administrator Role?
The administrator role should be given to only one user. This is the ideal format. The administrator needs to control the WordPress installation.
WordPress administrators should keep the vital files updated and secured to run the site smoothly. All the plugins and themes should be updated as well when it is necessary.
Administrators should use a secured WordPress login since they control every part of the site. They can use a very strong password system and two-factor authentication feature for strong security.
Differences Between Super Administrator and Administrator User Roles
When there is a Super Admin, the regular administrator role is somewhat modified. For example, regular admins on WordPress multisite networks can no longer install, upload, and delete themes and plugins, nor can they modify user information. These permissions are reserved for the Super Admin.
Another difference is, that the Super Admin can decide what plugins to install on the network, and individual site admins can only choose whether or not to activate them.
Editor Role in WordPress
Editors have total control of the content section of the WordPress site. They can add, and edit. delete and publish pages and posts even those of the other users. Editors can also approve, edit, delete, and moderate comments. Editors don't have access to WordPress settings, plugins, themes, widgets, add or remove users.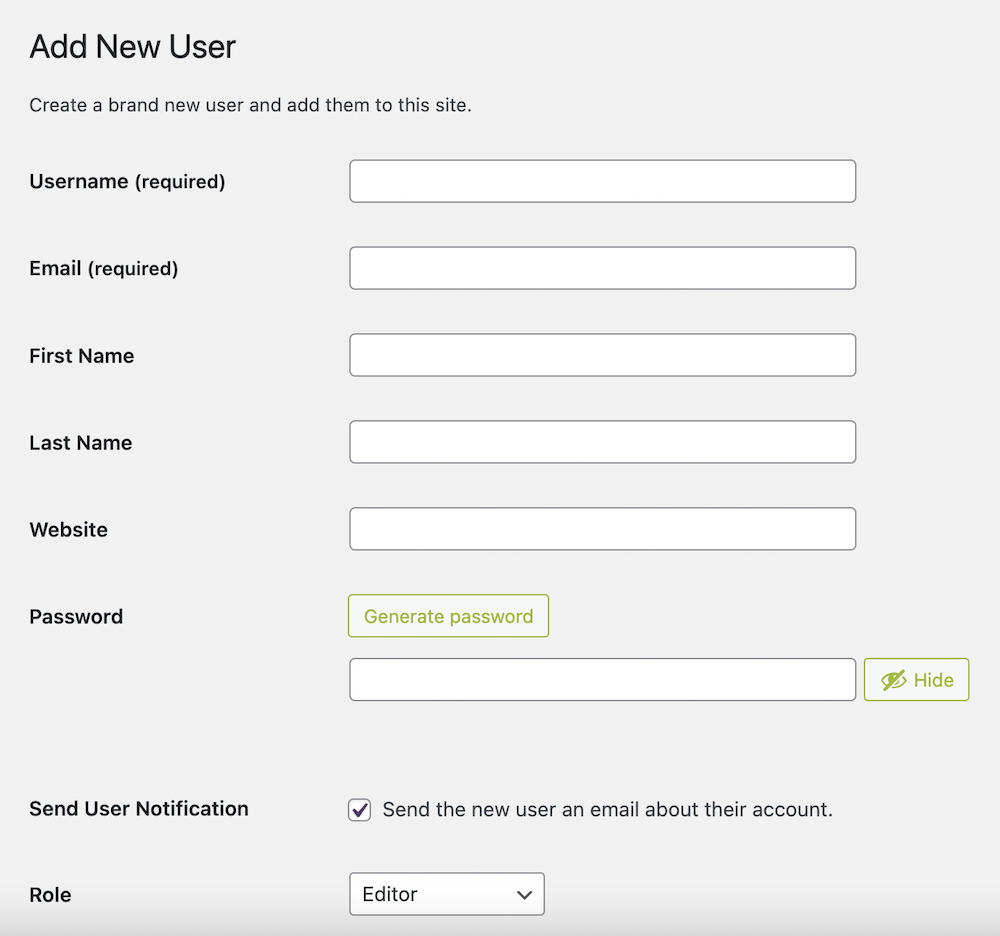 Who Should You Give Editor Role?
The editor's role should be given to those who are very reliable to the administrator. The eligible factors are users who are directly involved in the promotional factor of content. Directors of the content team and web publicity. eCommerce site owners can play the role of an editor.
Author Role in WordPress
The authors have the right to write, edit, and publish posts of their own. They can also delete the published post. Authors can choose the category to write a post and can even create their category as well. If the performance is good, authors can get access to the WordPress media library.
Authors can edit only those comments that are left on their posts. They can't get access to other users' posts and pages. They don't have access to add plugins or create new categories, or settings.
Who Should You Give Author Role?
Organizations that are dedicated to serving news and information among mass people. News channel reporters and online news portals can give their reporters the author role.
Organizations fully involved in content-making and marketing groups like public relations officials, and spokespersons are eligible for the author role.
Contributor Role in WordPress
The contributors can add new posts and articles and edit them. But they can not publish or edit their own or others' posts or articles. They send their completed draft posts or articles to the administrators or editors for publication. They cannot create new categories and choose from default categories when writing posts. Contributors have no right to add a tag to their posts.
Contributors can't get access to the WordPress media library. They can't upload or add images, photos, or videos to their articles. Contributors reserve the right to moderate comments. But they can't approve or delete them. They have no access to WordPress administrative areas like settings, themes, or plugins.
Who Should You Give Contributor Role?
If your site permits posts and articles from outside your community then you can allow guests as the contributors.
Writers who are greenhorn in content writing skills can be given contributor roles. Usually, their writings need heavy editing and this role is the perfect choice for them.
Subscriber Role in WordPress
The subscriber user role is considered the primary role among all the roles in a WordPress site. This role is considered the default user role for all new users. Subscribers have the right to log in to the site and view the dashboard and update their user profile. They also reserve the right to change their profile password as well.
The subscriber role can be compared to a welcome role from the WordPress site. Usually, Site owners allow subscribers to promote their sites. Subscribers can't get access to any administrative features of a WordPress site like settings, changing themes, and installing plugins.
Who Should You Give Subscriber Role?
From the promotional point of view, the subscriber role plays the most lucrative part. Those who are very enthusiastic about your WordPress site can be given the role of a subscriber. This role will give them a profile on your site so that they can feel they are part of your site. Subscriber is the most restrictive role among all the users' roles. So you shouldn't be very worried about whom you can give this role to.
WordPress User Roles and Capabilities at a Glance
| | | | | | |
| --- | --- | --- | --- | --- | --- |
| User Type | Install, edit, and delete plugins as well as themes | Add, edit, publish, and delete own posts | Add, edit, publish, and delete your own posts | Add new posts, edit own posts, but cannot publish | Cannot do anything else except just log in |
| Administrator | Yes | Yes | Yes | | |
| Editor | No | Yes | Yes | | |
| Author | No | No | Yes | | |
| Contributor | No | No | No | Yes | |
| Subscriber | No | No | No | No | Yes |
WordPress User Roles and Capabilities at a Glance
There are some WordPress plugins to manage WordPress user roles and capabilities in your website smartly. You can use PublishPress Capabilities, User Role Editor, and more to control user roles on your site.
You can get a very definitive knowledge of user roles and permissions in the WordPress platform from this article. You can make more defined decisions about user roles and permissions With the information you have learned above. It is very very important to understand WordPress user roles and capabilities to run your site smoothly. Do let us know your thoughts in the comment below. Good luck.