Did you know you that can take full control of your website design with a WordPress theme? Yes, with WordPress block themes, you can now design the entire website including the header, footer, blog, and all other pages. It's called full site editing in WordPress.
However, there's a catch! You'll need a block-based theme installed on your site to do that. We've explored the ocean of the internet to compile a list of the best WordPress block themes that are both free and highly rated.
Regardless of the kind of website you have, whether it's an e-commerce platform, a professional blog, or a portfolio, we can assure you that all the themes on our list will cater to your requirements.
So buckle up and prepare to know about some of the amazing WordPress block themes to design your websites.
What Are WordPress Block Themes?
WordPress block themes are WordPress themes that utilize the new block-based editor called the WordPress site editor. This new editor allows users to design and customize their websites with blocks and pre-designed content elements that can be added to pages and posts.
Block themes have unique designs to work effortlessly with the WordPress Site Editor and block editor. Unlike traditional WordPress themes that let you take control of your website design on a customizer. WordPress block themes allow users to design websites with blocks without relying on a customizer. Block themes have an editor instead of a customizer like a classic theme. In addition to the post content of the different post types, the block editor can also edit all areas of the site: headers, footers, sidebars, etc.
What Is Full Site Editing (FSE)?
Full site editing is a way of designing websites that lets users personalize every aspect of their websites (through a visual interface instead of relying on traditional code-based methods or on a customer of a classic theme. With Full Site Editing, users can easily modify headers, footers, sidebars, pages, and even the entire layout of their website in real time without relying on a customizer or code.
12+ Best WordPress Block Themes for Full Site Editing
If you want to utilize the easiness of full site editing you need a WordPress block theme that has the functionality to control every aspect of the design on the editor. Finding such a block theme is tough, but we have done the research for you. You will be able to choose a theme that meets your need and gives you the full site editing experience. Check our list of the best WordPress block themes below.
1. Twenty Twenty-Three – WordPress Default Block Theme (Free)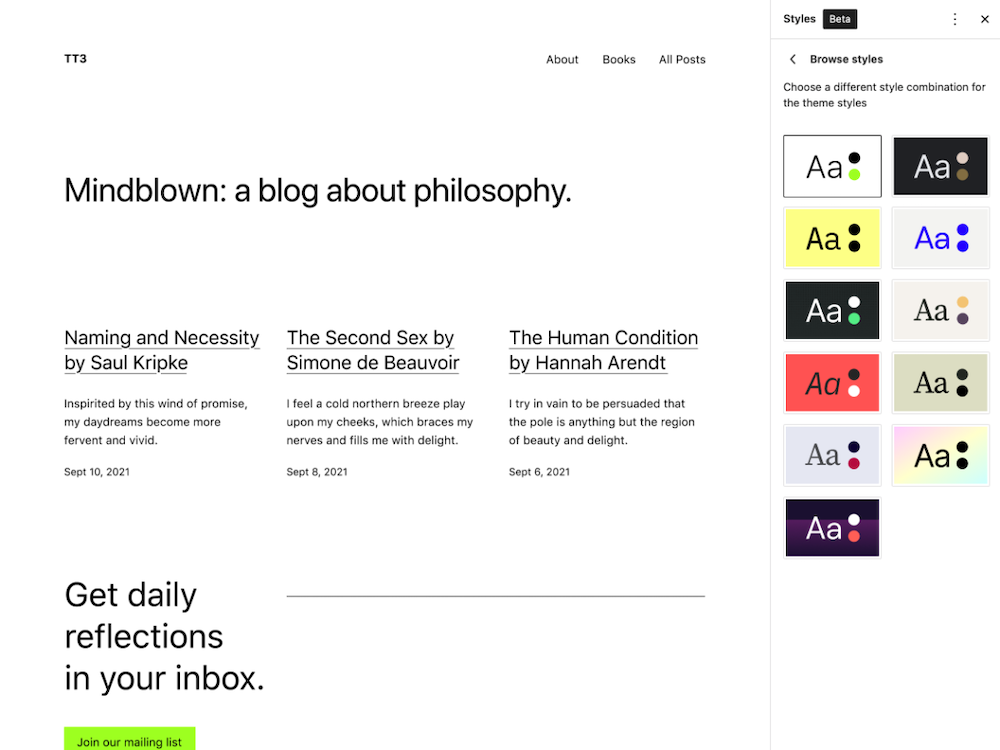 Twenty Twenty-Three harnesses the latest design tools, offering you limitless possibilities. Built on a clean canvas, it boasts ten captivating style variations from the talented WordPress community. Whether envisioning a sleek, minimalist site or a robust, feature-rich masterpiece, Twenty Twenty-Three has got you covered.
With its bundled styles, you can effortlessly create a website in no time. Also, by diving into the depths of creativity, you can design every aspect to your heart's content with blocks.
Notable Features of Twenty Twenty-Three:
1+ million active users
Ten different style variations
Minimalist design
Different color options
2. Twenty Twenty-Two – Former WordPress Default Block Theme (Free)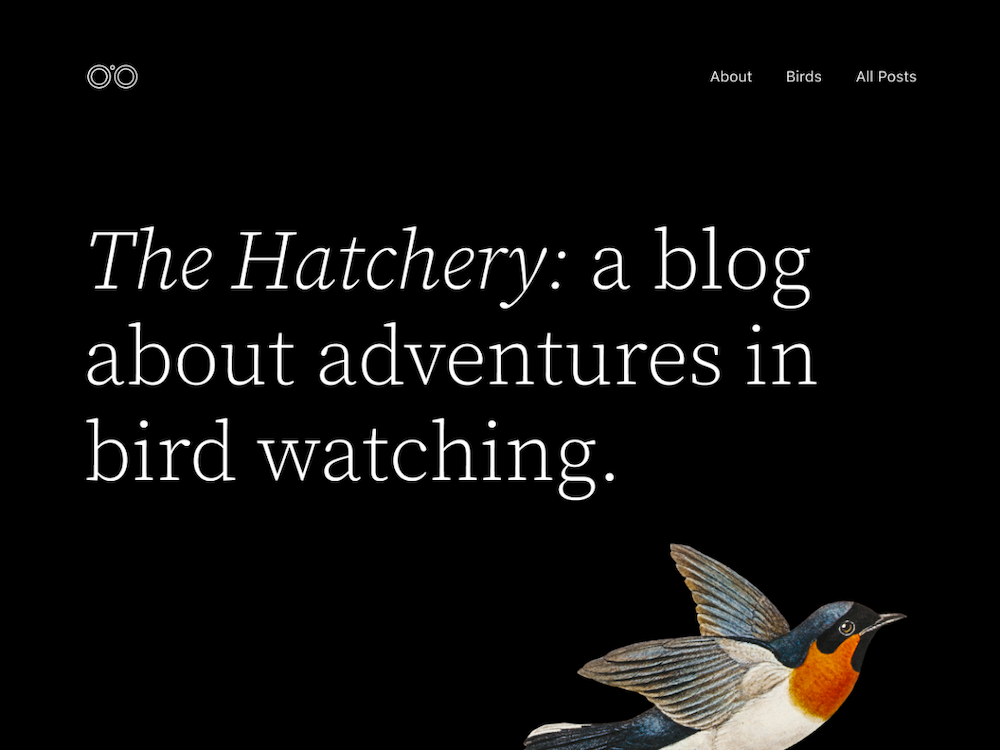 With the solid foundation of Twenty Twenty-Two, you can spread your wings and take flight towards a website as diverse and versatile as the feathered friends that inspired its subtle styles. Twenty Twenty-Two's typography soars gracefully, while its color palette mimics the beauty of nature.
Thanks to its innovative Site Editor, you'll easily customize any aspect of your website – from colors and typography to layout and beyond – and make your unique vision come true in stunning detail.
And with dozens of block patterns at your fingertips. So whether you're building a sleek and stylish single-page website, a bold and dynamic business site, or a gorgeous portfolio showcasing your talents, Twenty-Two has got you covered.
Highlighted features of Twenty Twenty-Two:
10000+ Active users
Lightweight and strong typography
Impressive color palette
Multiple block patterns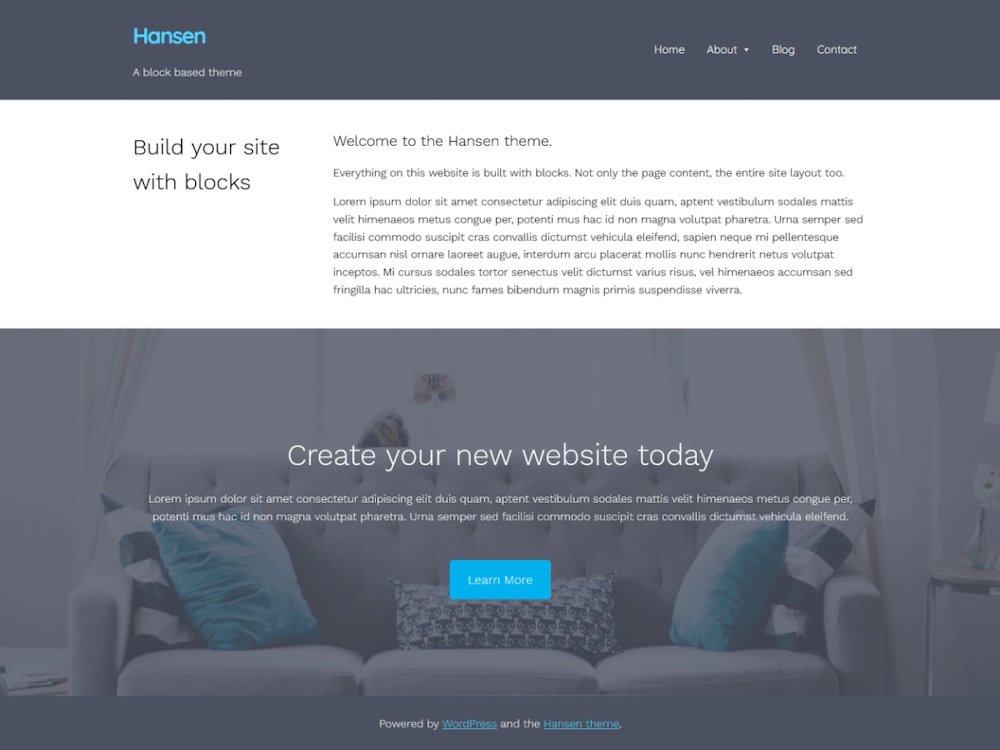 With its seamless block editor integration, Hansen empowers you to craft immersive layouts and captivating content that engages and captivates your audience. Its versatility, from stylish portfolios to compelling blogs and dynamic business websites, knows no bounds. Dive into a world of unlimited opportunities with customizable options that allow you to express your unique style and vision.
Highlighted features of Hansen:
Impressive color scheme
Custom background
One-click demo import facility
Full-width layout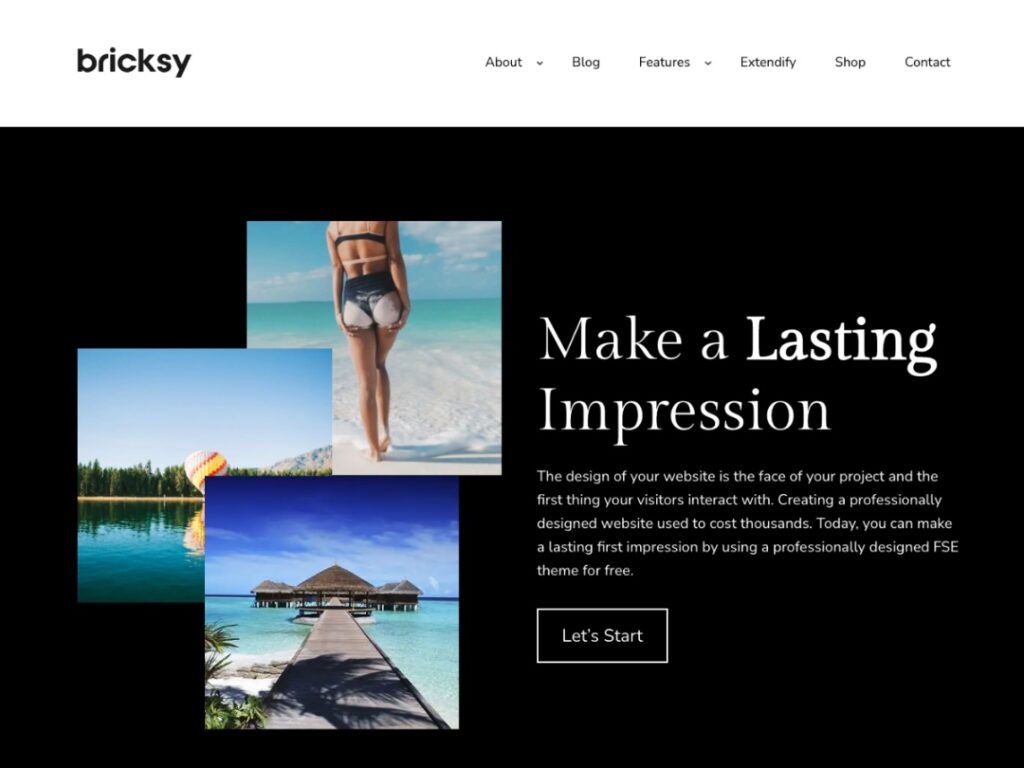 Bricksy has a sleek, timeless design elements and intuitive drag-and-drop features. Creating stunning pages from scratch is easier with it. And with a vast array of ready-to-use block patterns at your fingertips, you'll be able to craft professional-level layouts in just a few clicks.
Best of all, Bricksy is fully optimized to take advantage of WordPress's Full Site Editing features, giving you unparalleled control over every aspect of your site. Get ready to build a website that's the envy of the online world with Bricksy.
Notable features of Bricksy
Advanced styling options
Responsive and mobile-friendly
SEO optimized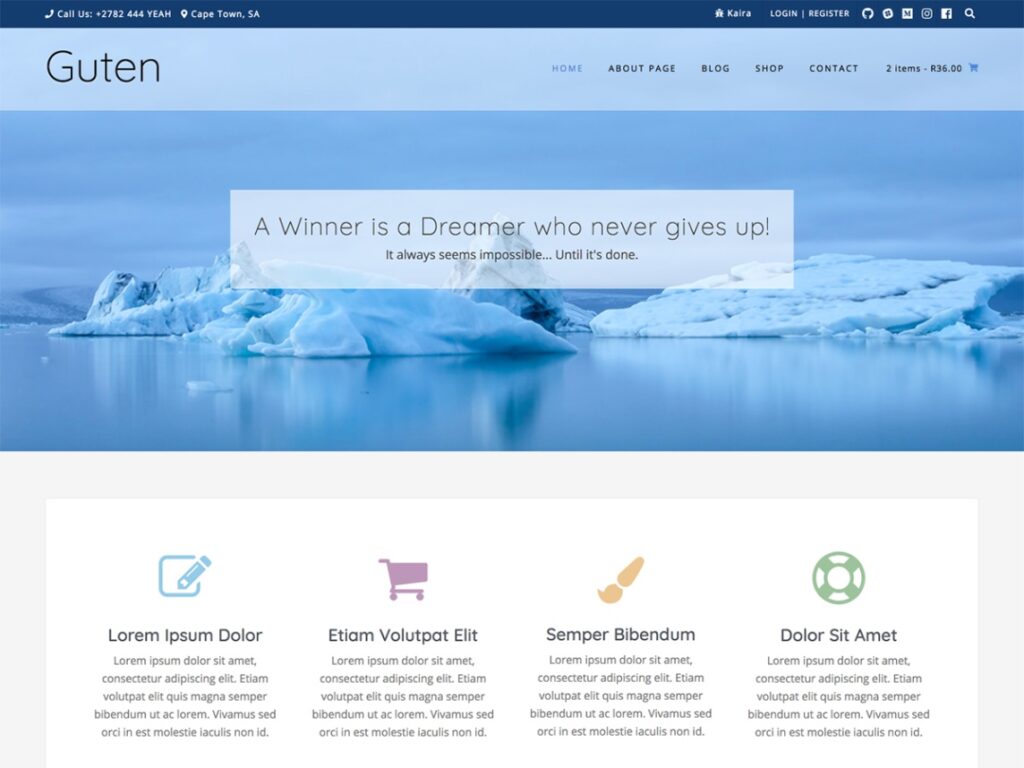 Guten is a WordPress block theme. It empowers you to craft visually stunning and highly interactive pages that captivate and engage your audience. Seamlessly blend captivating visuals, dynamic animations, and intuitive user experiences to create an outstanding digital masterpiece.
Dive into a vast library of customizable blocks and pre-designed templates that cater to your every need, whether you're a passionate blogger, a creative entrepreneur, or a professional seeking to showcase your portfolio. With GutenTheme, the possibilities are endless, and your imagination is the only limit.
Notable features of the Guten Theme
WooCommerce compatibility
Responsive and mobile-friendly
Regular updates and support
Robust customization options
6. Wabi (Free)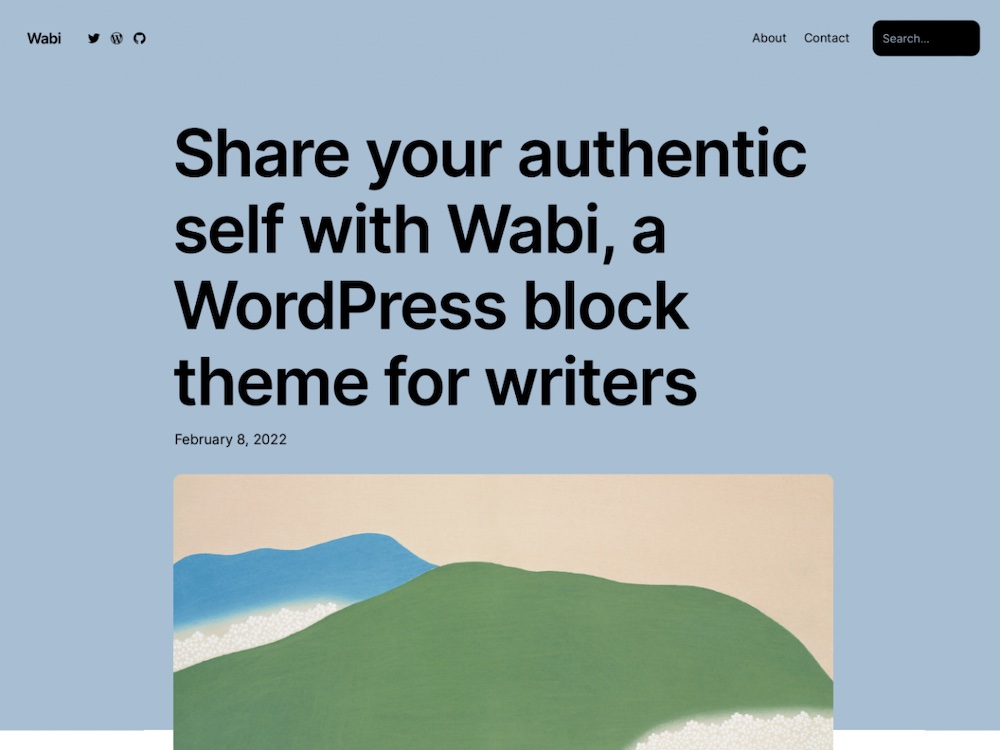 Wabi's clean lines and mesmerising typography set the stage for your authentic tale. With a dynamic accent color system that dances across your pages, every word becomes an immersive experience for your readers.
Showcase your creativity with Wabi's versatile style variants, whether you prefer the luminous embrace of the light scheme, the enigmatic allure of the dark scheme, or the ever-changing dynamism of the dynamic color scheme.
Notable features of Wabi
Fast and lightweight
Responsive and mobile-friendly
Advanced typography
Extensive block library
7. Aino (Free)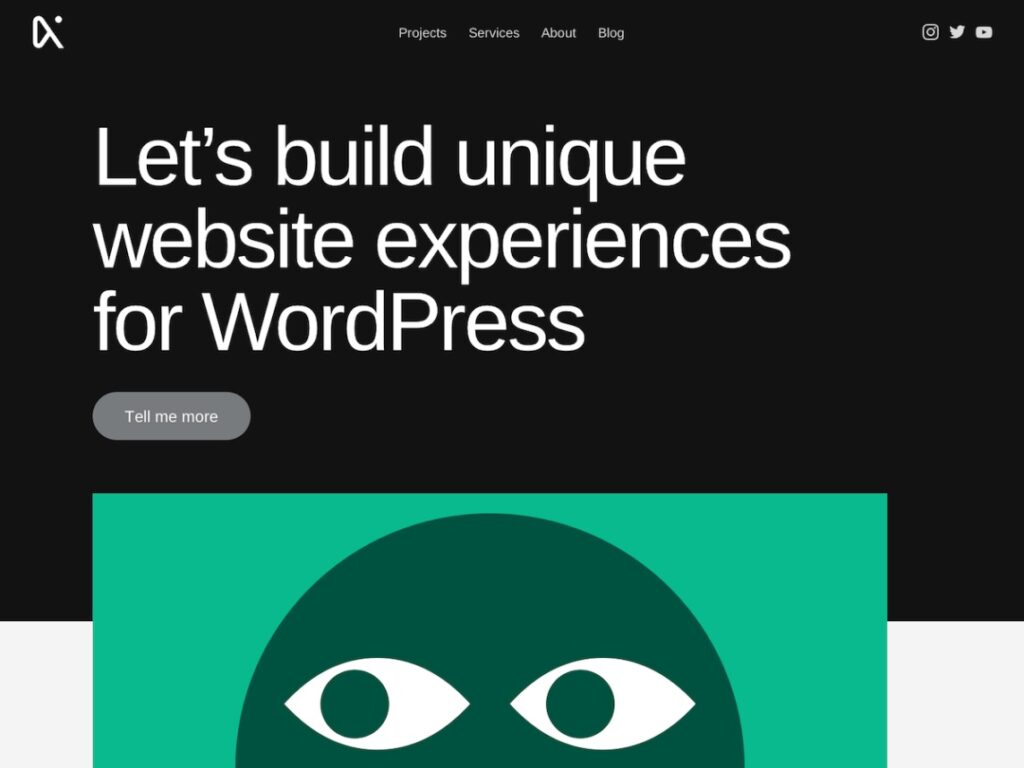 Aino is not just a WordPress block theme; it's a canvas for your digital masterpiece. With its captivating blend of modern aesthetics and powerful block editor integration, Aino empowers you to sculpt stunning layouts and compelling visuals that leave a lasting impression.
Whether you're a passionate blogger, a visionary entrepreneur, or an artistic soul seeking to showcase your portfolio, Aino's versatile blocks and pre-designed templates will breathe life into your wildest ideas. Get ready to start a journey of unparalleled web design, where every click and drag unveils a new layer of brilliance.
Notable features of Aino
Advanced customization options
Flexible block patterns
Modern and versatile design
Seamless block editor integration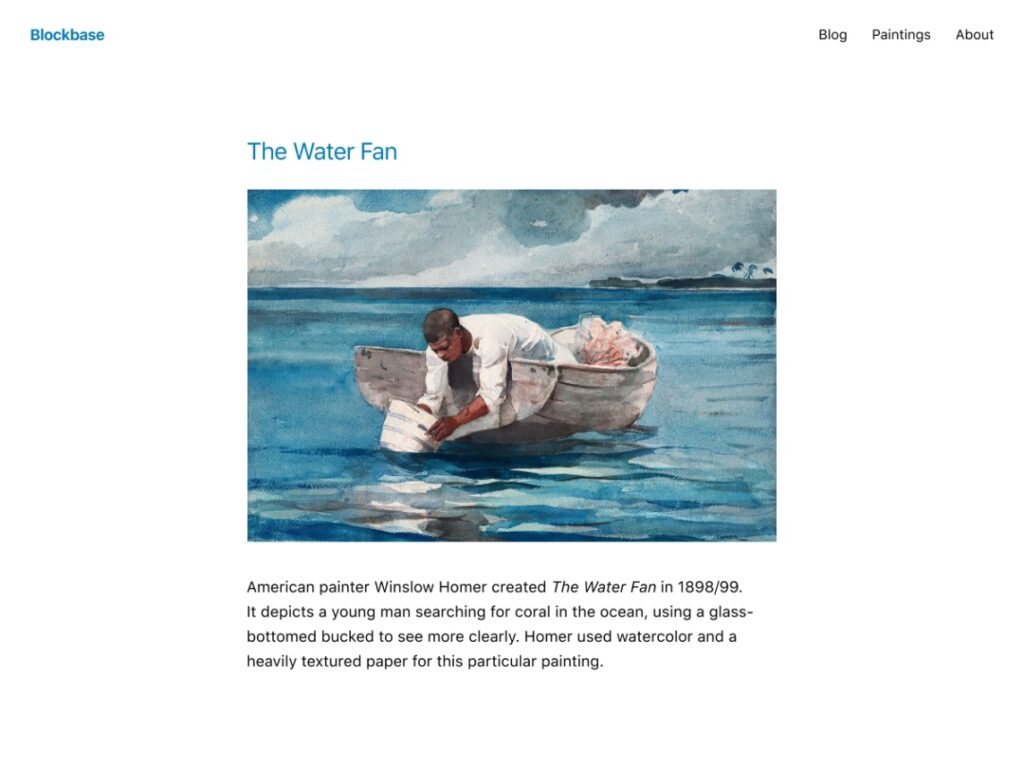 Brace yourself for a web design experience as BlockPress unveils its arsenal of over 12 query loop templates, an extensive array of pre-defined Post and Page layouts, and captivating header and footer patterns.
Bid farewell to sluggish loading times and bloated dependencies, as BlockPress operates without jQuery or external style libraries, earning you a perfect 100 web vitals score effortlessly, even without cache plugins.
But that's not all – BlockPress revolutionises WooCommerce, offering lightning-fast and immaculate online shops. Experience enhanced style loading, refined inputs,
excellent shop page designs, and improved layouts for WooCommerce blocks.
Notable features of BlockPress:
Full site editing compatibility
Enhanced WooCommerce integration
Lightning-fast performance
SEO friendly
Stewart is one of the most beautiful WordPress block themes available today. It takes your website on a navigational joyride with its sleek left sidebar, while its responsiveness ensures an unparalleled user-friendly experience. With customisable options at your fingertips, you have the power to style and personalise your site, creating a digital masterpiece that reflects your unique vision.
And let's not forget the captivating default color scheme of vibrant orange and sleek gray, which effortlessly gives your blog a clean and polished look that demands attention.
Notable features of Stewart:
Multiple layout variants
Content-focused design
Responsive and mobile-friendly
Extensive customization options
10. Tove (Free)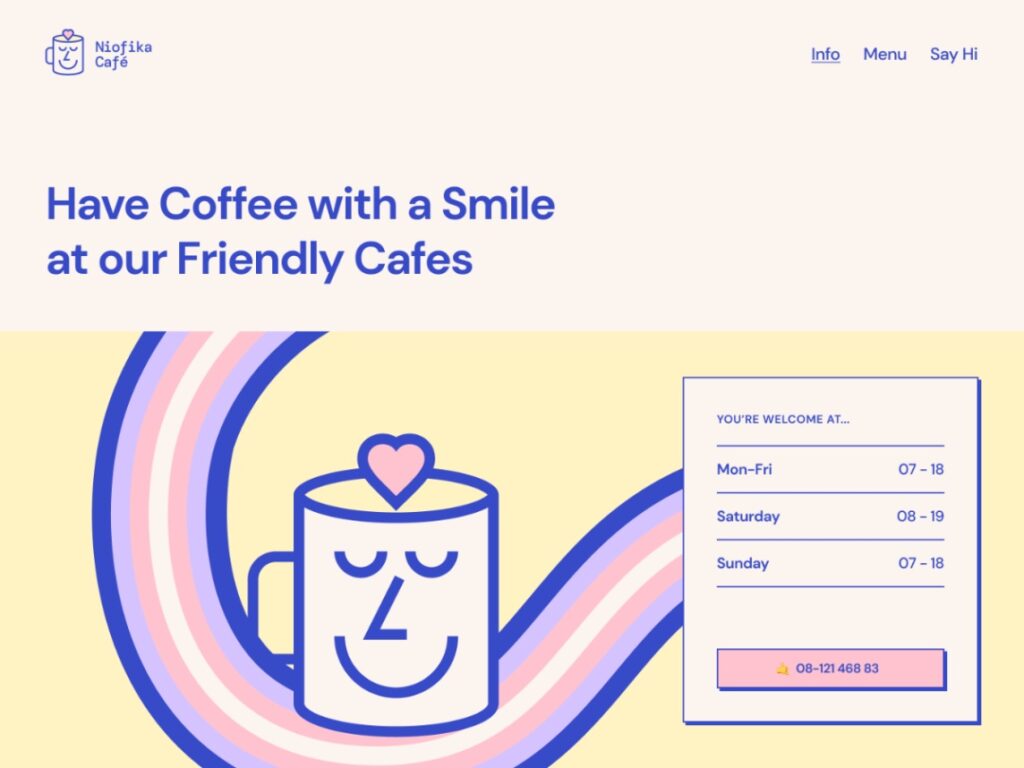 With Tove's seamless Gutenberg block editor integration and stunning aesthetics, you have the power to craft visually stunning and highly functional websites that captivate audiences at first glance.
Whether you're a passionate blogger, a visionary entrepreneur, or an artist seeking to showcase your portfolio, Tove's customizable options and versatile templates empower you to create a digital experience that is uniquely yours.
Notable features of Tove
WooCommerce compatibility
Seamless Gutenberg block editor integration
Regular updates and support
Extensive block library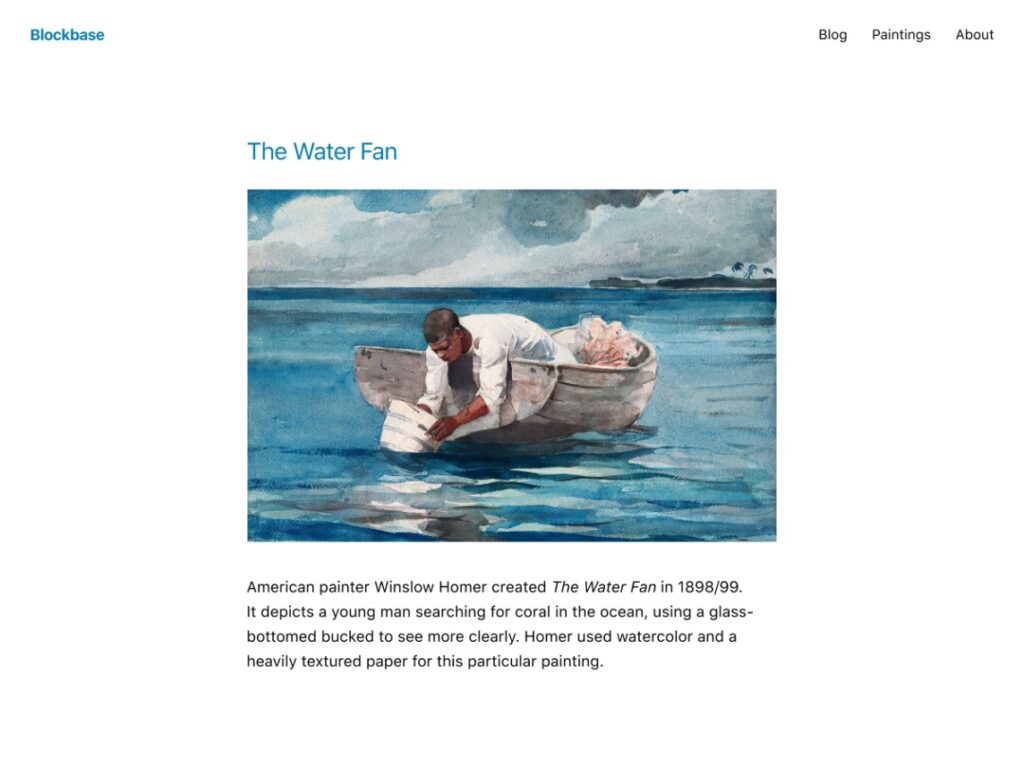 With BlockBase, your website becomes a symphony of creativity, harmonizing stunning aesthetics with seamless functionality. Unlock a world of endless possibilities as you explore a vast collection of customizable blocks and dynamic layouts, empowering you to create a website that truly sings.
Whether showcasing your portfolio, launching a blog, or crafting a business website, BlockBase offers the perfect rhythm and melody to captivate your audience. Let your digital performance shine and leave a lasting impression with BlockBase – the ultimate WordPress block theme that sets the stage for success.
Notable features of BlockBase:
Modern and trendy design
Responsive and mobile-friendly
WooCommerce compatible
Robust customization option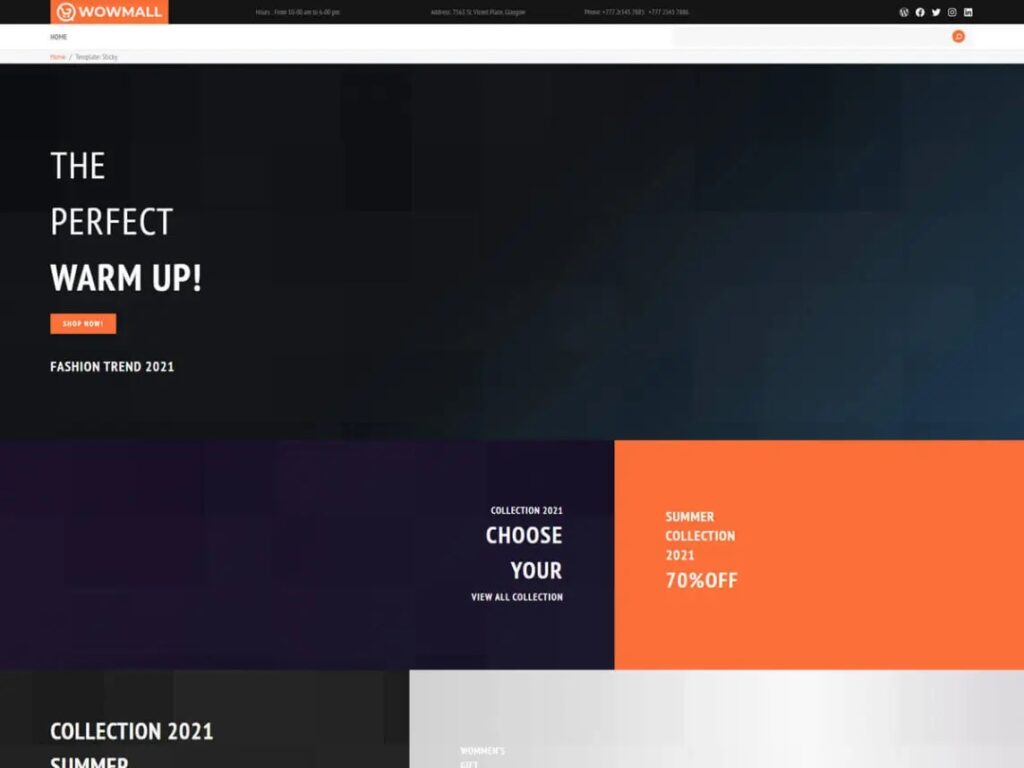 WoWMall empowers you to create visually stunning product displays, dynamic category pages, and irresistible promotional sections that entice and engage shoppers. Discover a treasure trove of customizable blocks and pre-designed templates, allowing you to tailor your store to perfection,
whether you're selling fashion, electronics, or gourmet treats. Leave a lasting impression with captivating product slideshows, seamless checkout processes, and personalized customer experiences. Elevate your e-commerce success and watch your sales skyrocket with WoWMall as your e-commerce powerhouse.
Notable features of WowMall:
Seamless block editor integration
Extensive product showcase options
Stunning eCommerce design
Mobile responsive
13. Frost (Free)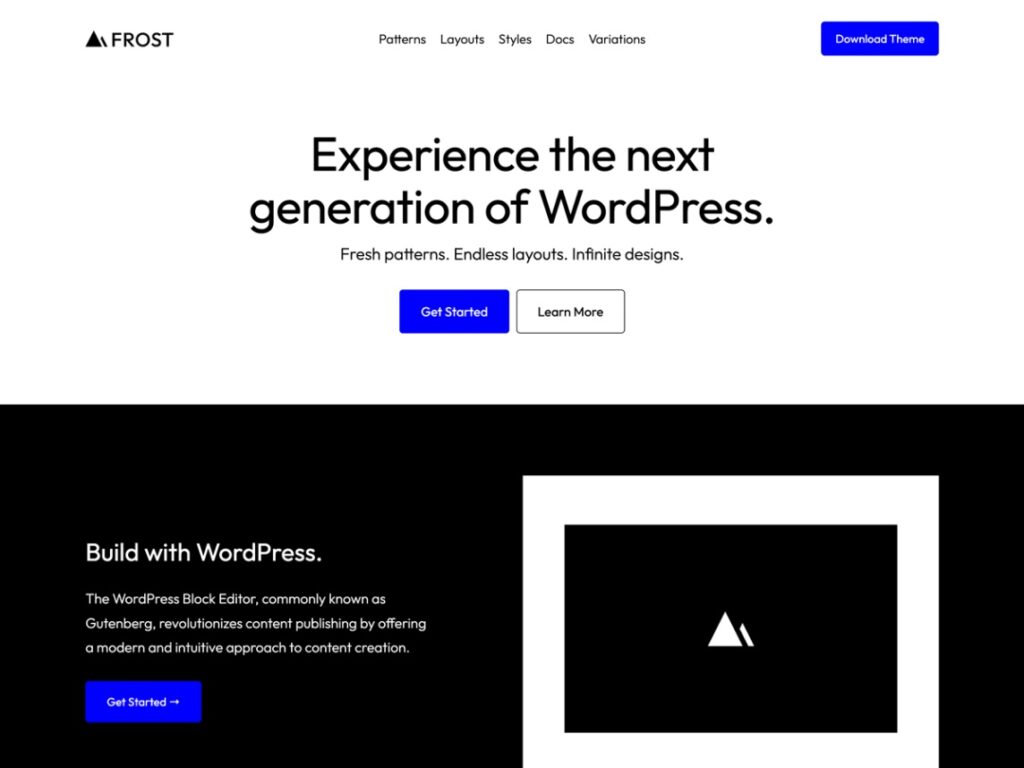 Prepare to be mesmerized as Frost combines sleek design, captivating animations, and immersive layouts to create a digital winter wonderland that captivates visitors. With its seamless integration of the block editor, Frost empowers you to craft visually stunning pages that will undoubtedly wonder you.
From elegant portfolios to captivating blogs and enchanting business websites, Frost's versatility knows no bounds. Customize every detail easily, from interactive elements to dynamic transitions, and watch as your website comes to life like never before. Embrace the frosty allure of Frost and let your creativity sparkle in the digital realm.
Notable features of Frost:
Speed and performance optimisation
Responsive and mobile-friendly
Extensive block library
Modern and elegant design
To Wrap Up
From the elegant simplicity of Wabi to the dynamic versatility of Tove, from the mesmerising rhythm of BlockBase to the futuristic innovation of Guten Theme, we've explored a realm of WordPress block themes where design meets functionality and imagination takes center stage.
But this is just the beginning. The WordPress theme community continues to push the boundaries, teasing us with upcoming releases that promise to redefine the very fabric of web design. It's a future filled with untapped potential, where experimentation and innovation reign supreme. If you are into classic theme, you have reviewed Blocksy theme in our blog, read and know whether Blocksy is the you need.