No doubt, an SEO plugin is one of the must-have WordPress plugins of all time. When choosing the best WordPress SEO plugin, everyone goes for popular options like Yoast SEO without having many thoughts on alternatives. What if you could have achieved more with a WordPress SEO plugin that is way better and gives you more features free of cost? Yes, I am talking about Rank Math today. It's not a Rank Math review; it's about the reasons that pushed me to switch from Yoast SEO to Rank Math.
I was dead against Rank Math and any other SEO plugins except Yoast SEO, not because I experienced Rank Math before, but I was a die-hard fan of Yoast SEO plugin and had been using it for about four years. This is why, whenever anybody recommended me Rank Math or any other SEO plugins, I turned down immediately. A few days ago, I was looking for a free redirection plugin. One of my friends told me, " If you had Rank Math, you wouldn't have needed any plugin for redirection. It's with the Rank Math, and it's free. I was convinced to at least try it out finally. Now, I understand it's not just redirection that I have been missing; there's more.
Honestly, before I say anything about Rank Math vs Yoast SEO, I tend to say Yoast is not terrible. It's okay, but I found the Rank Math SEO plugin to be better. To be more precise, it is the best. Today, in this Rank Math review, I will share why exactly I think so.
Rank Math Review: Why I Switched to Rank Math From Yoast SEO
I had little to no reason to switch from the Yoast SEO plugin to Rank Math until I experienced Rank Math myself. It's like you never know what's in there unless you explore. I had taken a fancy to Rank Math WordPress SEO plugin just after I installed it. You would find plenty of reasons to try Rank Math, even if you are a die-hard fan of popular WordPress SEO plugins like Yoast.
Note: I had gone through pretty much all contemporary popular WordPress SEO plugins before finally installing Yoast SEO. So, I am not going to compare Rank Math to anything other than Yoast SEO. Today, It is going to be all about Rank Math vs Yoast SEO plugin.
While even exploring Rank Math, I was inclined to Yoast SEO plugin. But some of the features pushed me to change my mind, which led to writing this article today. Here, I will only talk about the benefits that made me choose Rank Math and uninstall my long-time friend Yoast SEO.
So, let me tell you the reasons why I switched to Rank Math.
Redirection
Yoast SEO has a redirection feature. So, what's so special about it? Yes, Yoast does have the redirection feature but in the premium version. You have to pay $89 to be able to access this feature. In Rank Math, it is entirely free. Honestly, I am not willing to pay for the feature I can access for free. But this is not why I put this feature in the first place. Redirection is what led me to Rank Math.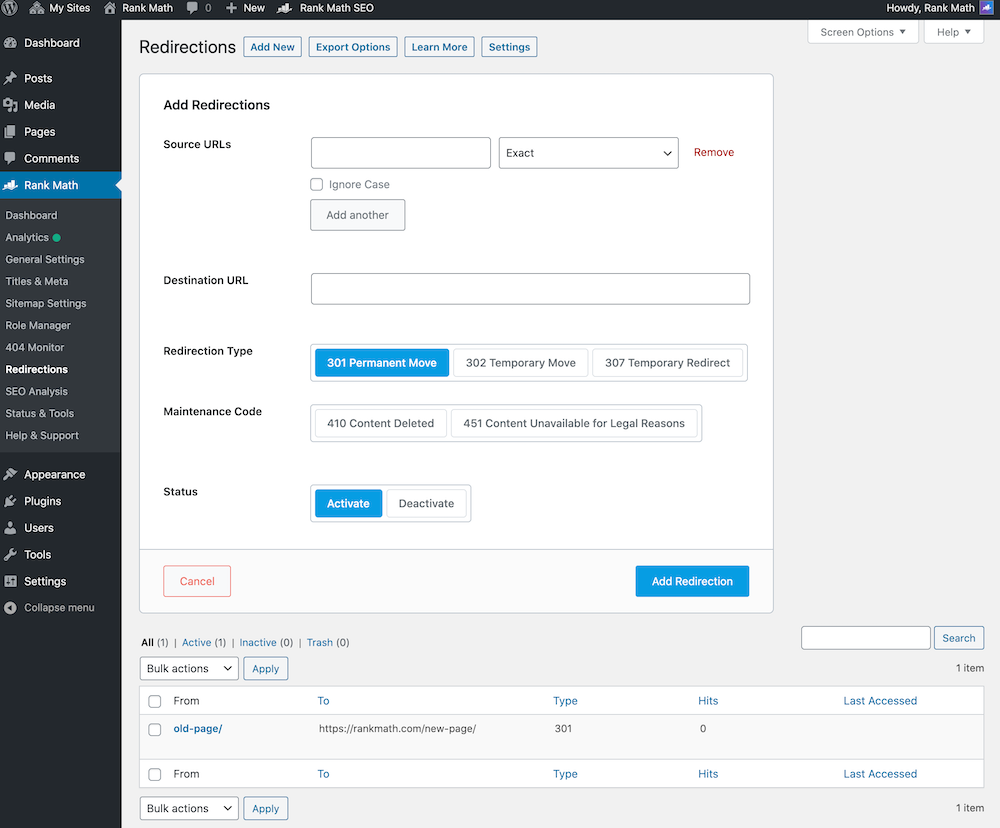 Benefit: Rank Math saves me from paying $89 for Yoast Premium or installing any other redirection plugin on my site.
Elementor SEO
Elementor is the most popular page builder plugin on WordPress. This page-building toolkit has over 5+ million active installs and nearly 5000 5-star ratings on the WordPress directory. People around the world love creating websites with Elementor. Just like them, I created plenty of sites with this popular WordPress page builder plugin. But when it comes to optimizing websites for SEO, Yoast did not come in handy. I could not optimize SEO on the Elementor interface. There's a lot of back and forth to be able to optimize SEO.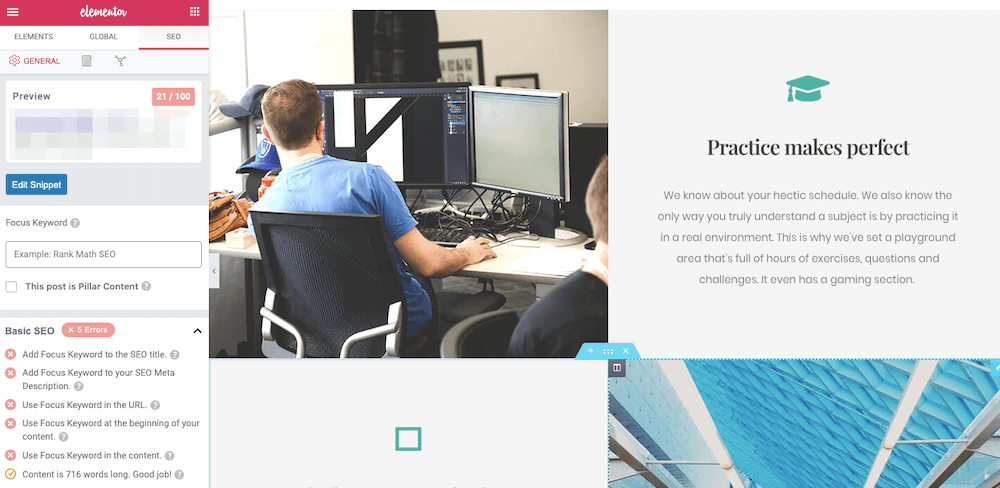 But Rank Math, on the other hand, does a superb job for me. It lets me take care of SEO on the Elementor interface. I don't need to go back to the WordPress default editing mode to check my SEO score and come back to the Elementor interface to apply the suggestions. I can do these all on the Elementor interface.
Benefit: Rank Math is a complete solution for Elementor. You can not work on SEO on the Elementor interface with Yoast SEO.
Multiple Focus Keywords
The focus keyword is the keyword or keyphrase you most want to rank for. But you do know that's not enough. To rank for a keyword you need supporting keywords that are called LSI (Latent Semantic Indexing). With Yoast SEO free version, you can optimize your content on the basis of one keyword. On the other hand, Rank Math lets you use and analyze multiple keywords as many as 5. This will definitely increase your chances of ranking higher.
Benefit: More chances of ranking higher without paying a dime for more than one keyword.
Local SEO
Rank Math is the best free SEO plugin for WordPress. Because features like local SEO are free in it. Rank Math supports 193 local business types with its rich snippet support. In fact, Yoast does not have any feature or option for local SEO in its Yoast SEO plugin. To be able to optimize your website with local SEO, you have to purchase their Local SEO plugin for $69 for a single site.
From placing Google MAP API key to setting up business hours & info, you have a lot to take care of. To have local SEO features with a single WordPress SEO plugin, you have to choose Rank Math.
Benefit: Rank Math saves me from spending $69 for local SEO and installing any new plugin.
Snippet Editor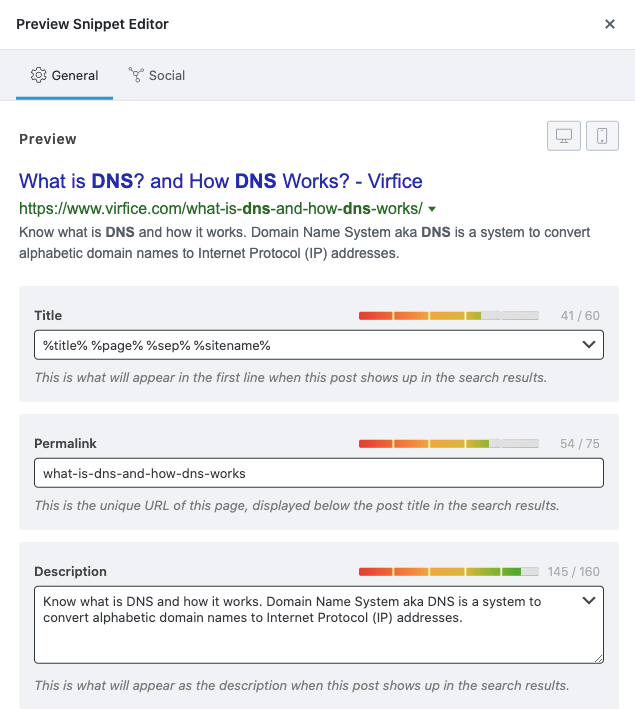 In Rank Math, you have the option for each page and post to control their look on social media. In Snippet Editor, you can change the description, add a dedicated social media image, select the Twitter card type, and many more.
Yoast SEO does allow you to access Snippet Editor unless you upgrade to their premium plan. While Rank Math, it is completely free.
Benefit: Access to Snippet Editor without paying $89 for Yoast Premium.
Schema
Since you want to improve your website's SEO, you are supposed to know about schema markup. Schema helps you stand out in the SERP. Rank Math lets you take care of your website's schema. You can select the schema type from a long list of schema types (Article, video, Event, Recipe, Product, and more) and add rich data according to that. Each type has a different set of data input options.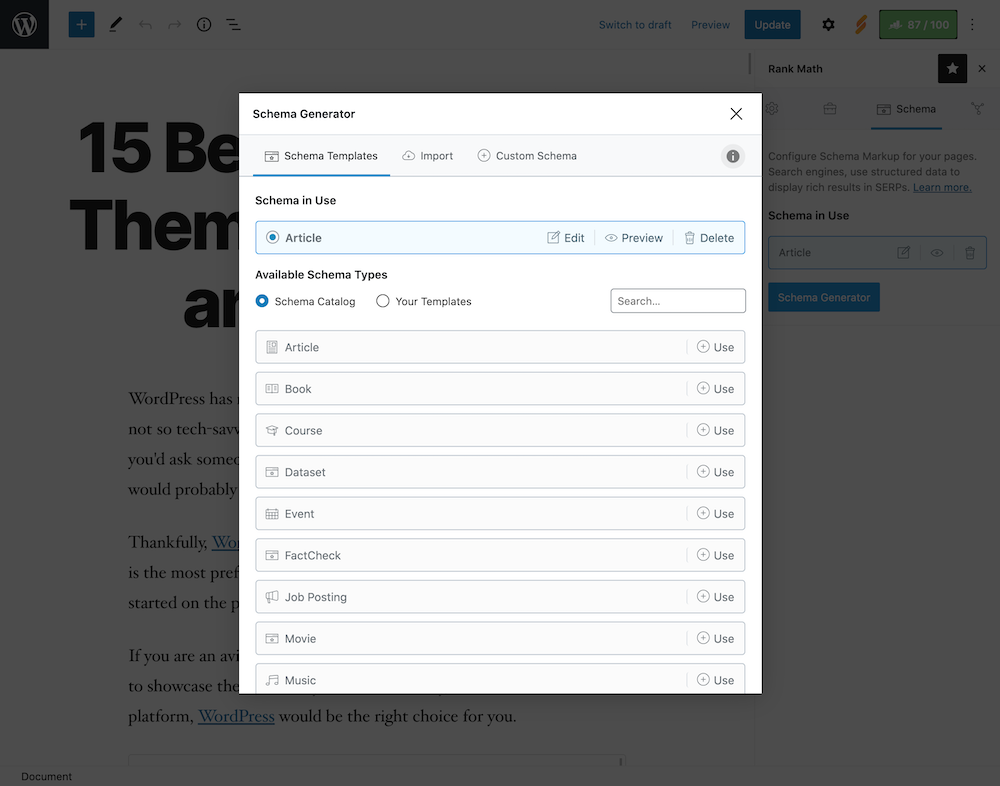 Schema is a collaborative product, created by Google, Microsoft, Yahoo, and Yandex combined, and now is a popular way to add rich data to the web elements.
Benefit: Yoast doesn't have any option to add rich data. Rank Math saves you from installing any plugin for the schema.
Role Manager
With the Rank Math SEO plugin, I can decide who controls my site SEO. I can turn off options for specific roles such as I may not want your Contributor or author to take care of SEO issues. I have the option to control that with Rank Math's Role Manager feature.
Benefit: I did not have any option to manage SEO roles in Yoast.
Advanced SEO Analysis on 40 Factors
I used to visit different websites like Moz, wooorank, and SEO Analyzer. But once I have Rank Math installed on my site, I can check your website's SEO analysis on your dashboard. The SEO Analyzer in Rank Math not only gives me an overall SEO score but also recommends all the fixes you have to make in order to improve my website's SEO.
Benefit: A free SEO Analyzer on the dashboard to check the overall state of the website's SEO.
Search Console in Dashboard
Whenever I needed to check how my website is doing with the keywords or search terms, I set the site for, I used to login to Google search console and verify that manually. Now, Rank Math gives me the option to check this right on the dashboard. And most importantly, I can filter search console results with dates and see the overall CTR, Impressions, Click, and Positions.
There's also search analytics to check each of the search terms individually. It definitely comes in so handy.
Benefit: No extra plugin is needed to track the search console reports on the dashboard.
SEO Score on a Scale of 100
Checking websites' SEO on some colored dots is not efficient for me anymore. After being introduced to Rank Math, I see the importance of measuring SEO on the score. Since there are plenty of issues to take care of when it comes to SEO, measuring SEO on different metrics and showing results on a scale of 100.
Benefit: Check SEO on a scale of 100 instead of some colored dots.
Title's Readability Analysis ( on CTR)
Rank Math digs deeper inside the titles and recommends titles that get clicks. Even after optimizing content and making it to the SERP, your site may not get clicks because of poor titles. Rank Math helps you fix your titles on the basis of the following issues.
Whether you used the Focus Keyword at the beginning of your title.
Whether your title has a positive or negative sentiment.
Recommends using a power word.
Suggests you have a number in your title
Upon setting up titles with those recommendations, posts will potentially rank and get much more clicks.
Benefit: Increase CTR with Rank Math.
404 Manager

Rank Math lets me find out where my website users are unable to find your content with the 404 monitor tool. Getting rid of 404 errors ensures a smooth user experience and lets visitors go back to your site. 404 manager not only detects the errors but also lets you redirect wrong URLs to the right link.
Benefit: A very useful 404 Manager comes free of cost
Canonical URL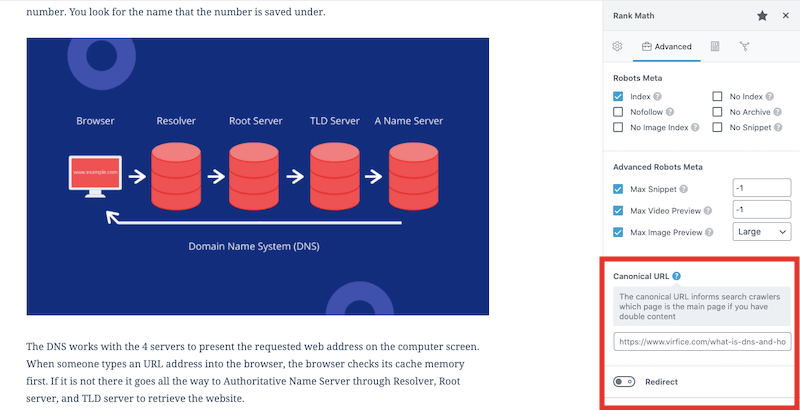 The canonical URL informs search crawlers which page is the main page if you have double content. With Rank Math, you can insert a Canonical URL for a post that is similar to a post you already have on the site. It saves you from having duplicate content and tells search engines which one to prioritize.
Benefit: Rescue from duplicate content error. Yoast does not have this feature.
One-click Data Import From Yoast
I had been using Yoast SEO for a longer period of time, I was worried about the optimization report I had with Yoast. I finally saw Rank Math can import my data from Yoast easily. And, it's in the setup wizard. That means importing data will be one of the first things you will be doing while switching to Rank Math. It's easy, smooth, and does not take long.
Benefit: No worries about your Yoast SEO data.
I mainly mentioned features that pushed me to switch from Yoast SEO to Rank Math. Apart from these, there are plenty of other distinguishable features like no-follow all external links, open external links in new Ttb, capitalize titles, automated image SEO, and many more that Yoast does not have let alone any other Yoast SEO alternative plugins.
I don't call it a Yoast SEO alternative. After using this plugin myself I call Rank Math, the ultimate WordPress SEO plugin. Do let us know your thoughts even if you have different views.
For more such recommendations, tutorials, and tips on the web, WordPress, and technology, please visit virfice regularly. We will not disappoint you.