WordPress enthusiasts always have the quench to learn more about WordPress and keep track of what's happening in this industry. Alongside different blogs, YouTube, and some other channels, WordPress podcast shows have been a great source of learning nowadays. Luckily, there are some resourceful WordPress podcast shows that can keep you updated with WordPress news and more. And today, we will talk about 10+ popular WordPress podcast shows to listen to in 2023.
No matter whether you are at the office, on a journey, or sitting somewhere alone, you can start listening to podcasts anytime. WordPress podcasts help you gain more knowledge about developing WordPress sites, fixing issues, required tools, and ways to promote and run your WordPress-related businesses. Most importantly, you can keep up with the latest trends in the WordPress community. In this article, we will talk about WordPress podcasts that are popular, informative, and trendy for WordPress lovers of all levels. If you go through our list of podcast shows, I am sure you will find your favorite podcast to listen to.
So, without further ado, let's get started.
Popular WordPress Podcast Shows to Listen to
There are so many WordPress podcast shows out there. It's hard to find the right podcast to listen to. But, don't worry. We've done the hard work for you and narrowed down the list to 13 WordPress podcast shows in total. Read about each of the podcast shows to find your favorite one.
WP Briefing – Official WordPress Podcast
Available on: Apple Podcasts | Google Podcasts | PocketCasts | RSS | Spotify | Stitcher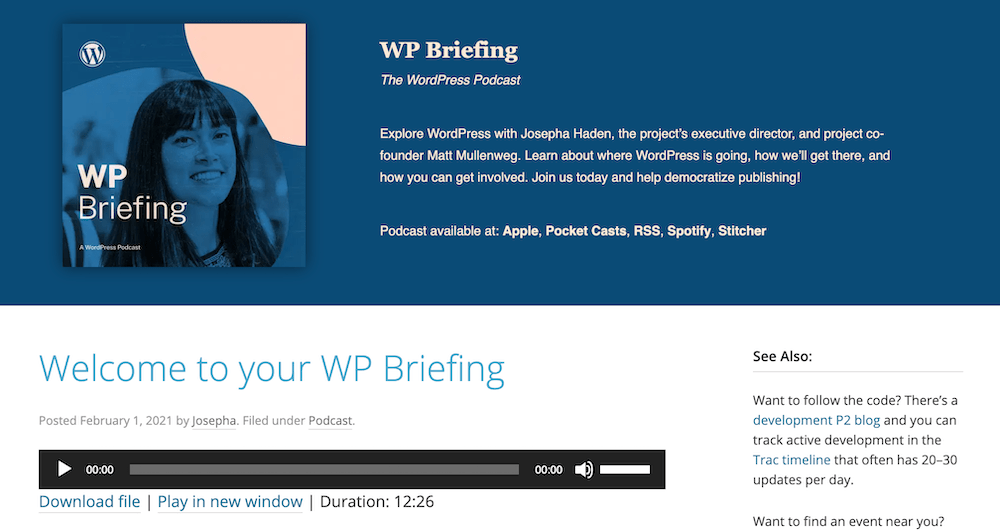 WP Briefing is the latest representative among all the WordPress podcasts. This is the first podcast that originated directly from the WordPress authority. WP Briefing first started its show on February 1, 2021, hosted by Josepha Haden Chomphosy. This show gives importance to the long-term philosophies of the WordPress open-source project. All types of WordPress community news and updates are also available here. Information and ideas that are shared are very credible because they come directly from WordPress authoritative persons.
Since WP Briefing has premiered only one episode, it is difficult to predict the show's contents in detail at present. Each show will last between 12 – 15 minutes. It is constructed for users, builders, and contributors who are keen to explore more about WordPress. Listeners will get a new episode every couple of weeks. Each episode will be decorated in three segments:
Overall discussion on WP philosophies with a very easily understandable interaction
Focus on the success stories of the extraordinary contributors in the WordPress community.
A small list of top things to know that will be discussed in the upcoming episodes.
Matt Report
Available on: Apple Podcasts | Google Podcasts | RSS | Spotify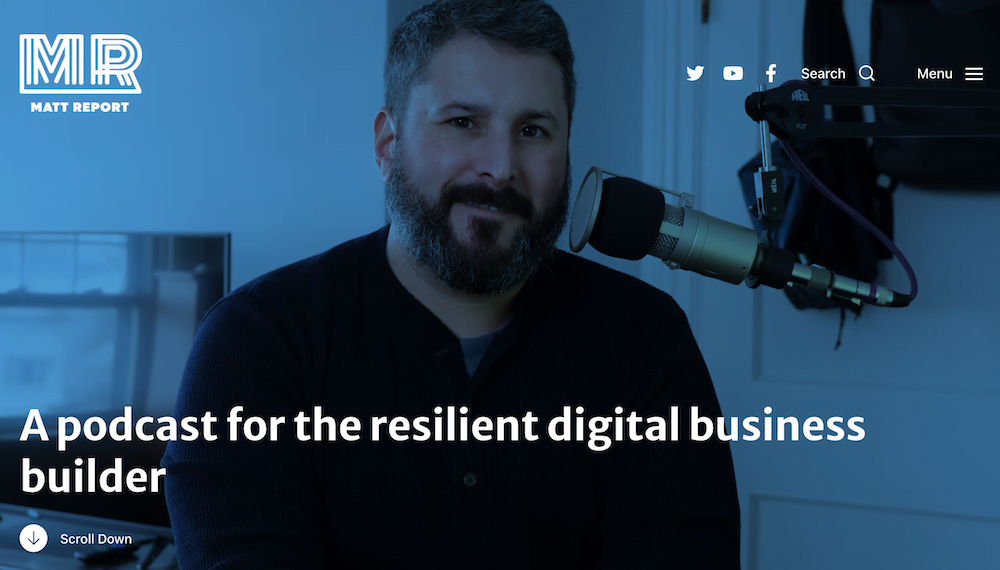 The Matt Report started its journey back in October 2012 by Matt Medeiros, a content creator and the director of Podcaster Success at Castos. From the beginning, it attracted listeners with different tastes in WordPress podcast shows. The Matt Report especially gives listeners suggestions about how they can own a WordPress business instead of emphasizing little on discussing web development tools, procedures, and coding knowledge.
Any type of WordPress business-related tips like using WordPress, creating WordPress sites, starting a WordPress business, seeking more customers, or e-commerce help can be found here. Web experts and digital business holders are the main guests here. The Matt Report also takes interviews with WordPress product makers, web professionals, and investors. This podcast is helpful for listeners trying to build up a related business. 
Gutenberg Changelog
Available on: Apple Podcasts | Google Podcasts | RSS | Spotify | Stitcher
Gutenberg Changelog helps WordPress users stay acquainted with the latest features, community voices, designs, and trends of the Gutenberg block editor. This is a bi-weekly podcast show hosted by Birgit Pauli-Haack, an administrator of Gutenberg Times, and Mark Uraine, a designer at Automatic and a WordPress Contributor. WordPress designers, developers, contributors, and site owners are the main beneficiaries of Gutenberg Changelog. If you are a Gutenberg lover and want updates on the block editor and suggestions on how to build and run better with WordPress and its default editor, then Gutenberg Changelog is your go-to WordPress podcast show. You also can call it a WordPress podcast for Gutenberg block editor.
WPwatercooler
Available on: Apple Podcasts | Google Podcasts | RSS | Spotify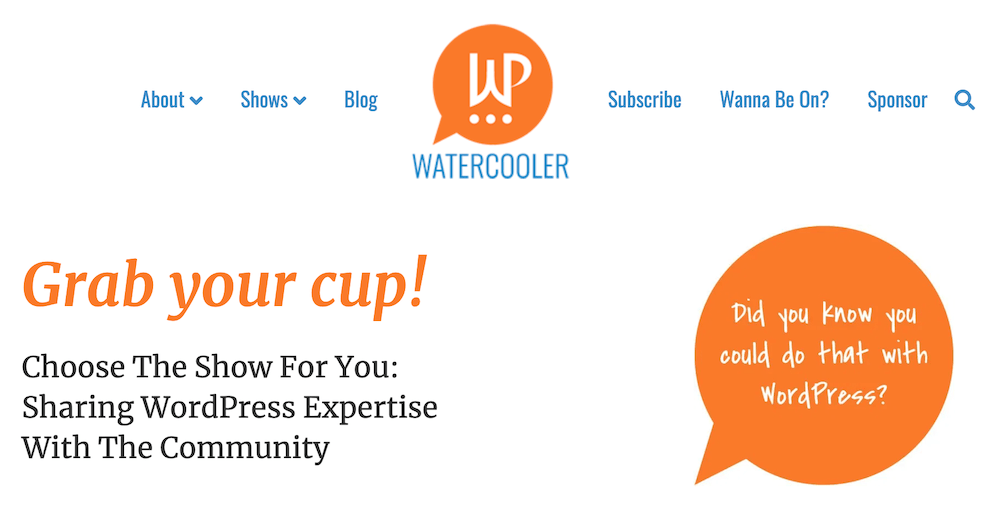 WPwatercooler started the journey back in 2012. This show is hosted by Jason Tucker who worked for Tucker Professional Web Services. This show is a kind of roundtable discussion that goes both live and video recorded. Users can get WordPress knowledge, tips, and updates from this WordPress podcast show. WordPress developers, users, and lovers are the main audience of the show.
Actually, WPwatercooler hosts 3 different podcast shows for 3 different types of audiences.
WPwatercooler show – general WordPress discussions suitable for all levels of WordPress users.
WordPress marketing show – a WordPress-focused marketing show with practical advice.
Dev branch – a developer-focused show that covers WordPress technical features & tricks from web developers In the community.
Each episode goes live on Friday on YouTube and later the recorded version is released on iTunes and different podcasting media as well. Each episode is 30-40 minutes long. WPwatercooler helps you find the way not only to create business WordPress but also to learn the technical aspects of WordPress.
WPCoffeeTalk by Michelle Frechette
Available on: Apple Podcasts | Google Podcasts | Stitcher

WPCoffeeTalk has brought a different taste to WordPress podcast shows. You can get a natural feeling listening to this show. Two people with two cups of coffee on the table and have a friendly conversation! What a natural feeling this can be! This show is hosted by Michelle Frenchette. This podcast motivates listeners by sharing positive inspirational examples of the WordPress society.
It is especially for web bloggers, web designers, and other professionals involved in WordPress-related work. The discussions are based on the latest technologies and designs. WordPress professionals like PHP developers. designers, administrators, agency owners, and content creators are the guests here.
Guests at WPCoffeeTalk are asked a wide variety of questions that include their journey, achievements, community activism, and proudest moments with WordPress. WordPress enthusiasts who seek real-life WordPress stories right from experienced professionals can listen to WPCoffeeTalk episodes and be inspired every day.
Women in WP
Available on: Apple Podcasts | Google Podcasts | Spotify | Stitcher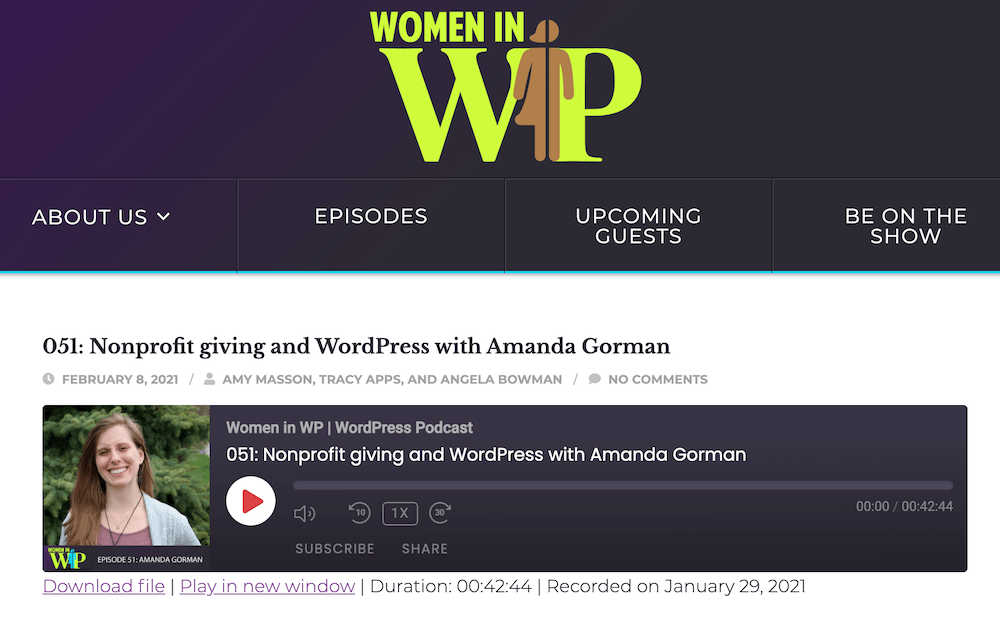 Women's roles are equally important in WordPress society. Women in WP talks about women who are related to WordPress development in the fields of blogging, development, themes, design, and marketing. You can listen to this podcast show twice a month every other Monday and is hosted by Amy Masson, Angela Bowman, and Tracy Apps who are experts in different fields of WordPress.
In each episode, the guests discuss WordPress design, blogging, marketing along development. This show's specialty is all the guests are women who are professionals in WordPress development. Each episode is about 40-50 minutes long. Enthusiasts who want to know more about WordPress from different aspects and angles can feel comfortable listening to his WordPress podcast show.
WPMRR Podcast
Available on: Apple Podcasts | RSS | Stitcher

WPMRR is the abbreviated form of "WordPress Monthly Recurring Revenue" that was originated by the folks over at WP Buffs. This podcast is beneficial for WordPress professionals as they can generate more monthly subscription revenue and run their businesses in a profitable, successful, and comfortable way. The WPMRR podcast was created by Joe Howard and Christie Chirinos and has gained huge popularity in the WordPress community. WordPress lovers can enrich their knowledge by getting consultancy, business tips, and current trends in marketing and sales.
This podcast is helpful for anyone who wants to run a business using WordPress. Consultants, developers, designers, and contributors related to WordPress-based businesses can easily get tips and tricks for their long-term benefits. The episode length is between 40-50 minutes.
LMScast by Chris Badgett
Available on: Apple Podcasts | Stitcher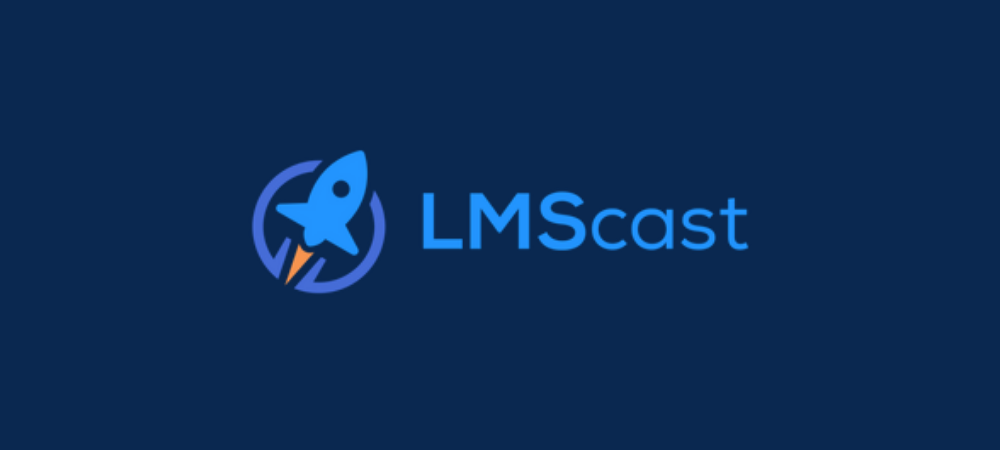 LMScast is a WordPress podcast for eLearning course businesses. WordPress users are well known to LifterLMS. It is a very popular WordPress plugin that works as a Course Management System. The LMSCast podcast is representative of the LifterLMS team. It is hosted by Chris Badgett. Listeners can get ideas and tips about how they can generate and expand a course-based business. LMSCast podcast has both audio and video-based programmers that make it unique from other podcasts and listeners can watch their favorite personalities they listen to.
WordPress developers related to building educational programs and online courses are the target listeners of the podcast. LMSCast can be a great learning source for you if you want to start your own online courses business. Episode length is between 45-55 minutes on average. LMSCast premiered the show every week.
Think Like a Hacker by Wordfence
Available on: Apple Podcasts | Google Podcasts | RSS | Spotify

Think Like a Hacker podcast show is hosted by Mark Maunder and Kathy Zant as co-host. This podcast show is based on topics related to WordPress security, to date security systems. This show is divided into two parts: interviews with WordPress security experts and information on the latest security trends described by the hosts. WordPress users and owners who are very much enthusiastic about their site's security and innovations are the listeners of this show.
Those who are greenhorns in the field of gathering knowledge in WordPress security can find this podcast show as a guideline. This show runs two episodes a week. The first one is on Tuesday or Wednesday and the second one is on Friday. The episode length is 25 minutes on average.
Kim Doyal Show
Available on: Apple Podcasts | Google Podcasts | Spotify | Stitcher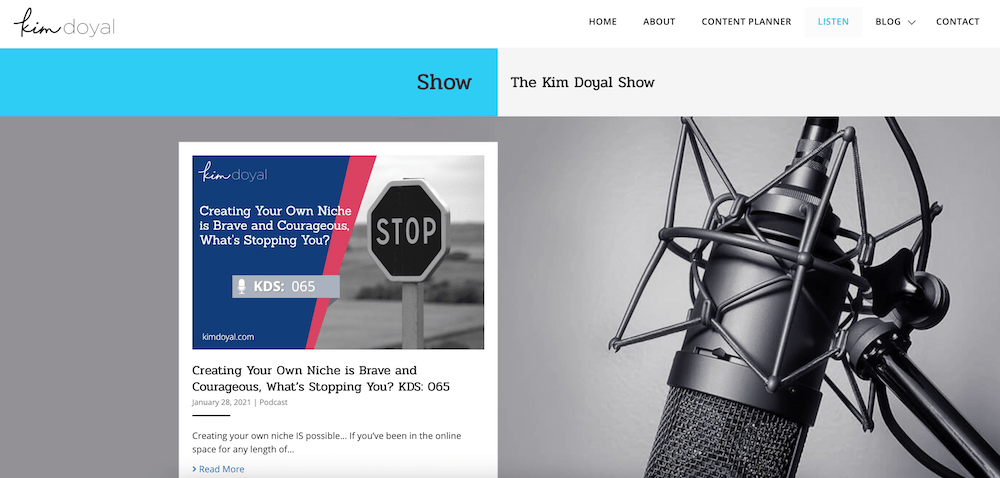 The "Kim Doyal Show" podcast started its journey back in 2018. Kim Doyal is both the host and producer of this podcast. This show was formerly known as " WordPress Chick Podcast". It is an interview-based show where lucrative WordPress developers, owners, designers, and businesspersons are invited as guests. It is not that much technical knowledge and ideas related.
Topics like WordPress SEO, productivity development guidelines, and marketing strategies are generally discussed here. Web-based business proprietors are the target audience of this show. This show is run twice a month. Each episode is 40 minutes long on average.
WP-Tonic
Available on: Apple Podcasts | Google Podcasts | RSS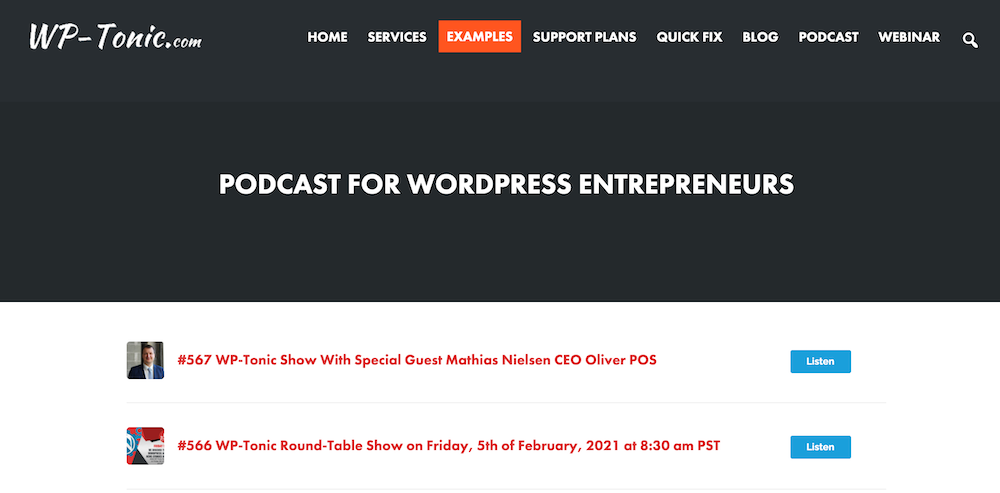 WP-Tonic is hosted by Jonathan Denwood and Adrian Tobey. In this show, the guests discuss knowledge, tips, and procedures to help the users expand their web-based business earnings using LMS (Learning Management System) shaped by WordPress. WordPress developers, designers, users, and managers working with LMS are the target audience of this podcast show.
This WordPress podcast show is run twice a week. Every Wednesday, the show is run with a discussion for 30 minutes, and every Friday, an hour-long round table discussion is run. The average show length is about 40 minutes.
Your Website Engineer
Available on: Apple Podcasts | Google Podcasts | RSS | Stitcher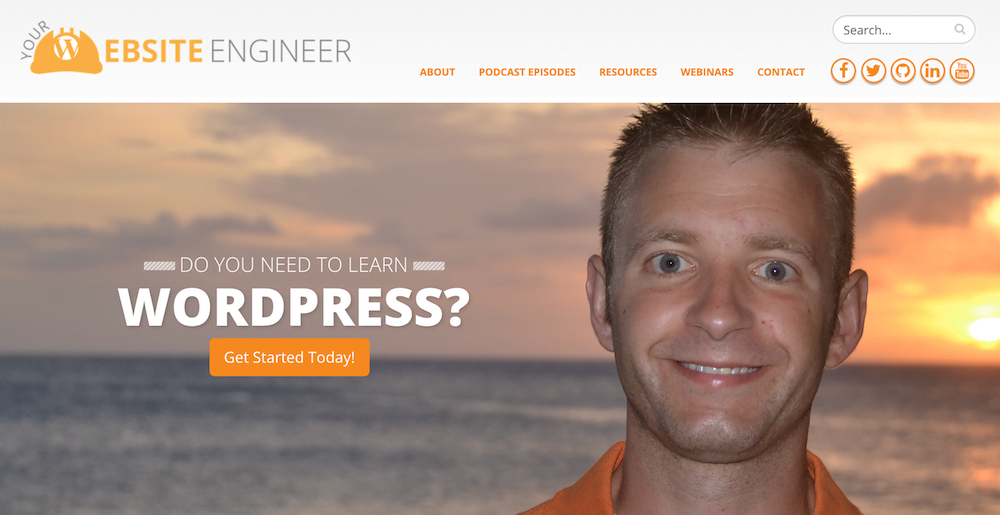 Your Website Engineer started their journey more than a decade back in 2010. It was formerly known as "Your WordPress Engineer". This Podcast show has gained huge popularity for presenting extraordinary and informative content every week from the beginning. Dustin Hartzler contributes as the host and he shares ideas, technologies, and tips that aid the listener's need to build a smooth WordPress website.
The contents of this show are too technical, to be frank. So the terms that are used here may seem a bit tough for the novice to understand. In each episode, the host discusses a specific WordPress product like a feature or plugin. Each episode's length is 15 minutes on average. This show is run every Wednesday.
Wrapping up
To keep pace with the modern world, you need to be aware of the changes and opportunities around you. In the WordPress community, there are always changes in technical issues and ideas. As a WordPress user, developer, contributor, designer whatever you are, to be up to date and know to latest trends, podcasts will help you a lot without any doubt. Did our list of the best WordPress podcast shows help you find the podcast you want to listen to? Do let us know in the comments.