Are you wondering if Kinsta hosting is the right choice for your WordPress website? In our Kinsta hosting review, we will discuss some Kinsta hosting platform features, reveal our test results, and compare Kinsta hosting (Kinsta Application Hosting and Database Hosting) with other WordPress hosting alternatives so that you can decide if this is the best WordPress managed hosting for your websites. Let's get started.
Kinsta is a Cloud Platform that offers Application Hosting, Database Hosting, and WordPress hosting solutions with premium features that fit web projects of all levels. Whether you are starting a blog on WordPress, creating an online shop, or building a large-scale website, Kinsta has you covered. All premium hosting services come at a premium price. So, this is customary to judge whether it is worth your money. No problem, we have done the research and testing on their WordPress plans for you. Without further ado, let's get to it.
Kinsta Hosting Review: Is it the Best WordPress Hosting For Your Website?
What do you seek in premium hosting when you want to buy one? Performance, security, scalability, infrastructure, site management option, support, and more, We will take all these into account in Kinsta's WordPress hosting review. Let's get started.
Kinsta Hosting – Specialized in WordPress
As a WordPress enthusiast, Kinsta draws my attention with its sole focus for over 10+ years on WordPress. They have constantly improved their managed WordPress hosting by launching premium features, updates, and their very own WP-specific tools. Now, they also introduced Application Hosting and Database Hosting to give even more flexibility to their users.
Some hosting companies (you may call them Kinsta alternatives) offer WordPress hosting in a regular manner just to cover the WordPress niche while Kinsta has WordPress at its heart.
Kinsta understands the infrastructure, codes, CMS, bottlenecks, and other nitty-gritty of WordPress sites and has built its platform that way to offer the best hosting for WordPress sites. That is why you will not find any other CMS or platform support in Kinsta.
Performance: Is it the Fasted WordPress Hosting?
Your website loading time has an impact on the revenue you make on it. So, performance is definitely the one of first things you should consider while choosing a hosting service for your websites.
Kinsta claims that customers see up to 200% in performance improvements, 30% improved latency, or 50% better bandwidth.
The performance of the hosting depends on the infrastructure it is built on. Kinsta hosting in this case is built on Google Cloud Platform's premium tier network and fastest C2 virtual machines. It is designed to minimize distance, resulting in fast and secure transport of your website data.

Here are some of the major reasons why you will enjoy the fastest website performance on Kinsta:
High-performance Kinsta CDN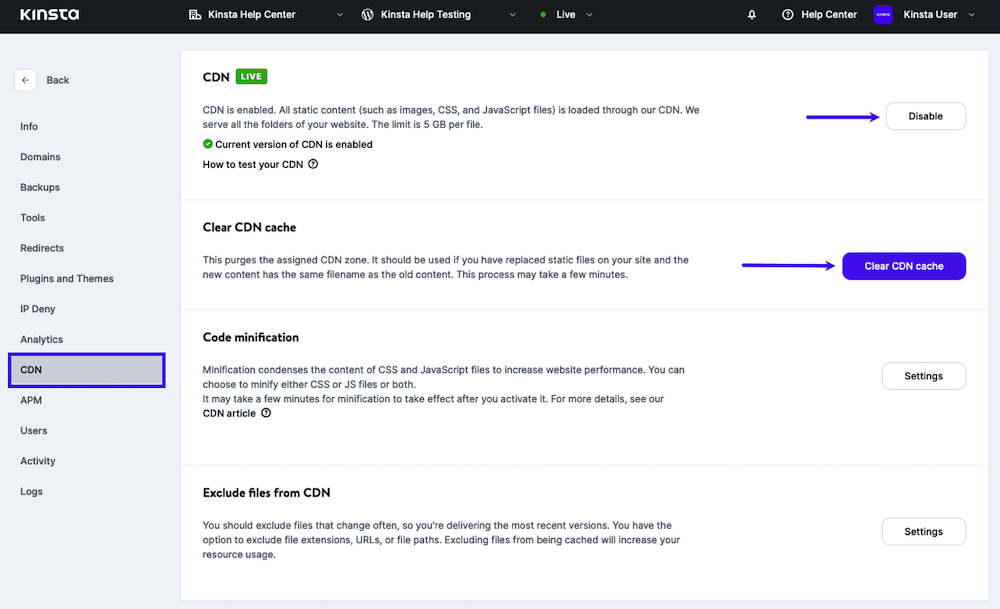 With Kinsta you can speed up content delivery to a greater extent as it has the HTTP/3-enabled CDN powered by Cloudflare. Kinsta CDN securely serves web page content from 200+ cities so your content loads quickly around the world.
35+ Data Centers Globally; Stay Close to Your Target Audience
Kinsta has 35+ data centers globally. Your chance to have your site hosted close to your target audience is huge. And, this number is increasing gradually.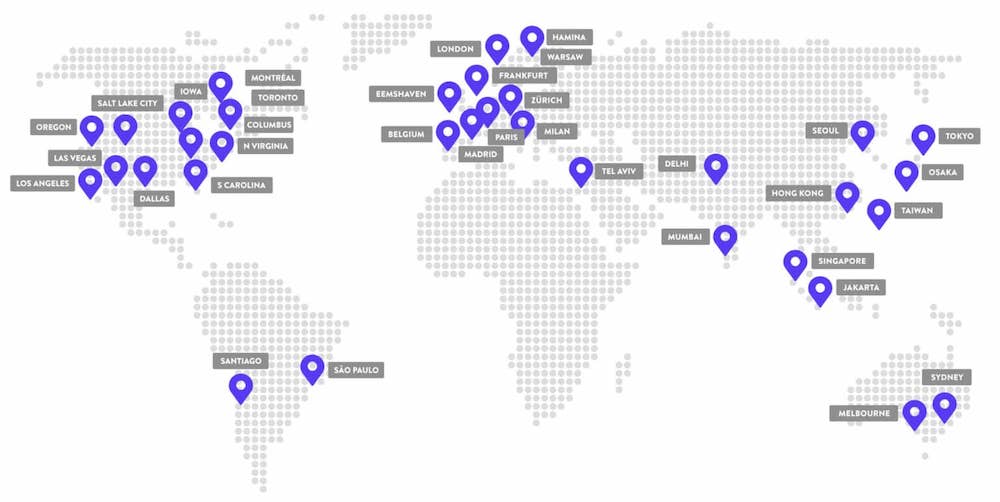 If most of the visitors are from a specific region it is important to choose the right data center location to improve the performance of your WordPress site. It will also ensure you get fast SFTP speeds. With Kinsta you do have that choice.
Server Level Website Caching
You no longer need any extra caching plugins for your website. Kinsta offers the fastest server-level caching. Benefit from the best caching setup for your WordPress site. Load your website fast with Kinsta's built-in server-level website caching.
Maintaining many global WordPress sites, we've become well acquainted with all the major hosting providers. No one is running our sites as fast as Kinsta.

Steve Lock from Sowmedia
You can save money on any extra caching plugin for your website as you get a server-level site caching system with Kinsta.
Kinsta also offers edge caching. With their enterprise-level Cloudflare integration, you can also access free Edge Caching. By enabling this premium feature, your content will be delivered to your readers 50% faster.
Kinsta API
Kinsta is well-known for its developer-friendly features like WP-CLI, SSH, Git, ionCube loader, or one-click cloning. A new tool that opens up exciting new possibilities for all of Kinsta's users, especially developers has been recently launched: Kinsta API. The API allows developers to interact and connect with all of their Kinsta projects outside of the MyKinsta dashboard to easier retrieve data, automate tasks and perform various actions such as PHP restarts, cache cleaning, WordPress site deployment, and more.
Top-notch technology
Kinsta uses state-of-the-art technology. Utilize the power of Nginx, PHP 8.1, LXD, software container isolation, MariaDB, and Amazon Route 53 premium DNS.
Automatic Database Optimization
Kinsta optimizes your website database weekly to ensure a performance boost for your website.
Kinsta Performance Test Result on Google PageSpeed Insights and GTmetrix
We have tested our site on Kinsta hosting and got a tremendous level of performance without taking care of any performance best practices manually. Here's the result of our test.
Kinsta hosted website performance results on Google PageSpeed Insights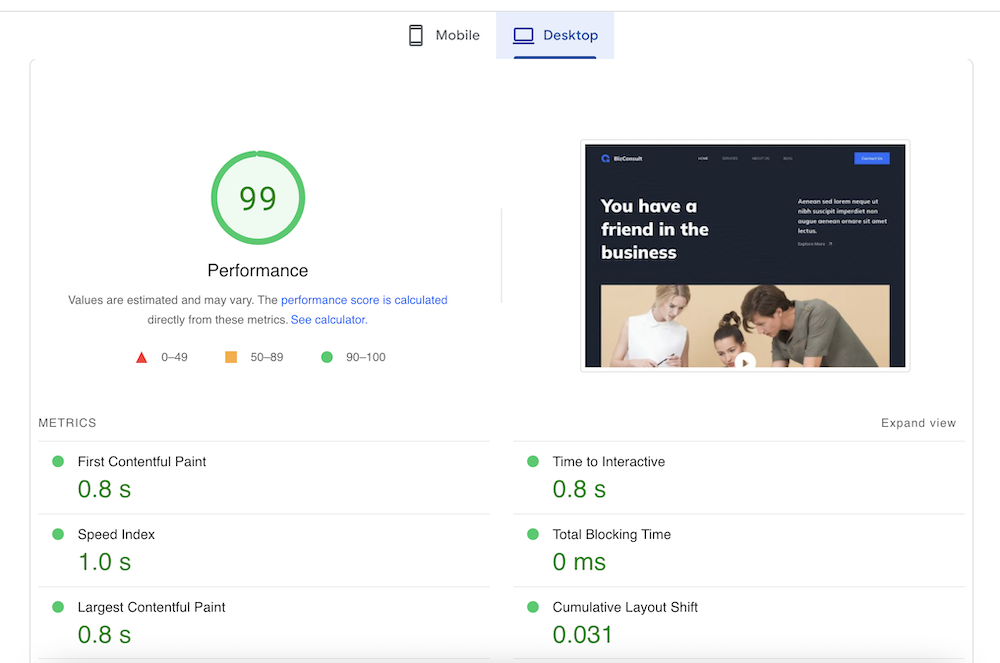 Kinsta hosted website performance results on GTmetrix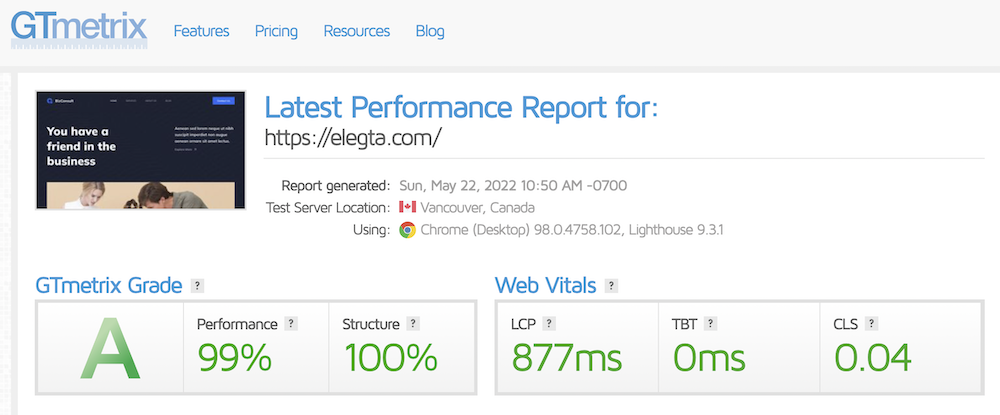 Your website loading time has a direct impact on your online business. People tend to go for alternatives when website links they click on don't load fast. If you mean business, you must make your website load fast.
Site Management on the Kinsta Platform
Creating a site on the Kinsta platform (MyKinsta) is so easy. In fact, managing your site on this platform is a piece of cake as every single tool and analytics are self-explanatory. There's not much of a learning curve. You can create and manage your site without even having a look at Kinsta documentation. There's nothing complex about it. Your fear of managing a website on the server is gone forever.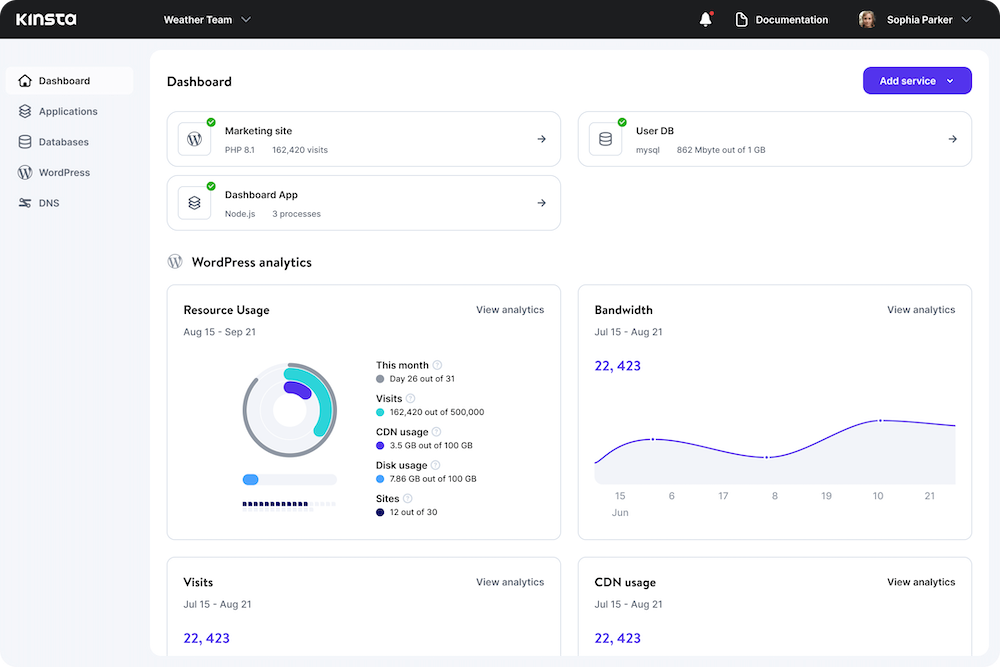 Simple and Self-Explanatory Dashboard
Kinsta platform MyKinsta has an easy-to-understand simple dashboard to track your plan usage and website metrics. You don't need to be that much of tech-savvy to create, run, and manage your website on the MyKinsta dashboard. 
Easy WordPress Installation
It is quite easy to install WordPress on MyKinsta. It takes just a couple of clicks to install a fresh WordPress site. You can choose some WordPress plugins to be in it.

Currently, MyKinsta offers Yoast, WooCommmerce, Multisite, and Eazy Digital Download WordPress plugins to be installed with your WordPress site.

Premium Site Migration For Free
Coming from a different hosting service? No problem. Kinsta has both basic and premium migration services to migrate your site to Kinsta. Submit a migration request and their technicians will take care of migrating your site. After the migration, you can review the migrated site. All Kinsta pricing plans from Starter to Enterprise include one or more free premium migrations.
Staging Environment
Get granular control over what is pushed live from staging, and access multiple environments. The staging environment saves you from working on the live site. It lets you make changes somewhere and then push them to the live site. It is wonderful when you have it with your hosting environment. And, Kinsta hosting offers a staging environment for you. They also offer a premium staging environment add-on, in case you need more complex testing or development.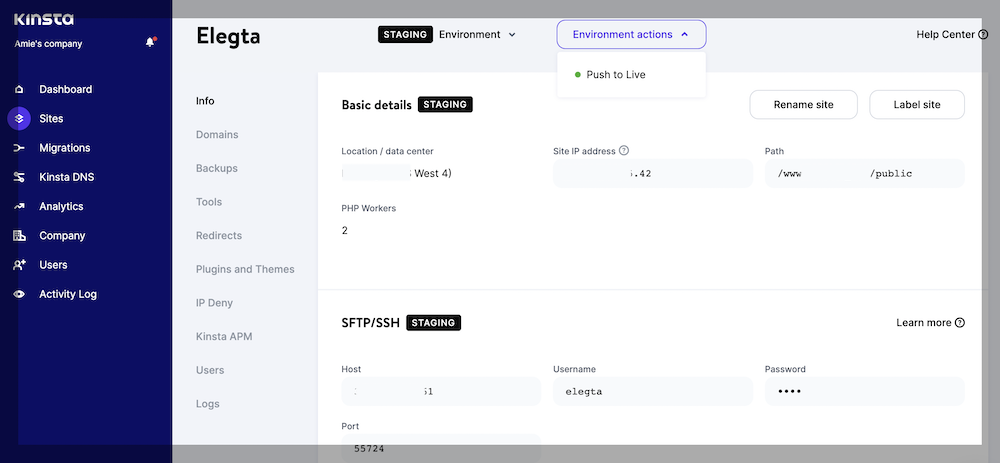 Useful Tools to Manage Sites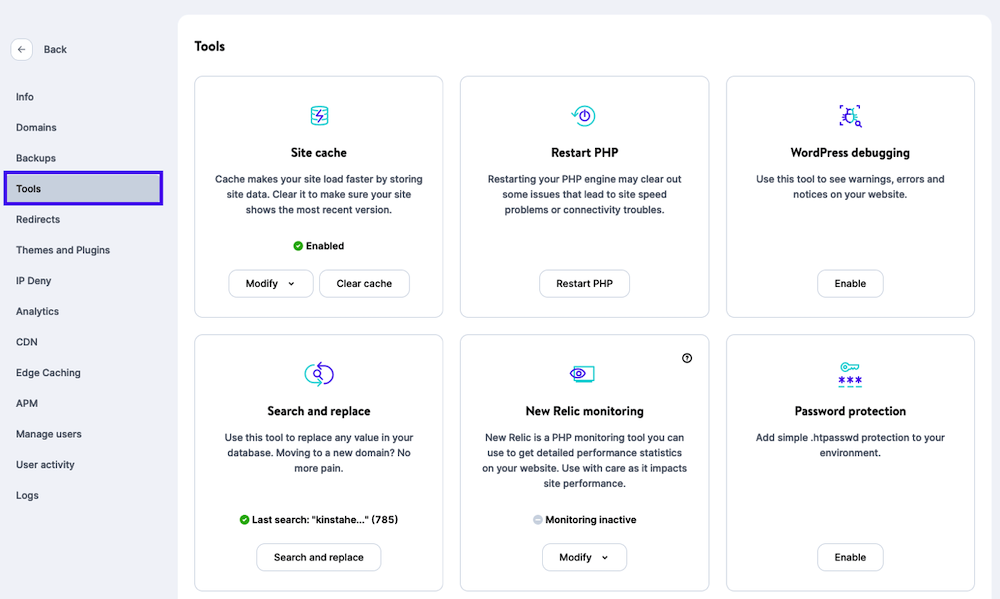 You can take care of your tasks with a click of a button on MyKinsta. Easily manage the cache, debug your site, set up redirects, set up geolocation, switch on the CDN, and do many more.
Troubleshoot With Analytics
Track important data for each of your sites such as response times, caching, or bandwidth usage. With Kinsta's complimentary APM tool, you can identify problematic plugins and performance issues.
Monitor Performance With Kinsta APM
Kinsta has a built-in application performance monitoring system. You can identify the performance issues that are slowing down your site with Kinsta APM.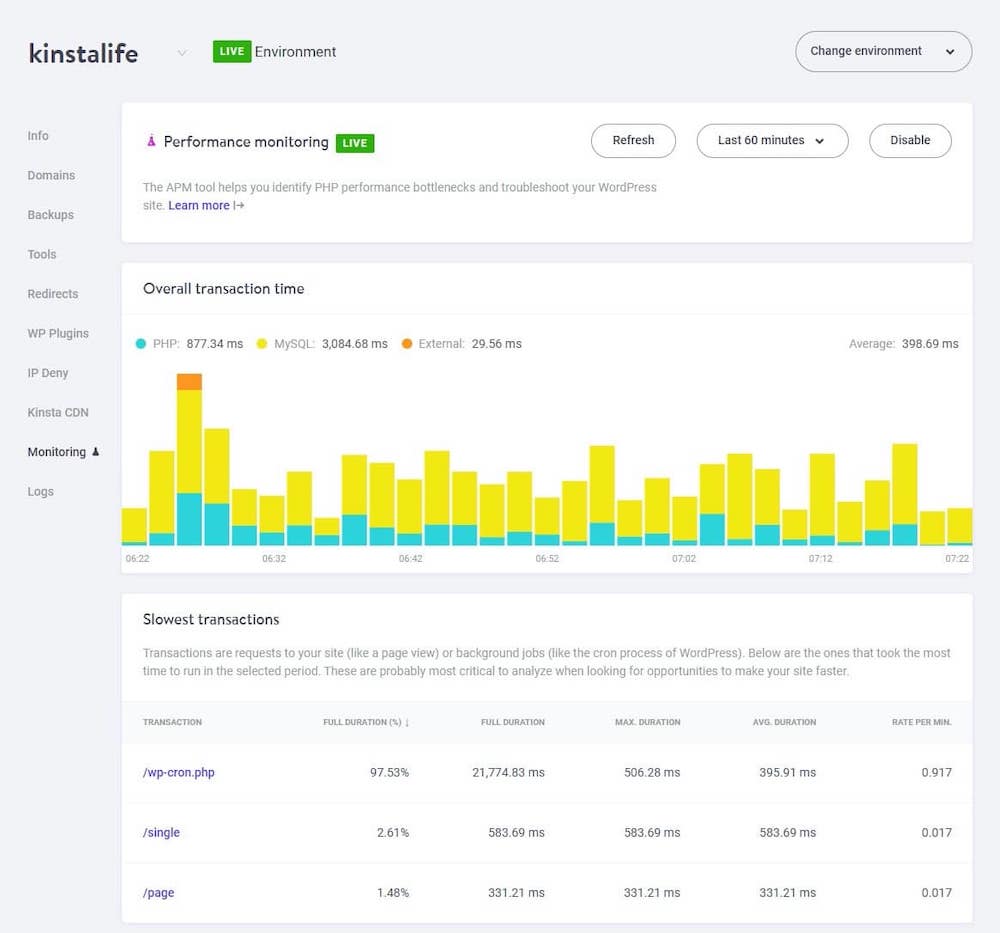 The Kinsta APM tool identifies PHP performance bottlenecks and troubleshoots your WordPress site. It is available in all plans! Easily monitor your WordPress sites on the Kinsta platform.
Security: How Secure is Your WordPress Website on Kinsta?

No matter how fast your site loads if it is not secure it is of no use. That is why they put security at the forefront of our review. Kinsta takes website security seriously. There are some advanced security systems like firewalls and DDoS protection, free SSL certificates with wildcard support, two-factor authentication, and more.
Enterprise-Level Firewall and DDoS Protection
You can detect and block DDoS attacks on your website immediately thanks to their free Cloudflare integration with IP-based and firewall protection. Each month Kinsta mitigate hundreds of DDoS attacks on their clients' sites.
Simplified SSL Management
Take advantage of wildcard SSLs and easily secure your root domains covering all subdomains thanks to Kinsta's Cloudflare integration.
Two-factor authentication
Allows you to enable authenticator-based 2FA in MyKinsta for extra security. Safeguard your MyKinsta account from potential threats.
SFTP / SSH protocols
Kinsta lets you secure your website data with SFTP and SSH connections (no FTP). You will have no worries about your data security for websites hosted on KInsta.
Automatic backups of your WordPress site
Kinsta automatically backs up your site every day. Each daily backup will be stored for at least 14 days. Also, you have hourly and external backup add-on options. You can download the backup. Also, you can restore your backup to both staging and live sites easily.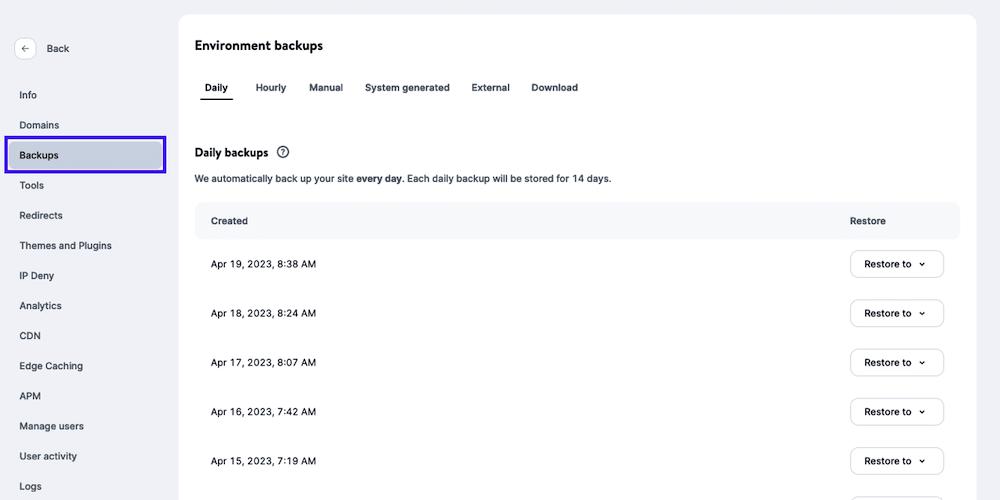 HTTP/3 support right out of the box: HTTP/3 is the next evolution of the HTTP protocol with significant improvements in performance, security, and reliability. All sites hosted at Kinsta fully support HTTP/3 so you don't need to waste time tweaking your server settings.
Kinsta Hosting Pricing: Is It Worth This Value?
After the performance, security, and some other features, pricing is one of the major factors people have in mind while choosing a hosting service for their website. If you take a look at the Kinsta pricing plans, you will find it starts at $35 per month for a starter plan. It comes with premium Cloudflare integrations in all plans, expert 24/7 support, and many other benefits that will save you money. It is more than the average hosting pricing available at your disposal.
Let's dig a little deeper. Kinsta offers premium hosting services built on Google Cloud Platform's premium tier network and the fastest C2 virtual machines. It comes with some benefits that save money.
| | | | |
| --- | --- | --- | --- |
| Kinsta Solutions | Possible Alternatives | Yearly Cost | Monthly Saving |
| Premium server-level caching | WP Rocket | $49 / year | $4 |
| SSL certificates | SSL.com | $74.25 /year | $6.20 |
| Kinsta CDN | Rocket CDN | $ 8.99 / month | $8.99 |
| Premium Backup | BlogVault | $89 / Year | $7.4 |
| Migration | UpdraftPlus Premium | $70.00 / year | $5.84 |
| Built-in Cloudflare Solution | Cloudflare | $200 / month | $200 |
| Total saving | | 2432.43 / year | 232.43 / month |
All these items come free with Kinsta pricing no matter what plan you choose. If you calculate the cost, the average hosting will offer you just average level storage and bandwidth, you will have to buy the rest from somewhere else or from their other services. So, what do you think? Is Kinsta pricing plans expensive? Not at all. It is definitely value for money.
Let's take a look at Kinsta hosting pricing plans at a glance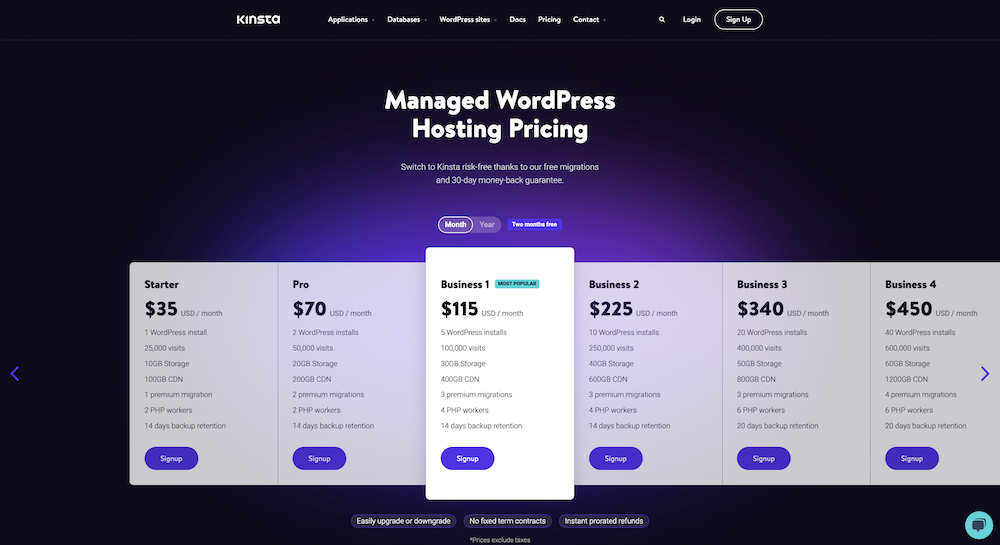 No matter how big or small your business is you will find a Kinsta pricing plan that suits you best.
Is Kinsta Best WordPress Hosting? Let's Compare With Some Kinsta Alternatives
If you don't use Kinsta hosting, you could probably go for WPEngine, SiteGround, Cloudways, or GoDaddy. In that part of our Kinsta hosting review, we will compare some Kinsta alternatives in a table. Let's compare Kinsta with some other WordPress hosting providers and see where it stands in the competition.
| | | | | |
| --- | --- | --- | --- | --- |
| Features | Kinsta | WP Engine | SiteGround | GoDaddy |
| Pricing | Plans start at $35/month | Plans start at $30/month | Plans start at $14.99/month (or $59.88/year for the first year only) | Plans start at $12.99/month |
| Core Infrastructure (GCP) | Same across all plans (GCP) | Varies by plan | GCP N2 (General Purpose VMs) | Amazon AWS |
| Global Data Centers | 35+ locations | 15 locations | 6 locations | 9 locations |
| Premium 24×7 Support | All Plans | All Plans | All Plans | Varies by plan |
| Staging Environment | All Plans | Yes (Inside WordPress Dashboard) | Yes | Varies by plan |
| Cloudflare Integration | Free with All plans | X | All plans (Requires a personal Cloudflare account) | X |
| DDoS Protection | Free with All plans | Free with All plans | ✓ | X |
| Cloudflare Firewall | Free with All plans | X | ✓ (Optional) | X |
| Free CDN | 275+ PoPs (All regions) | Yes | 200+ (All regions) | Only on Ultimate plans |
| APM Tool (Website monitoring) | Kinsta APM | Website Monitoring (pricing starts at $5) | X | Not specified |
| IP Geolocation | Free | $40/month add-on | X | Not specified |
| Uptime Monitoring | All plans | X | Yes | ManageWP premium add-on, free for Pro plans (not worldwide) |
| Free Expert Migrations | All plans | X | Not specified | Automated migrations on all plans, Supported migrations cost $99 |
Kinsta hosting compared with Kinsta alternatives
Kinsta Support: How Responsive and Efficient?
Kinsta has one of the fastest support teams for hosting services. Kinsta has a history of responding to customers' queries in less than 2 minutes and has a reputation for solving an inquiry in an average of 39 minutes. And most of all, 97 of the customers closed their inquiries in satisfaction. This is what they claim about their support on their site. Let's find out how it is in real life.
Multilingual Support: Get chat support in 5 languages, or make use of their resources and documentation available in 10 languages.
Frequent status checks: Your site is checked every 2 minutes. Should something need attention, their engineers will begin investigating immediately.
I launched a site on Kinsta and asked for support to fix some issues I was facing. Veselin from Kinsta support was so quick to reply and solve my issues.
Switched from another hosting company and saw pretty significant improvements in site performance. The support team was very helpful during the migration and answered questions/solved problems until everything was up and running properly. Shane C on G2.
I found Kinsta support amazing. Veselin has been really helpful.
Scalability: How Scalable is Kinsta Hosting?
Kinsta offers premium WordPress managed hosting for all types of WordPress sites. Whether you want to create a blog, eLearning course site, eCommerce store, or a large-scale website for an enterprise, Kinsta has a plan and capacity to cover your need. You can upgrade with the growth of your business and the volume of visitors that land on your websites.
Apart from the default features and functionalities, there are some add-ons if you need extra functionalities for your website at any stage of your business. No matter how fast you grow, Kinsta Hosting can keep supporting you all the way. Kinsta hosting is very scalable.
Demerits of Kinsta's managed WordPress Hosting
Apart from these features and advantages, Kinsta has some demerits too. There are a couple of areas where Kinsta needs to work on. Let's take a look at some disadvantages of Kinsta.
No way to buy domains on Kinsta. You have to buy your domain from somewhere else and connect that to the Kinsta hosting platform(MyKinsta)
Does not offer discounts on any occasion. You have to purchase the Kinsta hosting plan at their asking price always. However, you can get 17% off when buying yearly plans.
In our Kinsta hosting review, we tried to discuss the features, tested the site hosted on Kinsta, and compared Kinsta hosting with some other WordPress hosting alternatives. If you have read our Kinsta hosting review carefully, you should understand whether it is the best WordPress hosting for your websites. Please visit our website for more detailed reviews and try Virfice recommended WordPress products and services.